See also:
Intangible Assets: Protecting Your Brand and Reputation
The Red Flags of Fraud
Dealing with Employee Fraud
Marketing Plan
7 Warning Signs of Fraud
Marketing Mix
Protect Yourself: A Guide to Non-Compete Agreements
Does Your Business Need A Financial Audit?
Becoming a Smart CEO
Marketing Fraud Definition
The marketing fraud definition is the false promotion of a product or service and/or the making of false claims. Some of the most common forms of marketing fraud is selling authentic versions of a product for it to only be an imitation or knock-off brand. This issue of false advertising led to the famous expression, "if it's too good to be true, it probably is."
Mass Marketing Fraud Explanation
There's a significant difference between marketing fraud and mass marketing fraud. The US Department of Justice defines mass marketing fraud as "any fraud scheme that uses one or more mass-communication methods – such as the Internet, telephones, the mail, or in-person meetings – to fraudulently solicit or transact with numerous prospective victims or to transfer fraud proceeds to financial institutions or others connected with the scheme." Marketing fraud can occur anywhere as it doesn't need to reach a massive amount of people for people to fall for it. But mass marketing fraud is typically hosted on a web-based platform (email, telemarketing, internet, etc.).
Examples of Marketing Fraud
Some examples of marketing fraud include exaggerating claims, false advertising, and misrepresenting the product. Although it is sometimes difficult to see your own company's marketing fraud,  it is easy to identify other company's participating in this fraud. Ever seen a commercial for the next supplement that will magically loose weight? If you pay attention to what they are saying, then you may find that they do not mention medication, prescription, FDA, etc. All you hear is about the results, the method, and how taking it will give you six pack abs.
How to Prevent Fraud in Your Marketing
When a company deals with marketing fraud, there are a myriad of issues that stem from it. Some of those consequences include bad reviews, customer backlash, lawsuits, and even prison time depending on the severity of marketing fraud. Needless to say, your company needs to have processes in place to prevent fraud in your marketing because it can have financial repercussions. As the financial leader in your company, you need to know know what marketing fraud looks like and how to flag it if it's happening in your company.
Know What Marketing Fraud Looks Like
Before you can prevent fraud in your company, you need to know what marketing fraud looks like. It can come in the form of overnight engagement sensation on social media, significant boosts in traffic or followers, and emails made to look like they are coming from someone else. For example, a company that uses social media heavily got 20,000 more followers in a day. That company also saw a 400% increase in comments (and those comments all raved about the product being sold). Although some companies may naturally experience this, you may want to look at the quality of followers you have and if they are even real. Unfortunately, some marketers manipulate the analytics to please the financial leader. But that is fraud.
Flag That Company
If your company is dealing with marketing fraud, then it is destroying the value of your company. But you do not have to continue in old habits anymore and can remove those "destroyers" of value in your organization. Download your free Top 10 Destroyers of Value guide to avoid letting the destroyers take value away from you.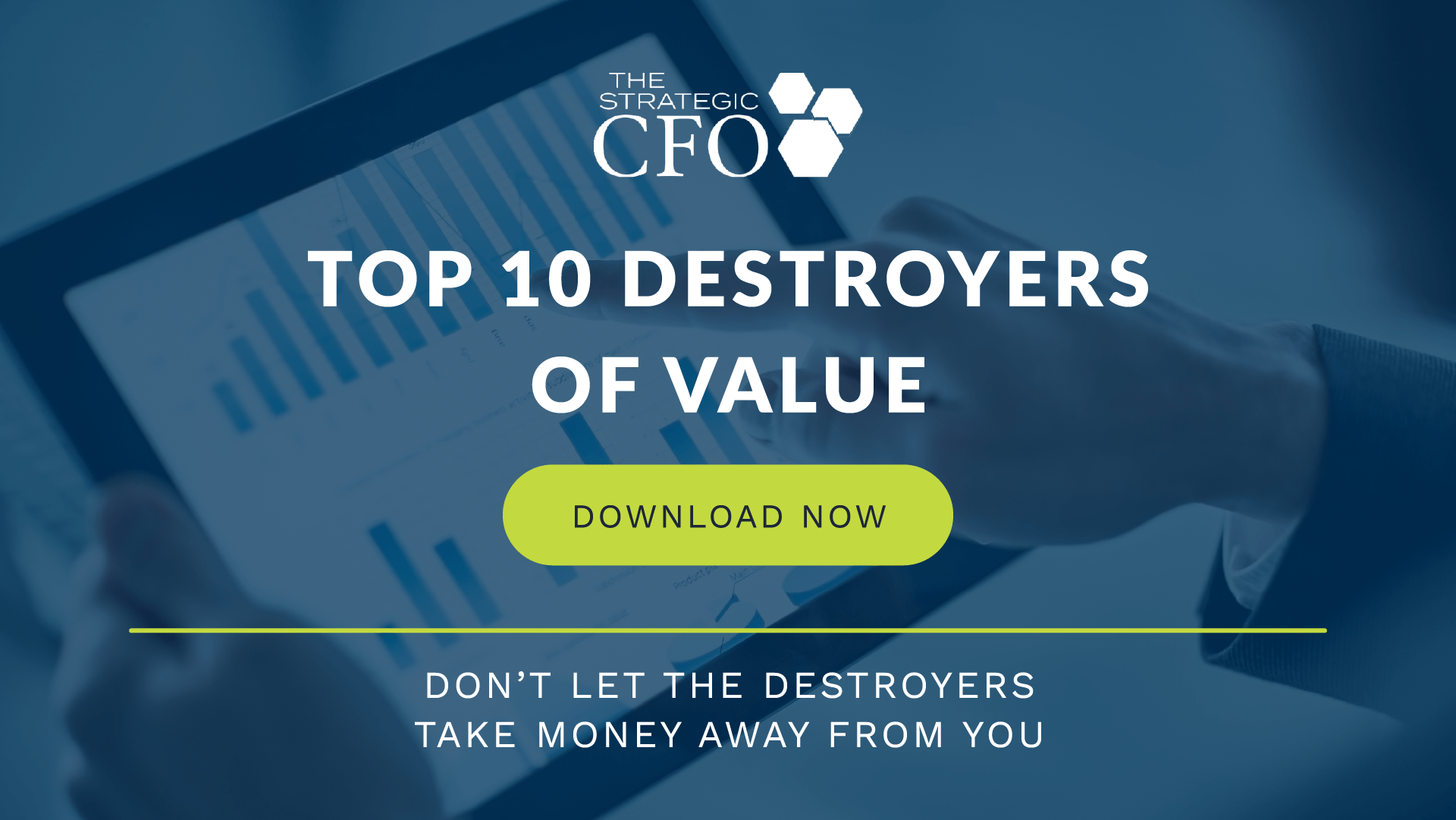 [box]Strategic CFO Lab Member Extra
Access your Exit Strategy Checklist Execution Plan in SCFO Lab. The step-by-step plan to put together your exit strategy and maximize the amount of value you get.
Click here
 to access your Execution Plan. Not a Lab Member?
Click here
to learn more about SCFO Labs[/box]