When The Strategic CFO was first founded in 1999, there was a lot of disregard for financial leaders and CFOs. If accountants could do their job, there was no need for a CFO. At least, that's what many CEOs have thought. But we have been writing, consulting, and coaching those in leadership roles to lead the company financially. Companies cannot simply rely on great salesmen or impeccable marketing campaigns. They need a real strategic financial leader. As the relationship between the Chief Executive Officer and the Chief Financial Officer has evolved, we have concluded that the CEO needs to like their financial leader and vice versa.
Why the CEO Needs to Like Their Financial Leader
These two roles have two different responsibilities in the company, but they also need each other desperately. They are the yin and yang to each other.  This is truly a partnership and without the chemistry, this is a dysfunctional relationship. The CEO has the vision and drive; whereas the CFO has the financial data that should back up what the CEO wants to do. Simply said, CEOs and financial leaders need each other.

CEO and Financial Leaders Need Each Other
While we've been talking about how the CEO needs to like their financial leader, the financial leader also needs to like their CEO. We have seen that when the CEO and their financial leader (CFO, Controller, etc.) have a good relationship, transparency and confidence is increased. This is a critical part of a CEO/CFO partnership.
Russell Reynolds Associates surveyed more than 100 CFOs and found that, "82% of CFOs surveyed gave their CEO high marks for overall effectiveness. Further, the vast majority of CFOs said they trusted their CEOs. But there's still plenty of room for improvement. Less than half of our respondents gave CEOs a high score when it came to their ability to coach and develop the CFO. And only 49% of CFOs surveyed said they had a "very strong" relationship with their CEOs, the highest relationship ranking in the survey's 5-point scale."
It's a two way relationship. If the financial leader trusts the CEO's vision, they will be more likely to support their decision. Conversely, if the financial leader does not trust the CEO, then they are less likely going to support them with the financial information they need to make a strategic decision. Likewise, a CEO is going to trust their financial leader if they try to find a solution to implementing a new strategy, campaign, vision. But they will be less likely to trust their financial leader if they are what we call a "CFnO." In addition, the CFO must have the confidence and relationship to question the CEO and his conclusions without anyone getting their feelings hurt.
CEOs Need Financial & Strategic Direction
Our team has worked with plenty of entrepreneurs and entrepreneurial leaders over the course of our companies life. That being said, we have also seen how much the CEO needs financial and strategic direction. CEOs need to focus on the future of the company – the captain of the ship. They need to steer the ship to success. But they need someone to analyze the data, advise, and help them direct the ship forward. Furthermore, the CEO needs a wingman – a trusted advisor.
[box] CEOs need a trusted advisor or wingman to guide them financially. Click here to access your free How to be a Wingman guide. [/box]
What a CEO Needs Most
The CEO needs to like their financial leader because they need someone to make their flight path clear. As a result, they need more of you (the financial leader) and a wingman to guide them.
They Need More of You
What do CEOs want from their CFOs? They need more of them. There is a misconception between what the CEO needs and what the CFO thinks they need. Check out the results of a recent KPMG survey below:
"In a worldwide survey of 549 chief executives by KPMG, 30% said their CFO doesn't understand or assist them enough with the challenges they face in running the company. "One thing is clear: something has to change if CFOs are going to close the gap between the expectations of their CEOs and the reality on the ground," KPMG said in its survey report, "The View from the Top.""
They need more of you, not your "no's." Start by providing your insight on how to make their ideas come to fruition. As the financial leader your job is not to be a road block, it to understand the operations and the financials and come up with solutions.  In addition, get involved and start collaborating with your CEO. This will both increase the amount of communication and help them with their challenges.
[box]The CFO should be CEO's wingman, but it's often difficult to learn what they want and need. Learn how you can be the best wingman with our free guide! [/box]
The CEO Needs a Wingman
What is a wingman? It's a trusted advisor that guides the CEO through business challenges. One way to be a wingman is to stay current with the trends. For example, keep your CEO out of trouble.  Look at trends in your financial statements, your industry and the economy.  Know your ratios, working capital and debt covenants so your CEO does not have any ugly surprises.  A good wingman always has his CEO's back. Click below to learn How to be a Wingman.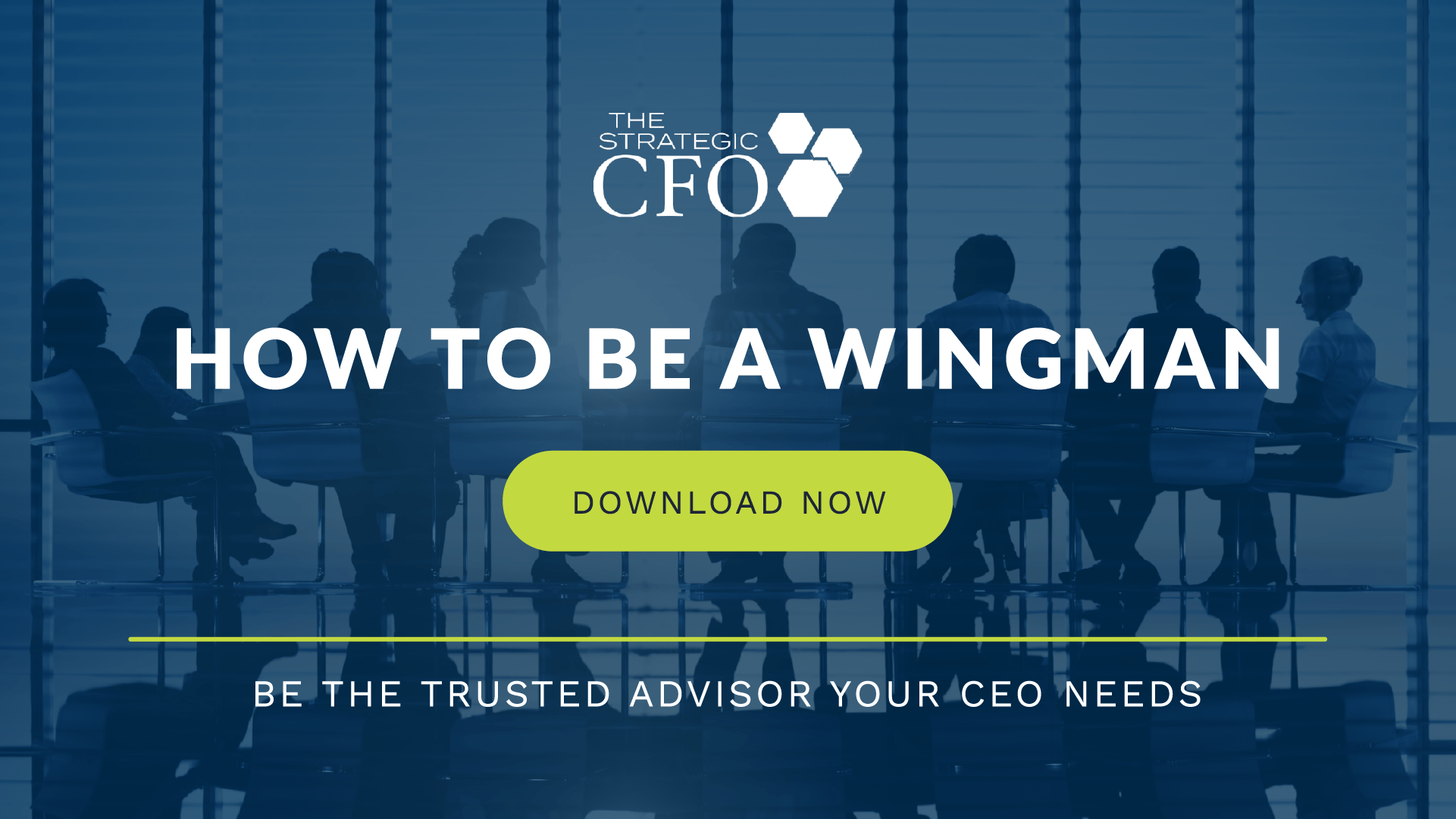 [box]Strategic CFO Lab Member Extra
Access your Projections Execution Plan in SCFO Lab. The step-by-step plan to get ahead of your cash flow.
Click here to access your Execution Plan. Not a Lab Member?
Click here to learn more about SCFO Labs[/box]