As we transition into Quarter 3 of 2017, companies are already planning for what 2018 is going to look like. Over the past year, we have seen a lot of change in the business landscape. Amazon acquired Whole Foods and dramatically sliced prices. Apple released not just one, but two iPhones in the past month. President Trump took office at the beginning of the year. Great Britain voted to Brexit from the European Union. Alfred Angelo, a bridal store giant, filed for bankruptcy. There has been innovation, disruption, uncertainty, destruction, and so much more in the business landscape. One thing that we do know for 2018 is that to survive, you must be innovative. Fast Company has already named Amazon to be the most innovative company in 2017, so let's learn how your company can be more like Amazon.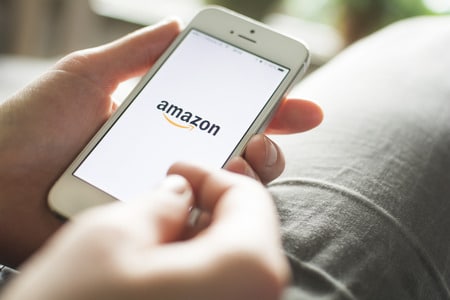 7 Ways Your Company Can Be More Like Amazon
Amazon has impacted how businesses must compete in today's world. Instead of just competing in one market, Amazon now competes against retailers, grocery stores, logistics, technology providers (Apple, Google), and many more industries and markets. After researching how they have grown, especially over the past 5 years, we have created a list of 7 ways your company can be more like Amazon.
1. Experiment
NASA has been around for 59 years. In that time, they went through ample amounts of experiments to get people into space… They tested every aspect of the shuttle, the gear, the computers, the communication, etc. While there were thousands of failures, they were the first to walk on the moon. Likewise, Amazon has used the same theory to experiment in many different fields. Ever heard of Amazon Webstore, Amazon Destinations, WebPay, Askville, and Amazon Auction? These are just a few examples of products that Amazon either shut down completely or morphed them into a product more successful.
Obviously, you may not have the same cash flow as Amazon does. But that doesn't mean you do not have the capabilities to conduct an experiment. The most important part of experimenting plenty is to change your perspective to innovate. Start by testing variations of your product through A/B testing. Then test everything! Your product, your processes, your departments, your services, your customers, your placement. Everything. Continue to test until you are pleased with the outcome, then test some more. As technology advances and society changes, things will change more rapidly than ever before. These experiments should never stop.
Amazon's Advice About Experimenting
In Amazon's 2015 Letter to the Shareholders, Jeff Bezos discuses this concept on experimenting frequently.
"Most large organizations embrace the idea of invention, but are not willing to suffer the string of failed experiments necessary to get there. Outsized returns often come from betting against conventional wisdom, and conventional wisdom is usually right. Given a ten percent chance of a 100 times payoff, you should take that bet every time. But you're still going to be wrong nine times out of ten.
We all know that if you swing for the fences, you're going to strike out a lot, but you're also going to hit some home runs. The difference between baseball and business, however, is that baseball has a truncated outcome distribution. When you swing, no matter how well you connect with the ball, the most runs you can get is four. In business, every once in a while, when you step up to the plate, you can score 1,000 runs. This long-tailed distribution of returns is why it's important to be bold. Big winners pay for so many experiments."
[box] If you are looking to start experimenting, you need to know what external factors could impact the success of your experiment. Download our External Analysis whitepaper to learn more. [/box]
2. Expect to Fail
When you begin to experiment, you can expect to fail more than you succeed. Once your company has created a culture of encouraging failure, innovation will begin to happen. Thomas Edison, one of America's greatest inventors and businessmen, once said, "I have not failed. I've just found 10,000 ways that won't work." Your company can be like Amazon if the leadership encourages each employee to fail. Although that sounds counterintuitive, this aspect has resulted in Amazon's massive growth.
As the financial leader of your company, structure the company's ability to fail. Because you need to protect the financial future, put in some guidelines for each experiment. Check that they are going to improve something that will move the needle. You don't want your employees to be experimenting on senseless things – wasting both time and resources.
3. Innovate Everything
If your company wants to be more like Amazon, you should innovate everything in your company. Ask even the lowest employee why you do things a certain way. If your team responds, "that's just the way we've always done it," it is time to innovate. There must be a reason for everything you do, and if there isn't, then you either need to cut that process out or innovate it.
Check out Amazon's product listing that can be found at the bottom of their website. Notice how they cater to various customers, needs, and desires. From cloud storage to groceries to comics to videos and movies to publishing, every customer can find at least one product that they can use. When we say to innovate everything, we mean everything. Amazon is continually updating, improving and innovating their systems and products to better serve… Their customers!


Now, providing various products does not necessarily work for every company – and it shouldn't. But Amazon has made the web their playground and has innovated everything related to the web. Find your playground and start innovating.
4. Be Customer Centric
One thing that has set apart Amazon from the rest is their customer centric, customer obsessed culture. In a Forbes interview with John Rossman, a previous executive at Amazon, he said that "there are 14 leadership principles at Amazon. They weren't written down, they weren't codified when I was there, but you saw them being used every day. The first one is 'Obsess over the customer,' and the 14th is 'Deliver results,' and there's 12 in between those two." To get results, you must start with the customer. A business can have all the best processes, accounting, logistics, etc., but if your company does not have a customer, it doesn't exist.
Refocus every employee on the customer. What do they want? How quickly can you get what they want to them? What does your customer need? How can we better serve our customer? What needs do they not know aren't being met? Every decision made in the company should be directed towards the customer. You company can be more like Amazon if you are customer centric. Jeff Bezos once said, "Focusing on the customer makes a company more resilient."
5. Get Out Of Your Comfort Zone
Change for some can be uncomfortable. Even those that thrive on that adrenaline pumping adventure, some change can feel like walking on a tight rope across a canyon. Get out of your comfort zone when you are innovating. Just because you are in the financial leg of your company doesn't mean you need to stay there all the time. For a company to be effective, every employee needs to be involved in every aspect of your company. For example, you should be concerned how marketing is spending their budget. Marketing, likewise, should be wary of how their decisions impact the bottom line.
6. Base Strategy on Reliable Facts
Your company can be more like Amazon if you base your strategy on reliable facts. While this seems like a simple task, many companies base their strategy on what they want to outcome to be… Not on fact.  At re:Invent 2012, Jeff Bezos elaborated on why you need to base strategy on reliable facts.
"I very frequently get the question: 'what's going to change in the next 10 years?' And that is a very interesting question; it's a very common one. I almost never get the question: 'what's not going to change in the next 10 years?' And I submit to you that that second question is actually the more important of the two – because you can build a business strategy around the things that are stable in time….in our retail business, we know that customers want low prices and I know that's going to be true 10 years from now. They want fast delivery, they want vast selection.
It's impossible to imagine a future 10 years from now where a company comes up and says, 'Jeff I love Amazon, I just wish the prices were a little higher [or] I love Amazon, I just wish you'd deliver a little more slowly.' Impossible [to imagine that future]… When you have something that you know is true, even over the long-term, you can afford to put a lot of energy into it."
For your company to be successful, you need to start identifying what is going to be true ten years from now. They are going to want a better product or service. Your customers want to get that for a lower price. And they want value.  Once you write down the facts, you can strategize your company's next move.
7. Remove Any Risks
Obviously, we are not going to recommend that you innovate or experiment without having thought it through. In fact, you need to prepare before you begin the experiment. Remove any known risks associated with that experiment and be aware of any potential risks that could come about. Create an External Analysis to overcome any obstacles that come your way and be prepared to react to those external factors. Although you may not be able to prevent those obstacles from occurring, you can prepare how you are going to react to them. Download our free External Analysis whitepaper to gear up your business for change and your company can be more like Amazon.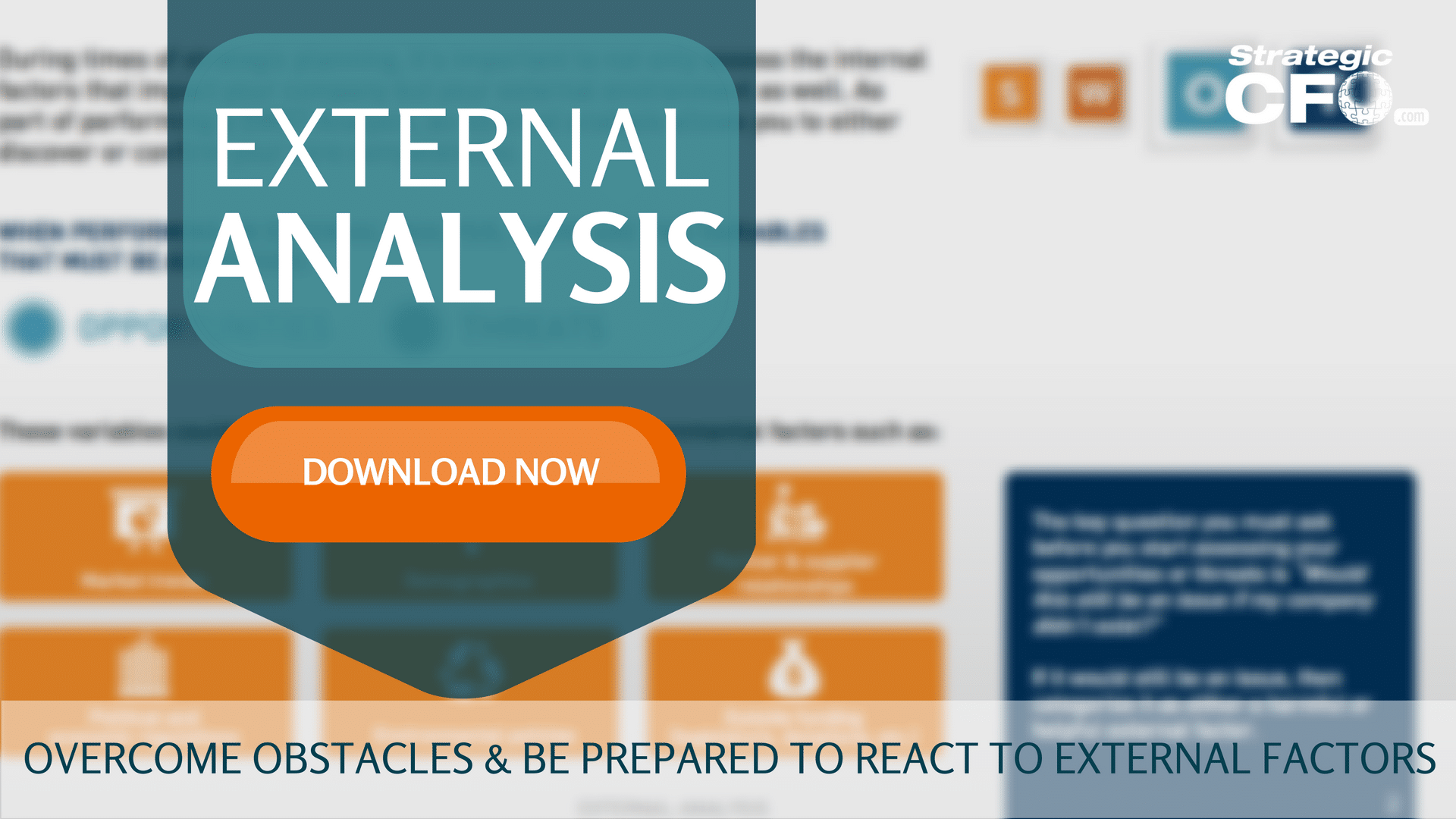 [box]Strategic CFO Lab Member Extra
Access your Strategic Pricing Model Execution Plan in SCFO Lab. The step-by-step plan to set your prices to maximize profits.
Click here to access your Execution Plan. Not a Lab Member?
Click here to learn more about SCFO Labs[/box]