See Also:
Commercial Paper
Personal Credit for Commercial Loan
How to Select Your Commercial Insurance Broker
Commercial Agents
Forensic Audit
Investment Risk
Commercial Risk Definition
Commercial risk is defined as the risk a company takes by offering credit with no collateral. It is a common term in the business world. Any time a company offers credit, be it trade credit, credit terms like 2/10 net 30, or other, they are essentially offering financing with no collateral. In this situation, the company is taking a commercial risk. You may need solutions.
Commercial Risk Explanation
Explained as the risk a company takes with it's customers, it is a common risk of doing business. Most companies allow credit terms. So, almost every company must take on some form of commercial risk. Analysis of this is often professionally evaluated by companies, like insurance providers, who must make sense of the commercial risk of a company to do business. Management effects the company as well as insurance providers, investors, lenders, and more.
Example
For example, Logan is the owner of a company which provides oil pipes to energy companies. His work, extremely technical, is a good fit for his personality.
Logan wants to change insurance plans. For this, he will need an assessment. He has his CFO pull up the figures on trade credit so he can provide this to the insurer.
Next, Logan wants to take out a bank loan. To do this he will need the same figures. The bank wants to measure the risk of Logan's business failing. Commercial risk is a good part of this.
Logan very much appreciates his CFO now. With these figures in hand he can complete his work. This way, Logan can get the support he needs to continue his business.
Download your free External Analysis whitepaper that guides you through overcoming obstacles and preparing how your company is going to react to external factors.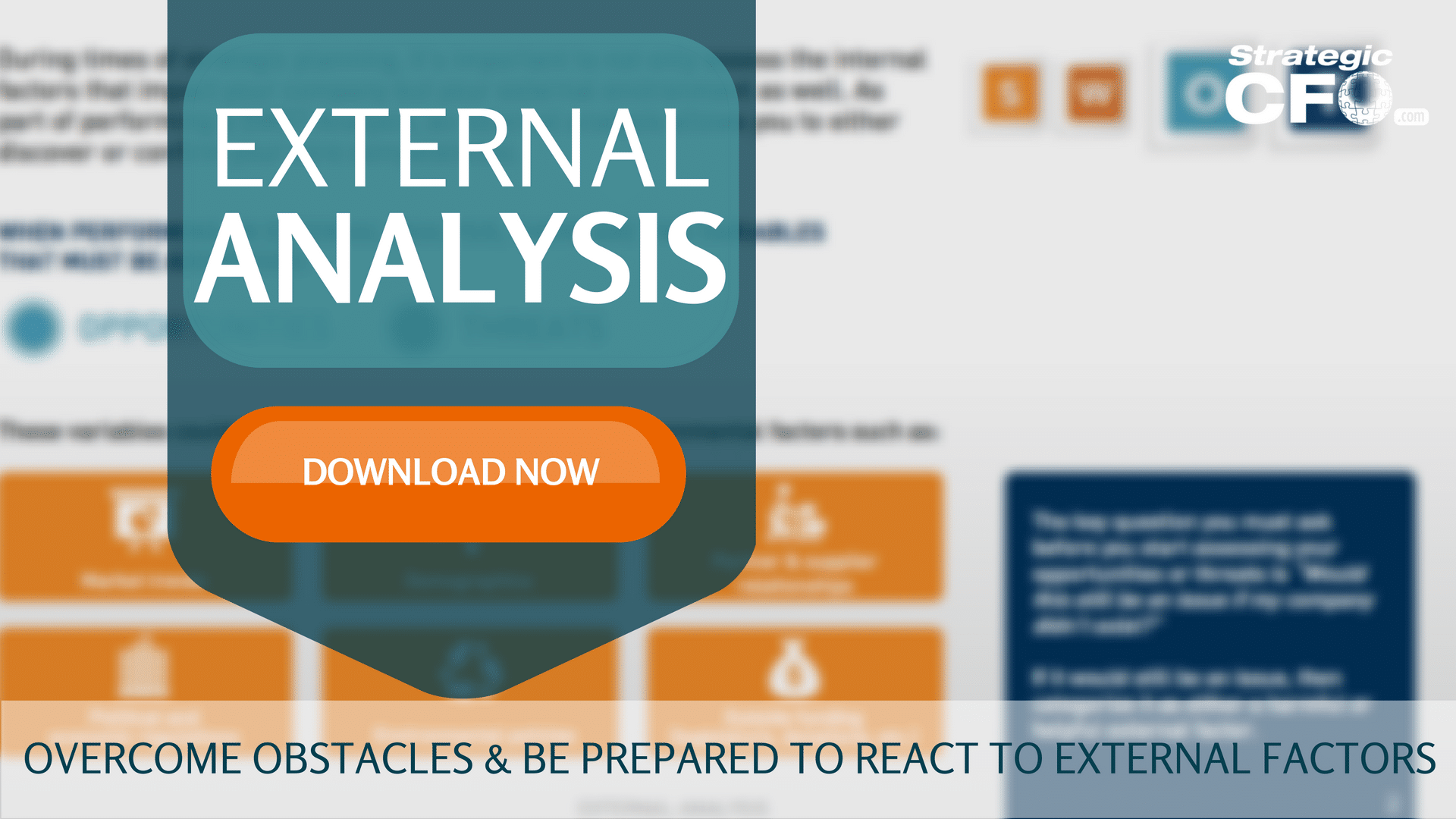 [box]Strategic CFO Lab Member Extra
Access your Projections Execution Plan in SCFO Lab. The step-by-step plan to get ahead of your cash flow.
Click here to access your Execution Plan. Not a Lab Member?
Click here to learn more about SCFO Labs[/box]