See Also:
Auditor
Audit Committee
How to Choose An Independent CPA/Auditor
How to Control Annual Audit Fees
Managed Sales And Use Tax Audit Programs
Forensic Audit Definition
A forensic audit, defined also as forensic accounting, is the process of auditing a company's records for the purpose of satisfying a legal investigation. Forensic accounting, though it does not always yield a crime, is generally for the purpose of bringing an embezzlement or fraud case to its end. Tools are often employed for this work, such as forensic audit mortgage software, checklists, and more.
Forensic Audit Explanation
Explained as the method to find fraud in a company, forensic audit has other purposes as well. Forensic accounting can be used to find information for any government investigation: fraud, embezzlement, subpoena, deposition, or other. Along these lines, forensic accounting can involve a company, company employees, or just be used to find relevant records for an outside investigation. Forensic audit cost varies depending on the size and scope of the project.
Often times a forensic audit report does not yield results which indicate an illegal action. In this case, the investigation will cease and the results of the audit will not be used. In this case, all involved parties will be left as if no audit occurred.
Forensic Audit Example
Lucas works forensic audit jobs with a private auditing company. His employer is hired when a company expects fraud may be occurring in their ranks. Lucas is a CPA and can find records which can be used to bring a criminal to justice.
Recently, Lucas is sent on a project for a distribution plant of a major public company. He is prepared to find foul-play as he begins his investigation. As Lucas proceeds, it appears that someone has stolen funds from the company. All signs point to Susan, an account manager with the company. Lucas is about to talk with the company when he finds a crucial record for the case. It seems Susan was instructed to transfer company funds to an outside bank account. Though this seems suspicious at first, Lucas is able to find documents which support this action. He later finds that the issue lies with Susan's boss, he lost some of the paperwork for this transaction. It was completed; however, it remained unaccounted for. Lucas looks a little deeper and finds no mistake other than the loss of the paperwork.
He completes his project on a good note. He recovered the funds while preventing a criminal case against Susan. Lucas enjoys his work but prefers to find no party at fault. He appreciates this welcomed change of pace and leaves work on a happy note.
Access our free Internal Analysis whitepaper to assist your leadership decisions while creating the roadmap for your company's success!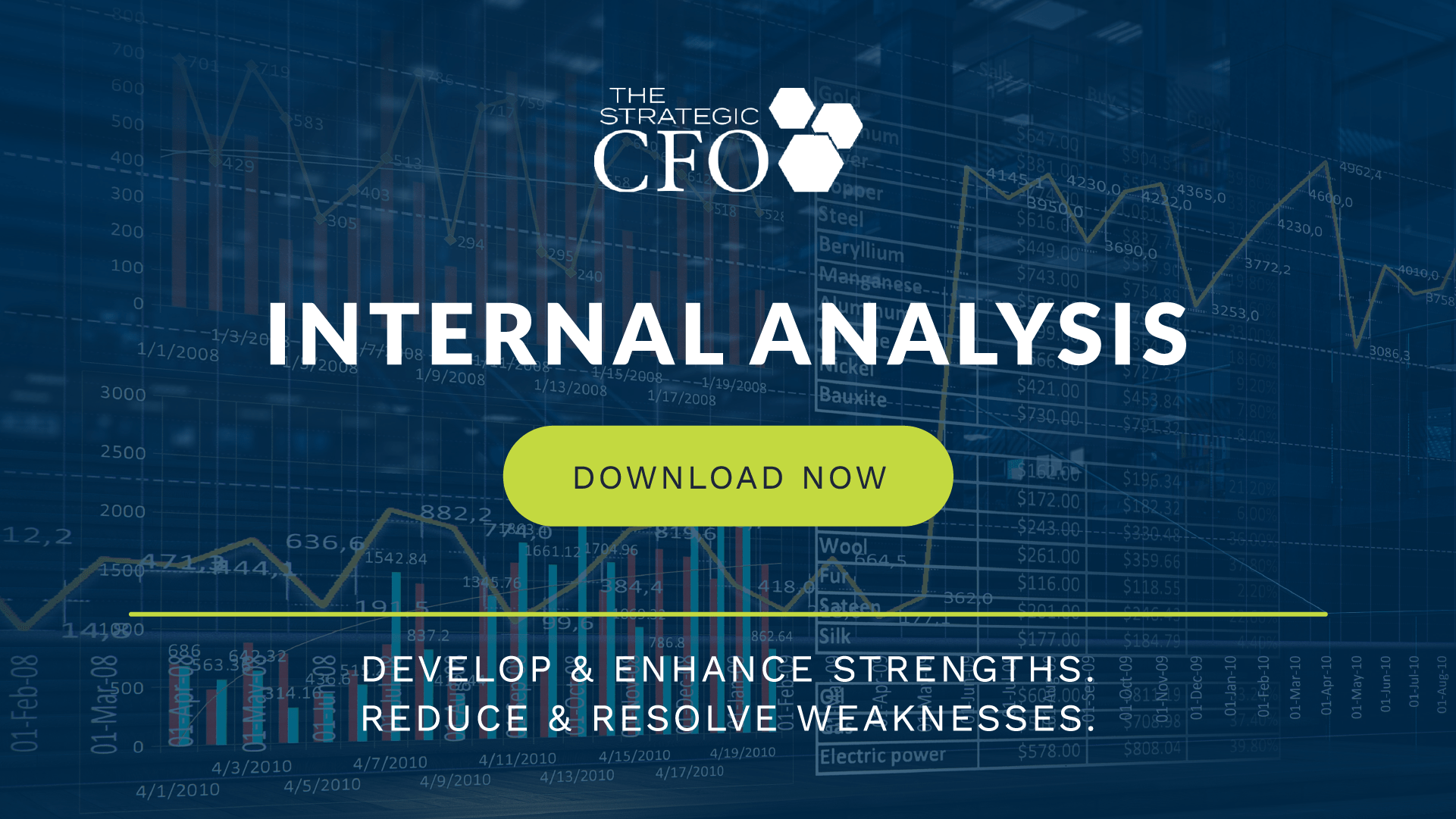 [box]Strategic CFO Lab Member Extra
Access your Exit Strategy Checklist Execution Plan in SCFO Lab. The step-by-step plan to put together your exit strategy and maximize the amount of value you get.