See Also:
American Institute of Certified Public Accountants – AICPA
Accounting Fraud Prevention using QuickBooks
Advisory Board Best Practices
Are You Collecting the Data You Need to Run Your Business?
How to avoid additional insurance premiums
Chief Financial Officer (CFO) Definition
The CFO, Chief Financial Officer, is the head of strategic accounting and finance functions of a company. The CFO's responsibility is to have strong analytical, planning, and communication skills necessary to work with the company CEO, Board Members, and Senior officers. Common to the CFO position is 10 years of accounting or finance experience, of which 5 years must be served in a management role. CFO qualifications may be an MBA (master's degree in business administration), CPA (certified public accountants), or CMA (certified management accountant) certification. In general, the chief financial officer roles and responsibilities require a strong understanding of GAAP and tax accounting principles, and perhaps even experience in reporting to the SEC.
Furthermore, to gain the role of the CFO requires experience in a position of responsibility for accounting or finance departments. Positions like Director of Finance or Accounting, Controller, etc. CFO responsibilities yield an expected salary of $85,000 – $350,000 plus bonus' and incentives.
---
[button link="https://strategiccfo.com/7-habits-of-highly-effective-cfos?utm_source=wiki&utm_medium=button%20cta" bg_color="#eb6500″]Download The 7 Habits of Highly Effective CFOs[/button]
---
Chief Financial Officer Job Description
Common CFO job duties include the following:
Strategic direction of Accounting and Finance functions
Creating and enforcing accounting and finance policies, procedures, and internal controls
Recommendations and corrections with the purpose of ensuring the integrity of financial reports
Managing and overseeing independent auditors
Collaborating with Chief Information Officers on technological changes
Overseeing financial system upgrades and changes
Relating with investors
Mitigating business risks
Managing insurance and other financial protections
Retaining, hiring and training accounting and finance human resources CFO roles/responsibilities may include additional functions.
The above serves as a basic CFO job description sample.
Chief Financial Officer Example
For example, John is the founder of a company which rents homes, called Rentalco. John is pleased because the recession has caused demand for rental homes within his company niche to grow quickly. Thus, John's company has grown from a small business to a thriving corporation. John wants to make sure he can manage a positive financial state for his company. While attending local Chamber of Commerce meetings John is introduced, by a friend, to CFO outsourcing with a company called "The Strategic CFO". With this company John can temporarily hire a CFO to manage his company's accounting and finance functions. In John's case, this will allow him to maintain his company while he finds a permanent CFO for Rentalco. John is excited, meets with "The Strategic CFO", starts by asking "What does CFO stand for", and eventually hires a temporary CFO. His name is Rudy.
Temporary CFO
Rudy enters John's company with a fresh perspective. First, Rudy looks at the company financials. Here, he sees a successful company. Then he looks closer to find that Rentalco is paying above the industry standard on property maintenance. Additionally, he notices that Rentalco has excessive insurance coverage for its needs. Rudy informs John of this situation. John and Rudy work together, John makes an effort to find a new source for property maintenance while Rudy contacts the Rentalco insurance agent and decreases their policy.
Next, Rudy monitors employees that work with receivables and payables. After noticing that they spend more time than needed in processing he notes a major redundancy in Rentalco payable paperwork. By removing an unneeded step in the process of payment Rudy is able to increase the efficiency of this department and decrease it's yearly cost.
Rudy, after thinking about what he saw in Rentalco financials, decides on another course of action. He expresses to John that dividend payments to investors of Rentalco are negatively effecting company free cash flow. By decreasing dividend payments, Rudy and John will be able to strengthen Rentalco free cash flow and further invest in marketing expenses. Rudy references his prior experience to create an estimation of company growth which will, after a short period, keep total dividend payments recieved the same while growing Rentalco market capitalization by approximately 5%.
Conclusion
The story of Rudy, John, and his company Rentalco is very common. The skills of a trained CFO can have enormous benefits to a company. John decides, after his experience with "The Strategic CFO", that he will keep a CFO on staff for as long as his company can profit from it.
If you want to learn more financial leadership skills, then download the free 7 Habits of Highly Effective CFOs.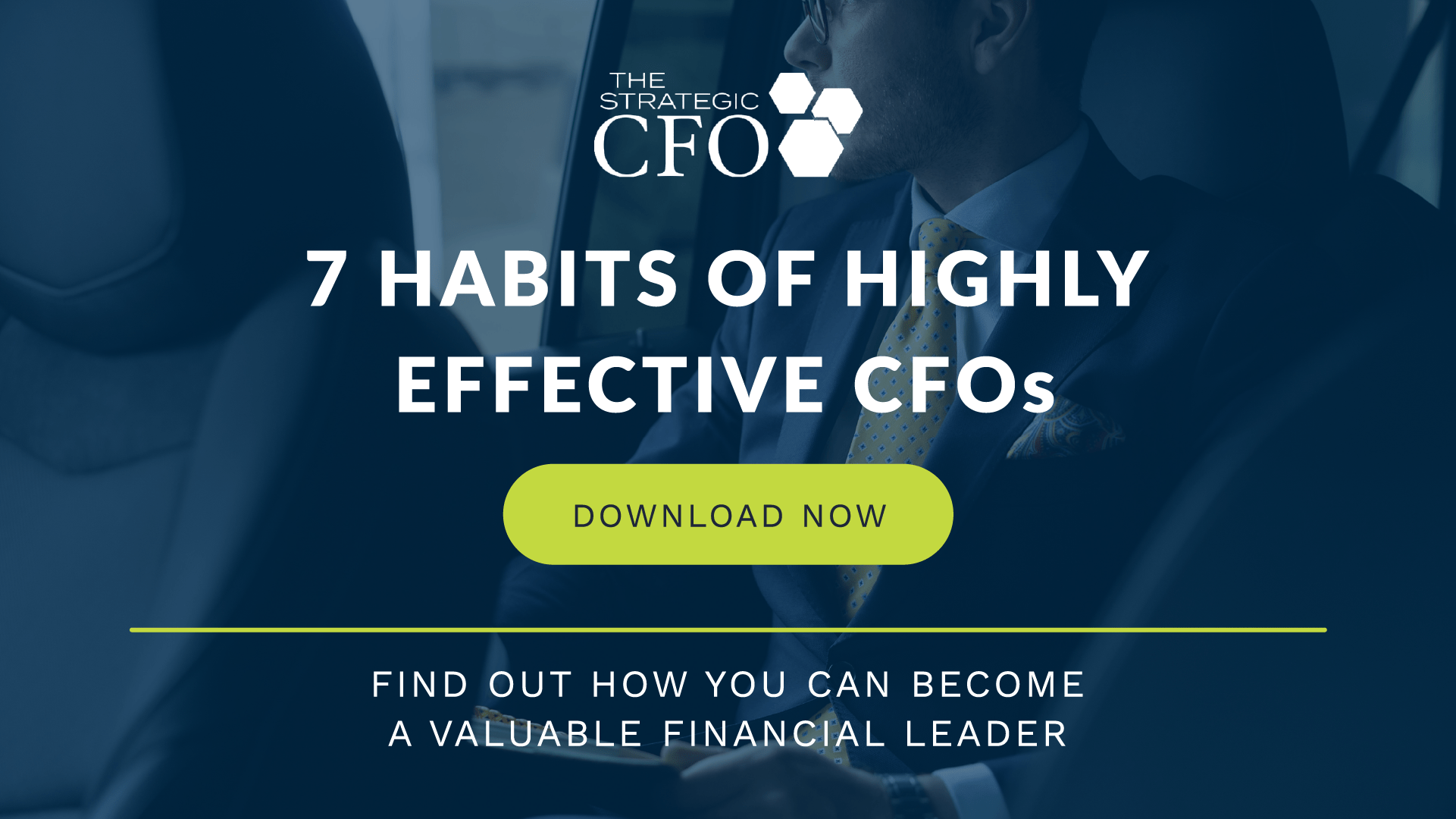 [box]
Strategic CFO Lab Member Extra
Access your Flash Report Execution Plan in SCFO Lab. The step-by-step plan to manage your company before your financial statements are prepared.
Click here
 to access your Execution Plan. Not a Lab Member?
Click here
 to learn more about SCFO Labs[/box]