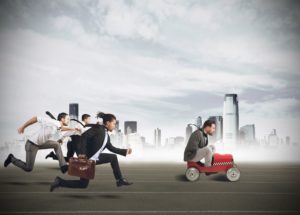 Every decision you make as a financial leader affects your business. Looking back on 2016 to now, a lot of events happened and changed the course of business. Often, there are events occurring in the world that either directly or indirectly impact your company. As a financial leader, it's up to you to decide how to change your business, or if you should keep it the same. But you need to start planning with external analysis.
How External Factors Destroy a Business
Worst-case scenario, a company will collapse due to an event that occurs externally. Here are a few examples of why external factors might actually destroy your business:
Your Company Can't Keep Up
It's all about infrastructure. How does your company stay in the game? If you think about it, the core of the company requires a strong group of individuals to keep the company together. Without a strong team, the company will crumble. Analyze your internal situation as well as your external situation: be aware of bitterness, fatigue, and boredom within your staff.
Competitors Fix the Problem Before You Do
"When the going gets tough, the tough gets going." If we really think about this phrase, it's true."The going gets tough" means the situations around you are getting increasingly more difficult. "The tough get going" means that the strongest people work through the problem as fast as possible. If your competitors can solve the problem before you can, then your company becomes irrelevant.
Customers Adapt to the Change
Like we discussed in last week's blog, the number one reason for startups failing is creating a product that customers don't need. This can also be applied to businesses that already exist. If a customer doesn't need a product, they won't buy it. For example, the hard drive market shrank rapidly after the creation of the cloud. The cloud solved the issue of limited storage. Since then, customers adapted to the change and the hard drive market continues to shrink. Now, it's up to the hard drive companies to make their change in order to gain new or keep current customers.
[highlight]Not used to change? Planning with External Analysis helps anticipate obstacles before they affect your business. Download now![/highlight]
Planning Strategically
As you can see, it takes a lot of adaptation. Over the past year or so, we've been getting a lot of traffic from the middle east. Everyone at The Strategic CFO wondered, "Why is this happening?" We caught up on the news and realized that oil prices collapsed.
As a result, the people in the middle east have a renewed interest in all things financial because they wanted to take initiative and start their own companies. To adapt to this change, we shifted our focus and paid more attention to them in our blog and communication.
You, too, can adapt to change. It's a matter of staying alert, and responding to a pattern. In this case, we took note of our target demographic, and shifted to cater to them.

Porter's 5 Forces
Porter's 5 forces was created by Harvard Business School Professor, Michael Porter. The model exhibits 5 forces of competition within an industry, affected by multiple aspects of the industry and the environment. The 4 aspects that affect competition include the bargaining power of buyers, the bargaining power of suppliers, the threat of new entrants, and the threat of substitute products.
Analysis of Porter's 5 Forces
If you think about it, all four of those aspects affect the competition equally, and are affected by spontaneous events. Bargaining power of buyers means that the consumers create pressure for a business to change its product and overall model.
Supplier power refers to the amount of influence the supplier has over a business's decisions. An example of supplier power is oil and gas pricing. Due to the events that happen in the oil reserves, the prices fluctuate.
Threat of new entrants is the threat that new competitors present in any given industry. In a profitable industry, competition will be saturated. One of our interns told us about an ice cream owner the other day, and he said he and his partner were going to open their shop in Los Angeles. Unfortunately, they couldn't enter the market because of the competition. As a result, he moved to Houston, posing as a threat to the Houston ice cream market. His product is common with a unique twist, but he entered a less-saturated market.
Finally, the threat of substitutes is the threat of a new product replacing an existing industry's product. Let's use an airline as an example. If a new airline provided a better price and better experience, consumers would most likely choose that airline.
Dealing with competition is always tough. Download this External Analysis to beat your competition to the punch!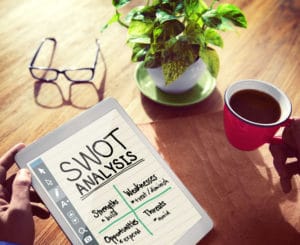 Planning With External Analysis
SWOT analysis considers Strengths, Weaknesses, Opportunities, and Threats. Opportunities and threats are the focus for external factors. These environmental changes are most likely variable, unpredictable, and out of your control.
Environmental changes are similar to "the butterfly effect" – the concept that small changes have large effects. What happens across the world may have a large impact on your company. Not all change is negative – it is possible that what happens halfway across the world might increase your revenues in some way. In that case, you'll still have to prepare… even if it's not for the worst.
"Plug In" as a financial leader
As a financial leader, you have to be plugged in. News isn't always for entertainment! In a way, it's an indication of what your next move is. When planning with external analysis, consider more than what is happening today. Consider what might happen 3-6 months in advance, based on what is happening and has been happening lately.
Conclusion
Some say that the flap of a butterfly's wings control the tides on the other side of the world. This concept, although somewhat overstated, is a great metaphor for environmental changes. What happens in Saudi Arabia may not affect us now, but maybe it might 5-6 months from now. The best part of adapting: always preparing for the worst.
Prepare for the best… and the worst. Download the External Analysis to gear up your business for change.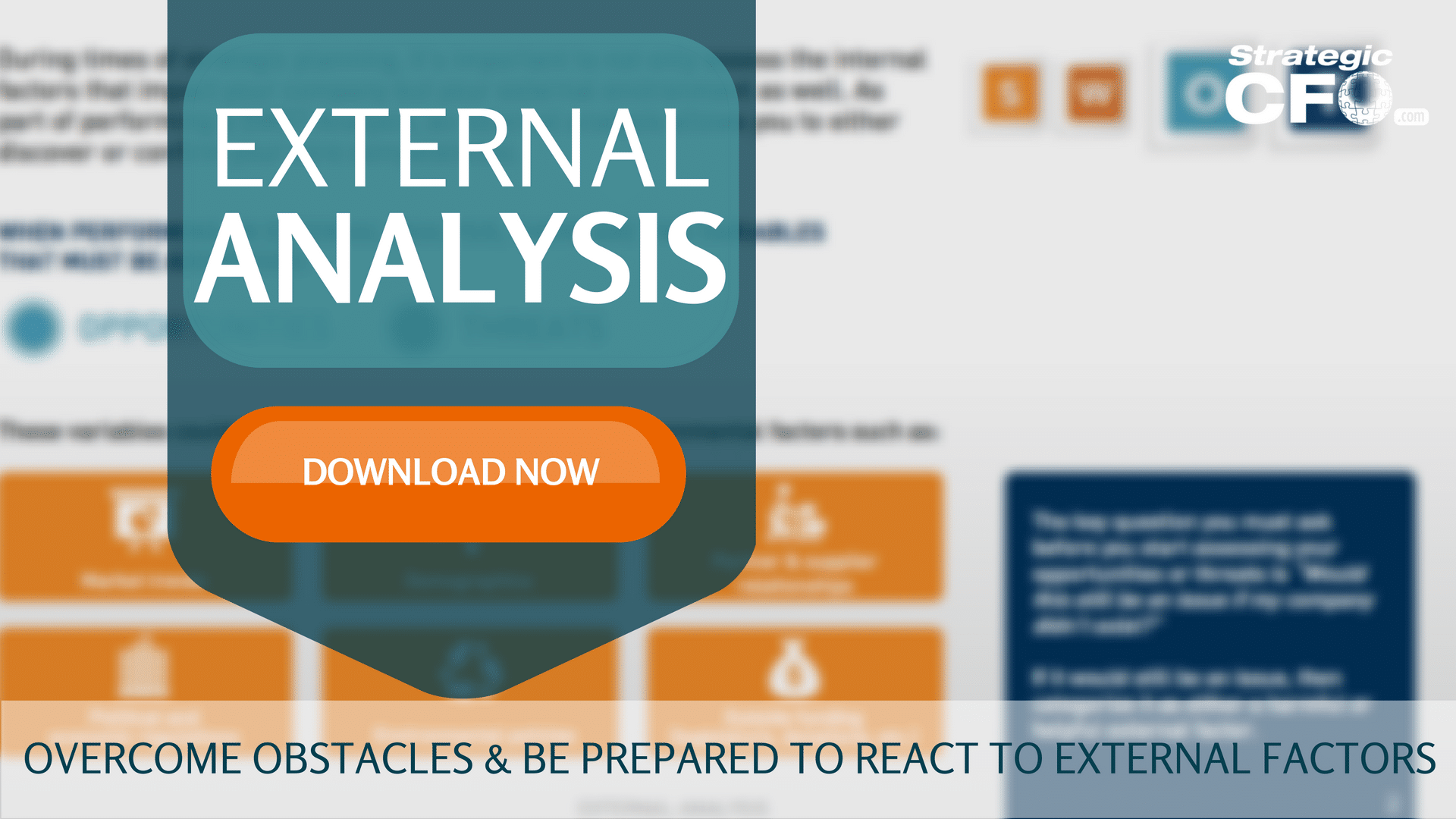 [box]Strategic CFO Lab Member Extra
Access your Strategic Pricing Model Execution Plan in SCFO Lab. The step-by-step plan to set your prices to maximize profits.
Click here to access your Execution Plan. Not a Lab Member?
Click here to learn more about SCFO Labs[/box]