See also:
Dilemma of Financing a Start Up Company
Why do most startups fail?
Financing a Startup
Business Accelerator Definition
The business accelerator definition is a program that includes mentorship, education, and typically a "demo day" where companies are able to pitch their business to the business community. This business community is typically comprised of potential vendors, investors, partners, and customers.
Start ups, early stage companies, or subsidiaries of existing companies participate in business accelerators to accelerate their sales, operations, and financials.
Business accelerators are either publicly or privately funded. Publicly funded accelerators are funded by the government. They typically do not take any equity. But they generally focus on a specific industry – including biotech, fin tech, med tech, and clean tech. Whereas privately funded accelerators are funded by private entities. Because there is a higher risk for the investors, they typically take some equity or provide capital as debt.
Regardless of the type of business accelerator, it's important to note that they are highly competitive. Application processes are usually extensive as each accelerator needs to protect their reputation – the companies they "pump" out.
---
As an introvert, business accelerators can seem daunting, but it is great networking place! Click the button to download our Networking for Introverts Guide.
[button link="https://strategiccfo.com/networking-for-introverts?utm_source=wiki&utm_medium=button%20cta" bg_color="#eb6500″]Download The Networking for Introverts Guide[/button]
---
Purpose of a Business Accelerator
The purpose of a business accelerator or accelerator programs is to grow young companies by nourishing them with the support, connections, and knowledge they need to be successful. Many times universities will have an accelerator program to monetize the intellectual property created. Likewise, governments will host these programs to fill a gap in their initiatives.
Should You be a Part of a Business Accelerator?
Now that you know what an accelerator can do for you, should you be a part of an accelerator? It all depends on the size of your company, whether you need further mentorship and coaching, and if you are preparing for a round of financing.
Need to Mentorship & Coaching
Many of our clients don't realize how valuable mentorship and coaching until they become coaching participants in our Financial Leadership Workshop. Mentorship and coaching can help further your network, your product, your process, and your brand. They provide a non-filtered, un-biased support that, while may sometimes be harsh, will help further your company.
Preparation for Financing
If you are preparing for your Series A, seed capital, venture capital, or angel investment, it's important that you see all your options. As more companies are starting up, you will see the investor pool growing. Just because you know only one Angel investor now does not mean that is your only option. Accelerators help connect the right investor for your company to you.
Business Accelerator vs. Business Incubator
One question we get often is, "what's the difference between a business accelerator and a business incubator?" A business accelerator can often last anywhere from a couple weeks up to a year. Whereas a business incubator holds companies from a year up to several years. An incubator's goal is to develop a successful company, so until they are ready to fly, they continue to incubate them.
Need guidance in networking and taking advantage of your business accelerator experience? Download your free Networking for Introverts guide and start building your network today.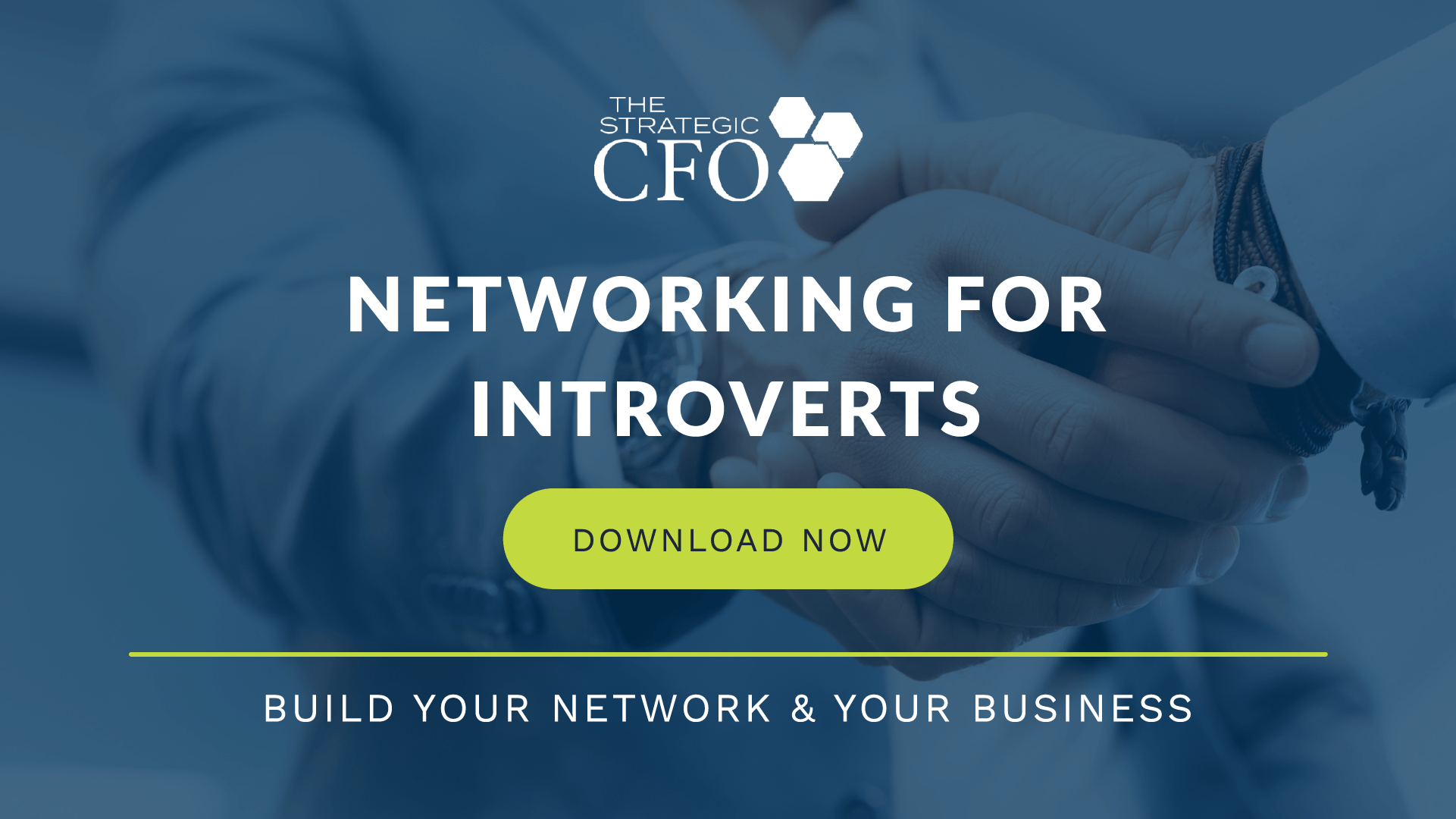 [box]Strategic CFO Lab Member Extra
Access your Flash Report Execution Plan in SCFO Lab. The step-by-step plan to manage your company before your financial statements are prepared.
Click here to access your Execution Plan. Not a Lab Member?
Click here to learn more about SCFO Labs[/box]