See also:
Product Life Cycle
Company Life Cycle
Why You Need a New Pricing Strategy
Increasing Pricing on Products
What is the Product Life Cycle?
A product life cycle includes stages the product experiences throughout its lifetime – from conception of the idea to the decline and abandonment of the product. Some products experience longer life cycles than others; however, all products go through the product life cycle stages.
Product Life Cycle Stages
What are the product life cycle stages? They are introduction, growth, maturity, and decline. Some may add other stages in between the four listed, including research and development, abandonment, and revitalization.
Introduction
The introduction stage is often preceded by a research and development stage. For the purposes of the product life cycle stages, we will start from when the product is first introduced to the marketplace. This stage is by far the most expensive stage in a product's life cycle. Sales are typically slow, so a company may be bleeding cash until the product hits the next stage.
Pricing and promotion are critical in this stage of a product's life. If it is not priced profitably or promoted effectively, then the product will arrive at the decline stage much quicker than anticipated.
---
If you want to see if you have a pricing problem and learn how to fix it, then click the button to access our Pricing for Profit Inspection Guide.
[button link="https://strategiccfo.com/pricing-for-profit-inspection-guide" bg_color="#eb6500″]Download The Pricing For Profit Inspection Guide[/button]
---
Growth
The next stage is the growth stage, where the company ramps up its sales and profits. The company will now be able to take advantage of economies of scale, profit margins, and increased profitability. Companies typically reinvest in this stage to grow the potential.
As the product gains more market share, increases distribution, etc., it will be ever important to scale the manufacturing and distribution effectively. A company needs to have an effective supply chain and logistics process to grow supply to the increasing demand. The worst thing that a company can experience in the growth stage is not being able to keep up with demand. Remember, growth impacts a company's cash flow.
Maturity
In the maturity stage of the product life cycle, a company will start broadening the product's audience, use, and availability. It is now able to maintain a consistent market share. A company will also continue to increase its production and logistics as demand continues to grow. The product becomes more popular during this stage. As a result, a company needs to be more careful in what marketing.
For example, when the iPhone was first released, many early-adopters acquired that technology. It took a few more years for it to become one of the most popular smart phone brands. As the product matures and continues to gain popularity, Apple continues to release newer, better, and greater models for a higher price.
Decline
Demand will eventually decline for a variety of reasons. Some of those reasons may include that there is a better product on the market or there is no need for that product anymore. This decline stage ends in total abandonment. A company usually has three options during this decline stage. Those include:
Offer the product at a reduced price
Add new feature or revamp the product
Allow it to continue to decline, resulting in the elimination or abandonment of the product
If the company decides to take option 3, then the entire product line is discontinued. Furthermore, they will liquidate any remaining inventory for that product.
What Stage Your Product Is In
So, what stage is your product in? As a financial leader, it is important to know what stage your product is in because it impacts profitability and the company's value. If you are in one of the first 3 stages, then it's time to check your pricing for your products. Are you pricing them to result in profit every single time? If you are not sure, then download the free Pricing for Profit Inspection Guide to learn how to price profitably.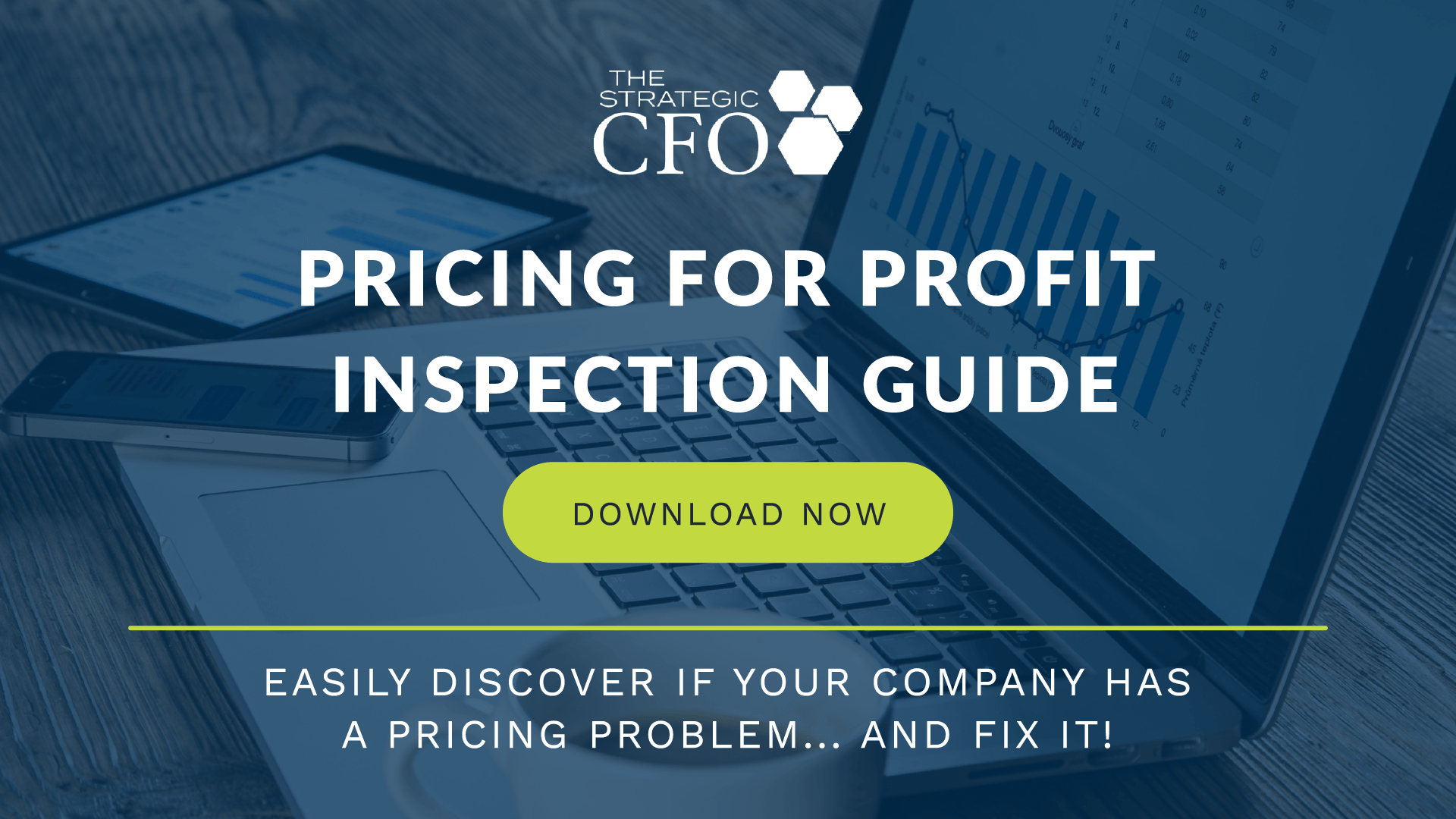 [box]Strategic CFO Lab Member Extra
Access your Strategic Pricing Model Execution Plan in SCFO Lab. The step-by-step plan to set your prices to maximize profits.
Click here to access your Execution Plan. Not a Lab Member?
Click here to learn more about SCFO Labs[/box]