See Also:
Working Capital
Angel Investor
Venture Capitalists
Why Venture Capital
Mezzanine Debt Financing
The Dilemma of Financing a Startup Company
I had a meeting the other day with a prospect named Chris. Chris owns a distribution company he started fifteen months ago from his home. He has grown his company to annual revenues in excess of one million dollars and has opportunities to double the revenue over the next fifteen months. This article is all about the dilemma of financing a startup company and how to manage that startup growth.
Chris' story is one I hear all the time… He got tried of working 50-60 hours a week for somebody else. So, he decided to start his own business. The business he started was the same as where he had been working for the past ten years. He started with the blessing of his wife and used their savings to get the business off the ground. After about six months, they no longer had sufficient savings to continue to invest. He did not want a partner, so they decided to take out some credit cards and use the money to fund the next level of growth for the business. Now, the credit cards are at the maximum credit limit. Chris and the company are experiencing real cash flow needs because of the rapid growth of the company.
---
Don't get stuck in a cash crunch! Access our 3 Most Powerful Tools – 25 Ways to Improve Cash Flow, Pricing for Profit Inspection Guide, and the 7 Habits of Highly Effective CFOs.
[button link="https://strategiccfo.com/ultimate-cfo-resource/?utm_source=wiki&utm_medium=button%20cta" bg_color="#eb6500″]Download The 3 Most Powerful Tools[/button]
---
Finance a Startup Company
Chris had gone to several banks requesting assistance in the form of a line of credit. But, the story is the same around every corner. All the banks told him his company was doing great; however, his personal credit was not. His personal credit score was low because of the high credit card exposure, so they would not loan his company any money. One of the bankers told him to give me a call to discuss alternative financing of his company's accounts receivable to help finance a startup company.
Needless to say, our first meeting did not start out great. Chris was very frustrated with the banks putting so much emphasis on his personal credit instead of just looking at his company. After listening to his story, he asked me "Why won't they just loan the money to my business?".
Not knowing what to tell him but the truth, I said "Chris, you are the business."
He then said "What do you mean?"
I responded, "Without you, the business would probably fail". I continued by telling him that his banker looks at him and his business as one entity.
We talked a lot about his personal credit and determined that it was not that he was not paying his bills… He just had so many credit cards. I told him banks just do not make consolidation loans for credit cards. Because, once you pay off your credit cards, there is no guarantee you won't max them out to the credit limit again. He then decided what he needed was a way out. He asked me "How can I get out of this credit card debt circle?"
Rebuild Personal Credit
I told him to create a plan to rebuild his personal credit, which would allow his personal credit score to improve. He said, "But if I take the money from my company to pay the credit cards, then I will not be able to take advantage of the growth opportunities I have with my company."
I showed him how his company would be able to meet it's growth. He would have the money to pay down his credit cards over the next fifteen months by creating cash flow using alternative accounts receivable financing. Then I told him he should show the banker his plan and stay in contact with him to show him the improvements. I continued by saying "If you follow through with your plan, then the banker will decide when he can satisfy your company's needs and be happy to loan the money you need for your business."
After twelve months of dealing with Summit, I am proud to say that Chris did follow his plan. The company took advantage of all its opportunities. He now has good personal credit, a loan from his bank, and his company is continuing to grow. Dilemma resolved. Download our three best tools to prepare yourself as a financial leader to improve cash flow, profitability, and your effectiveness.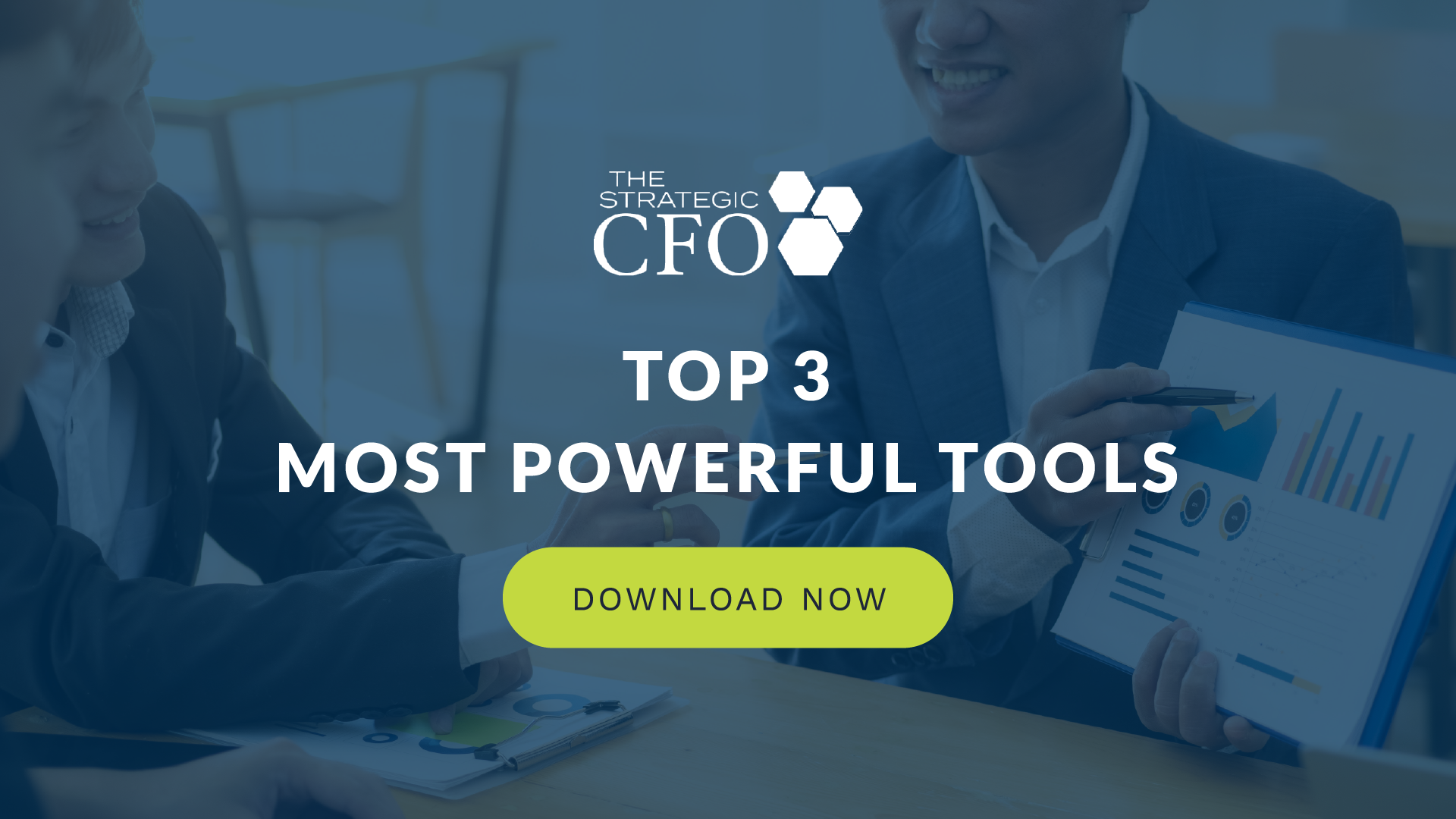 [box]Strategic CFO Lab Member Extra
Access your Strategic Pricing Model Execution Plan in SCFO Lab. The step-by-step plan to set your prices to maximize profits.
Click here to access your Execution Plan. Not a Lab Member?
Click here to learn more about SCFO Labs[/box]