On Thursday, natural gas prices hit a 17-year low. Ouch…
We often talk about how to manage your company and the best way to judge what the economy is doing. One of the simplest (and most often overlooked) things to do is to look beyond what's right in front of you to the hints the economy has left behind.
Main Street's Economic Indicator
Confession Time…
About once a month, I go to Hooters because I genuinely enjoy their wings. I love Hooters! (but don't tell my wife)
The last time I went, I noticed that the Hooters girls were out in the parking lot with hula hoops rather than inside the restaurant serving.  Were things so bad that they had to pay employees to hula hoop in the parking lot as a marketing plea for people to come and eat at Hooters?
"How's business?"
As an entrepreneur, I'm always curious about how other people view the economy.  My favorite question to ask people is, "How's business?"  When I put this question to my waitress, she told me how sales had slumped and the restaurant's business was slow, hence the hula-hooping waitresses.  Not surprising given the number of layoffs in the energy sector over the past 18 months.
What I learned through observation (strictly in the name of economic research, of course) and talking to the people on the ground was that the economic crisis had made its way into other industries.  Something I had expected, but my new economic indicator, the "Hooter Meter", confirmed it.
Halliburton just announced 5,000 more layoffs this past week. Many other oil & gas companies are struggling to maintain their economic status in the industry. If I had just chosen to eat my wings and watch the game, then I would have had little indication that restaurants are now struggling.
In management 101, we learned to walk around and talk to employees before making big decisions. You can apply the same technique to the economy.  When visiting clients, I always ask my standard question: "How's business?" Often, a client will start talking about how the economy is making business rough and how they are beginning to struggle… or I get a shrug and "it's good" to avoid further discussion.
(Have you read our recent blog post: Mistakes in Troubled Times? Click here to read more about how you might avoid making mistakes within your company.)
Economic Indicator: Monitoring the Economy
Although economic indicators are important tools that can and should be used, the extent of their effectiveness is limited. As the financial leader of your company, you must be able to walk around outside your business to observe your external environment. How is the economy affecting your community? Your suppliers (upstream and downstream)? Your customers?
(You can see all of the economic indicators provided by the US Census Bureau here.)
The Strategic CFO often coaches and consults with oil & gas companies. Many of Hooters' customers work in the oil & gas industry.  By observing the affect of the economy on Hooters, I'm better able to prepare my company to be adapting to the changing economy.
Be an Effective Wingman
A CEO needs a financial wingman who can observe the economy and how it affects the company. The goal of this is to be able to react and prepare the company for anything. One of the ways you can achieve this is by doing what entrepreneurs do: keep your eyes and ears open for non-traditional economic indicators.
[box](NOTE: Want more tips on how you can be a trusted advisor? Check out our whitepaper How to be a Wingman!)[/box]
Wikipedia says this:
The wingman's role is to add an element of mutual support to aerial combat. The presence of a wingman makes the flight both offensively and defensively more capable by increasing firepower and situational awareness, permitting the attack of enemies, and increasing the ability to employ more dynamic tactics.
With fewer professional jobs being available due to the recession, it's important to provide the best advice to your CEO to prove your value. Financial people are often seen as overhead, but if they are able to provide insight (even if it's found over Hooters hot wings),  they will be better able to create value.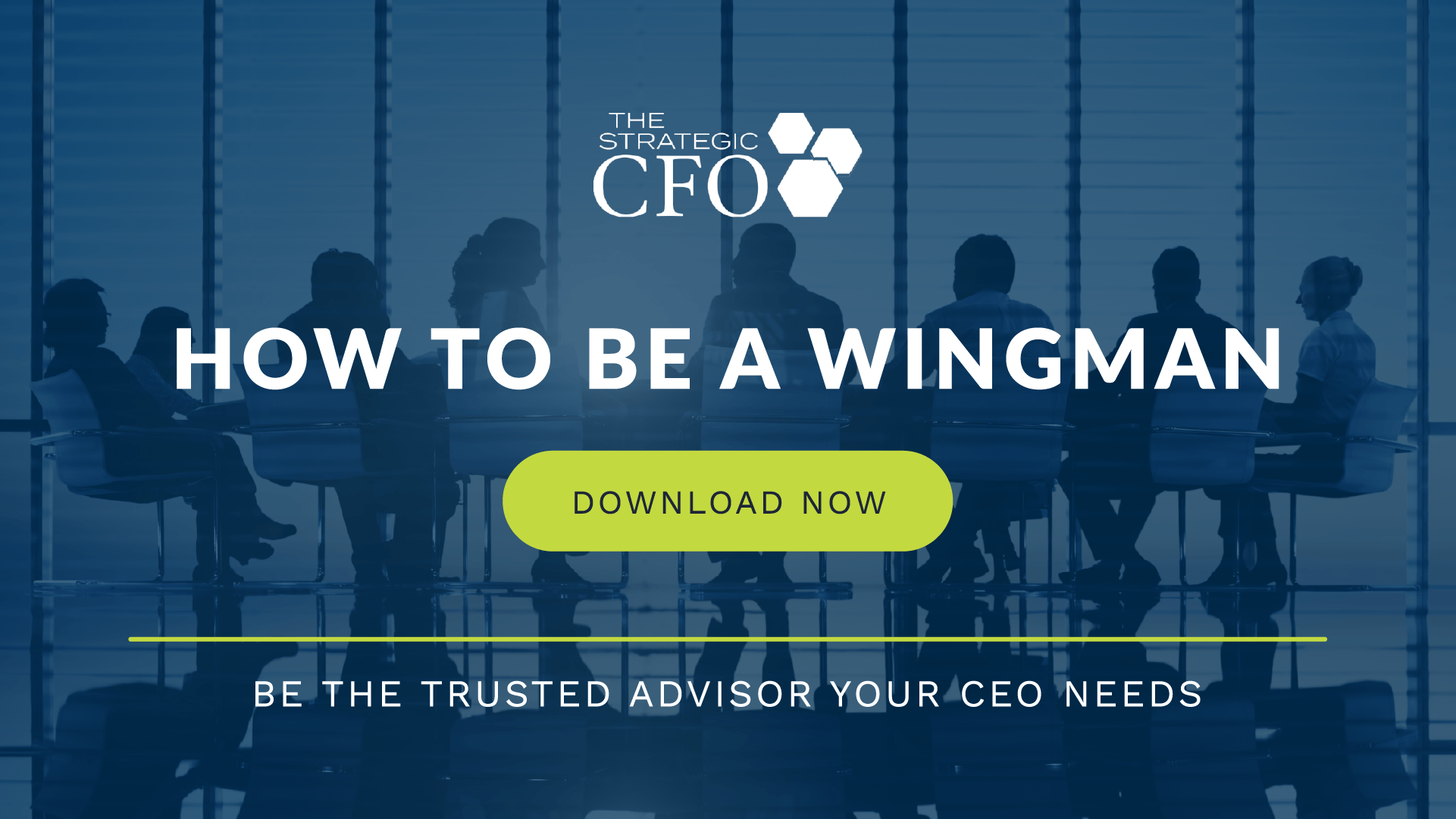 [box]Strategic CFO Lab Member Extra
Access your Strategic Pricing Model Execution Plan in SCFO Lab. The step-by-step plan to set your prices to maximize profits.
Click here to access your Execution Plan. Not a Lab Member?
Click here to learn more about SCFO Labs[/box]