See Also:
Accounts Receivable
Accounts Receivable Collection Letter
Financial Ratios
Accounts Receivable Turnover
What is Factoring Receivables?
Accounts Receivable Turnover Analysis
Net 30 Credit Terms
Collect Accounts Receivable
Every company has them…past due and slow pay accounts. Here are some ways to help keep your cash coming in the door and collect accounts receivables.
Improve Accounts Receivable Collection and Invoicing
Commercial and industrial experience has proven the following percentages… Of ten new customers, six will pay on time, two will pay in 60 to 90 days and two will become collection problems.
Always watch your new sales. As money becomes tighter, you will receive one-time sales from firms that may be experiencing financial problems. While these customers will bounce from business to business, they need your close attention if you want to retain them. A useful management tool for collecting accounts receivable is the Flash Report.
Credit
Be familiar with your customers' credit. Only extend credit to organizations you feel confident will pay you. Make sure you don't have to write off your hard earned sales through bad debt!
Pay close attention to the credit terms you are offering your customers. One good way to collect accounts receivable (ar) is to do so before you deliver your product and structure your terms accordingly. An example of this would be a propane company in the winter months; nothing works better than to be paid prior to delivery.
Examples of accounts receivable payment terms:
For custom manufacturing companies:
50% before work begins, 40% before delivery and 10% after delivery
For wholesalers and retailers:
Depending on creditworthiness, 10 days net for companies with good credit, prior to delivery for companies with questionable credit or those that are past due.
Develop a minimum sales order that will require a credit check
Check three references on a new client
If payment history is greater than 60 days obtain supervisor approval
Perform the following steps when invoicing the customer:
Invoice within 24 to 48 hours after performing service
Review invoices for accuracy
Double check that everything has been billed
Note payment terms on the invoice
[box][highlight]For more tips on how to optimize your accounts receivable, download your free A/R Checklist here.[/highlight][/box]
Assign Responsibility for Accounts Receivable Collections
Use a dedicated collections individual. Then designate one person in your organization to be the accounts receivable collections representative, someone who can make the collection calls and stay on top of accounts receivable. There are some personality traits that you should look for when assigning this function. Some traits to look for: A professional presence, adept at working with and handling difficult people, skilled at follow up and well organized in order to document collection efforts.
You may want to pay your accounts receivable collections individual a commission as an incentive to keep accounts receivable collections current. Alternatively, you might consider paying a bonus at certain increments based on established criteria.
The goal is to work with delinquent companies and receive payment as quickly and cost effectively as possible!
For many companies, add accounts receivable collections to a current employee's responsibilities as it should not be a full time commitment. If there is a legitimate reason the customer has not paid, then it's best to get this taken care of early so as not to impact your cash flow for any longer than necessary. Never underestimate the impact of reminder and collection calls!
Accounts Receivable (AR) Collection by Telephone
Given the use of voice mail the effectiveness of phone calls are somewhat diminished. However, they are still an effective means of collection. The phone calls enable the credit manager to present their case to the debtor for immediate response. During the conversation you can determine whether the claim will be paid in full and when. This is the time to determine the reasons for non-payment.
We have put together the following three main reasons for non-payment:
Lack of funds. Most non-payments result from lack of funds.
Dispute. Discuss disputes to determine whether or not they are valid. Adjust the valid claim quickly and fairly, the non-valid claim exposed and immediate payment requested.
Refusal to pay. If it is refusal to pay, you must take third-party steps to enforce payment. Consider hiring a collections attorney.
Check out the following tips on phone collections:
Identify yourself and the company
Call the person in charge
Ask for the payment in full by a specific date
If the bill is in dispute, suggest a solution
Put it in writing if a solution is met
Set up a personal meeting with the client if the solution is not met
---
[button link="https://strategiccfo.com/ar-checklist?utm_source=wiki&utm_medium=button%20cta" bg_color="#eb6500″]Download The A/R Checklist[/button]
---
Managing the Accounts Receivable Process
To quote Peter Drucker: You can't manage it if you don't measure it! The same holds true for collecting accounts receivable! So how do you measure your effectiveness in collecting accounts receivable?
Daily Sales Outstanding (DSO)
What is DSO?
DSO is the average of your accounts receivable. The numerical accuracy of the number is not as important as the trend. But blend an estimate of how long it takes to collect your accounts receivable. If you are making progress then it should be trending lower. First, calculate where you are today.
How do you calculate DSO?
Use the following formula to calculate DSO:
DSO = 365/ (Annual Credit Sales/ Average Accounts Receivable)
Commercial Collection Servicies
Hire a collection agency. Ways to find a reputable collection agency include referrals from other companies as well as professional firms and organizations with which your company does business. No matter how you receive the referral, be sure to ask the collection agency for customer references and call the references. Ask some of the following questions:
How responsive is the collection agency to your questions?
Do you have a report on the progress of your accounts promptly and in a format that is user friendly?
Do they remit proceeds quickly and accurately?
Can you resolve these issues quickly?
Final Comments
Review your internal process. Remember, collecting accounts receivable is an internal process as well! Before initiating collection calls, be sure your internal house is in order. It is vitally important that your cash applications are timely and done correctly. It's extremely embarrassing and inefficient when you run into the following situation. Your collections representative conducts a collection call only to find that the customer has in fact paid the bill and the payment has been misapplied. Furthermore, a similar situation also exists when your employee makes a collection call when the payment was received 2 weeks earlier.
Accounts Receivable Collections
AR Collections should start with your cash applications function. Remember, your process here is critical. So follow it without exception. Further more, apply payments quickly and accurately. If you cannot identify a payment to an invoice, then call the customer in a timely manner to identify what is being paid. This is absolutely critical!
Issue invoices that make cash application quick and easy. If you have large volumes of invoices or are short staffed, automate this process. Then, have an organized and mechanical follow up of accounts at regular intervals in your systems. For instance, use 10,30 and 60 days past due.
Any program that permits three statements or a two to three month time lag before the first collection step is taken will result in a lower recovery ratio. Make collections update meetings a priority for the controller and collections person. At the meeting, review collection notes, progress and next steps.
Know the Cost of Past Due Accounts
If you cover your cash shortfalls with a line of credit, then consider that at an interest rate of 10% on your line, every $100,000 in past due accounts costs you $833 per month or $10,000 per year.
Train Your Customers to be Good Payers
Creating an accounts receivable collection process and following it consistently will allow you to accomplish this important goal.
For more ways to add value to your company, download your free A/R Checklist to see how simple changes in your A/R process can free up a significant amount of cash.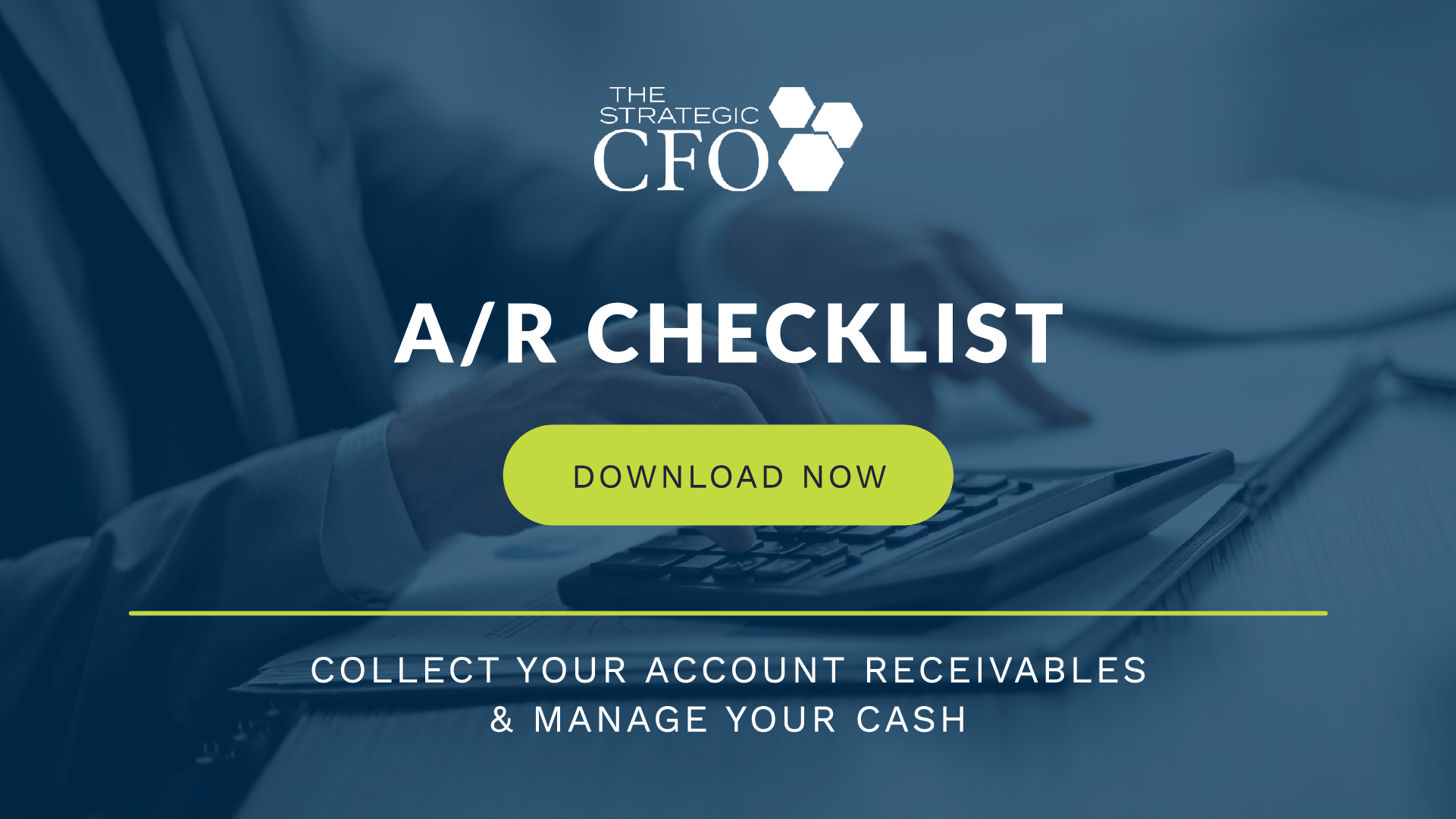 [box]Strategic CFO Lab Member Extra
Access your Cash Flow Tune-Up Tool Execution Plan in SCFO Lab. The step-by-step plan to get ahead of your cash flow.
Click here to access your Execution Plan. Not a Lab Member?
Click here to learn more about SCFO Labs[/box]