So, you're considering selling your business… Whether it's to pursue new opportunities or to get out while you can, you need to start thinking about your business from a valuation standpoint. Even if you don't intend to sell your business in the near future, building a business to be sellable is a sound strategy. So, what is your business worth?
When It's Time to Leave
How do you know when it's time to leave? If you're experiencing these signs, you should strongly consider creating an exit strategy for your business:
Sick and Tired
Sick and tired… Literally. Entrepreneurs by nature are constantly looking for new opportunities. As a result, business owners often feel tired, fatigued, and overwhelmed by the business. Imagine constantly building your business for 25 years… it never ends, and it gets exhausting! The natural reaction is to look elsewhere, but before you start searching for the next big thing, you have to take care of your current business first. After all, it is your creation.
Declining Revenues
Decline in company revenues. A decline in revenues is never a good sign for a company. Let's say that you've been trying new methods for years now, but revenues continue to decrease. Even zero growth is a red flag that you should take action.
Keep in mind, some business owners make their decisions based on this one reason, and some make a move based on a multitude of decisions built up over time.
Market is Declining
The market for your business is declining. I used to work with someone that owned a small business before the attack on the twin towers. He flew in nurses internationally to work in his medical business, which provided him steady cash flow and a healthy bottom-line. The demand was also constant… until the terrorist attacks on 9/11. From that moment, it was more difficult to operate a business that relied upon flying in workers from other countries. The delay of bringing in nurses wreaked havoc on his business. Because of this difficulty, he decided to create an exit strategy.
When market changes are out of your control, the best thing to do is prepare. Getting your exit strategy ready before market changes force your hand is better than waiting for it to crash.
Partner Disputes and Relationships
Starting a business with partners is easier than exiting a business with them. This may be a legal issue, as easy as looking at a contract.
Sometimes, it does get ugly. Facebook is a great example. If you've ever seen "The Social Network," you'll probably recognize this story. Mark Zuckerberg and former business partner/investor Eduardo Saverin started Facebook together, but when Saverin displayed breach of fiduciary duties, Zuckerberg diluted Saverin's stake in Facebook. This ended with Zuckerberg's majority ownership and Saverin's minimal-to-nothing ownership.
How would this relate to your business relationships? When starting a business, you want to choose a partner that will be able to carry out responsibilities completely. You also should flesh out your contracts, terms, and exit strategy.
"Life is like a box of chocolates; you never know what you're gonna get." 
Things happen in life, like getting married, divorced, sick, and busy.  What are your priorities as a person – what do you value most? Is a business more important than your family, or vice versa?
---
[highlight] Are you in the process of selling your company? The first thing to do is to identify "destroyers" that can impact your company's value. Click here to download your free "Top 10 Destroyers of Value". [/highlight]
---
What is Your Business Worth? | Assessing Valuation Methods
There are different methods to assess the value of your business. Many of these methods are specific to the type of business you have.
Asset-Based Valuation
This method, as the name indicates, calculates total asset value minus total liabilities. This method is criticized, however, for its ambiguity in valuing assets. The assets may not have been recorded on the balance sheet, or may be unique or custom products that are difficult to value.
The method is best used when focusing on real estate or other similar investments.
EBITDA Valuation Multiple
This is the most popular method, and usually references the market in relation to your business.   Businesses typically sell for 3X-5X EBITDA, but this can vary widely depending upon the type of business and the buyer. The ratios are calculated by taking the market value of a business, and dividing it by EBITDA.
According to ValuAdder, EBITDA valuation multiple removes the following when you value your business:
Who should you give the valuation to?
So, who should you give the valuation to? There are two people you should give it to:
Conclusion
Investors or buyers calculate the value business based on more than just numbers. You might be selling to a current employee, someone well-versed in the industry, or a friend. There are many reasons a business owner might sell the business – relationships, cash flow, new opportunities.  Both the buyer's and seller's motivation will affect the price of a business, so it's important to consider all of the angles and ensure that the method of valuation you choose accurately assesses the value of your business.
Want to know some of the things that may be hurting the value of your business?  Check out our whitepaper Top Ten Destroyers of Value to see where you might be leaving money on the table.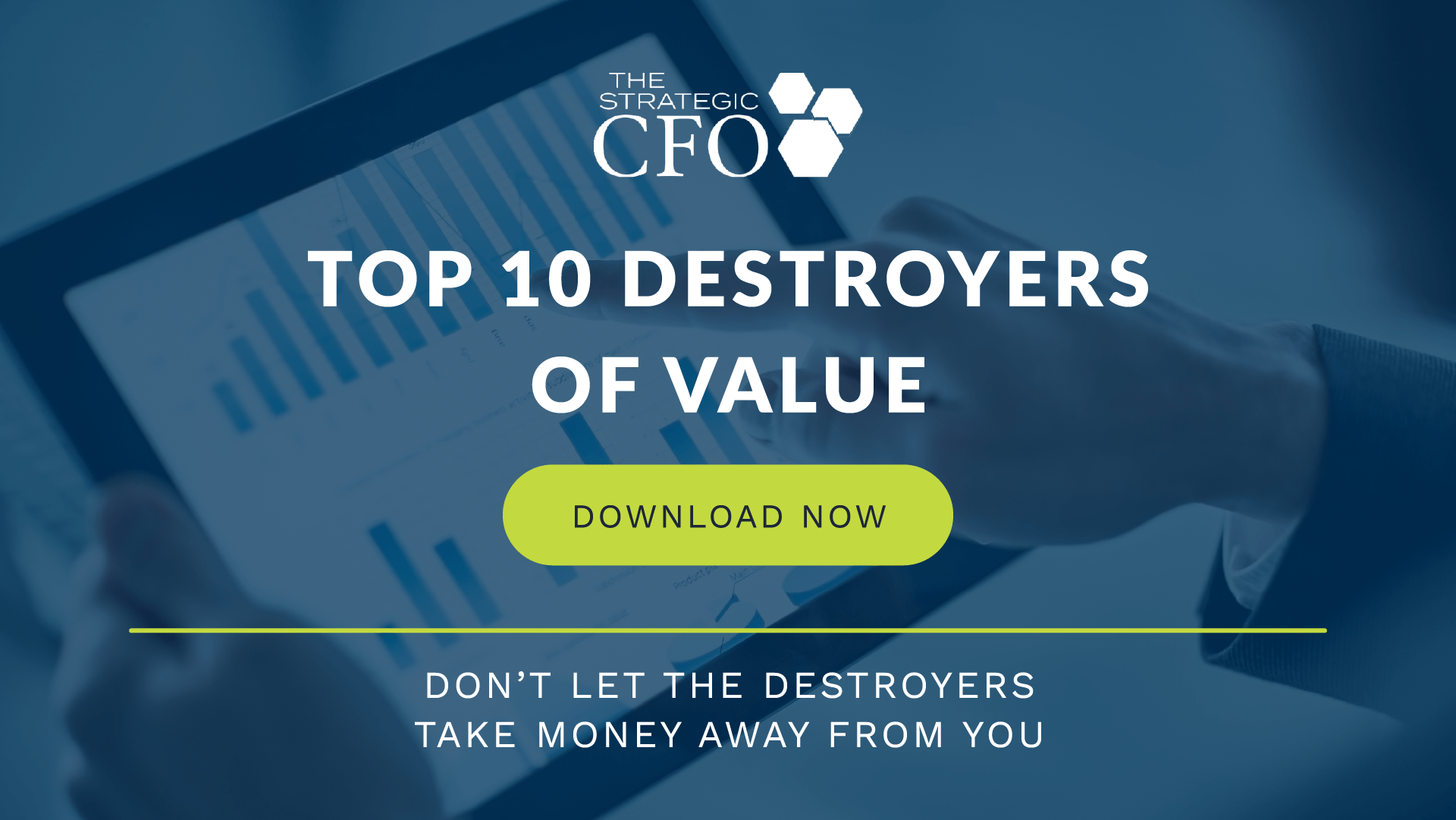 [box]Strategic CFO Lab Member Extra
Access your Exit Strategy Execution Plan in SCFO Lab. This tool enables you to maximize potential value before you exit.
Click here to access your Execution Plan. Not a Lab Member?
Click here to learn more about SCFO Labs[/box]