See Also:
Sales and Marketing Compensation
PEO or Outsource Payroll
Wage Rate
Employee Stock Ownership Plan (ESOP)
Employee Health Insurance Plans
Compensation Plan Definition
A plan, defined as the plan of how to compensate employees for their work efforts, is one of the most common concepts in the professional world. Compensation plans design a number of payment schemes: wages associated with the amount of hours spent at work, wages gained from productivity while working, health benefits, bonuses, and even a cafeteria plan.
Compensation Plan Explanation
A compensation plan, explained as the motivational factor which makes employees show up to work, is the most central concept in the study of human resources. HR professionals around the world spend most of their work day working with compensation plan benefits. The two main methods are salary and commission-based pay.
Salaried employees receive a consistent amount of income. This method is perfect for employees who's performance is not related to sales in the company: administrative staff, analysts, and others. The benefit of a salaried compensation plan for a sales team is that it provides a consistent platform for an employee to survive on.
Productivity based compensation plans are perfect for employees who drive sales. These employees, such as sales staff, need a motivation to be more productive each day. If a company were able to create this behavior it would result, in the end, in increased shareholder wealth. Many employees with this type of compensation plan receive some salary in addition to commission. This allows them to have some stability while they attempt to grow their success.
Other compensation plans provide an additional perk to employment. Health benefits, for example, make an employee feel like a company cares about their health. Cafeteria plans project the same image. In reality, a company experiences the benefit of this morale boost while also ensuring the ability of employees to work effectively. Regardless, the compensation plan for the CEO should be very different from that of the office manager.
Compensation Plan Example
For example, Crystal is a human resources professional with a major corporation. In her work she makes sure to create compensation plans for professional employees which motivate success for the firm as well as workers. Crystal is now working with two employees: an administrative assistant and an executive salesman.
With the administrative assistant, Crystal uses a salaried plan. Due to the fact that this employee will be showing up to work on a consistent basis, she includes medical, dental, and cafeteria plan benefits. This allows the assistant to have a consistent life to match the consistent work schedule.
For the executive salesman, Crystal takes a different approach. She includes a meager salary. Then, she also includes 10% commission on every sale. Crystal knows that the salesman can afford his own medical and meal benefits. So, instead, she provides two other benefits: a bonus for exceeding the sales quota and allowing the salesman to keep the miles he gets from the flights he takes to visit clients. This way, he will be motivated by more money. Also, when he takes his family on two rather than one vacation a year, he will thank the company for appreciating him as an employee.
Crystal attempts to get creative with her compensation plans. Rather than sticking with expectations, she creates a new motivation. This way she can make her company stand out. Her hope is that employees will appreciate customized compensation because it fits their needs better. So far, she has been correct with at least two of her choices. She looks forward to pleasing other employees as well.
Conclusion
Employee compensation is typically one of the largest line items on a company's financial statements. Many companies are quick to hire, only to find out their hire was a dud. Determine which candidates are the right fit for your company by downloading the free 5 Guiding Principles For Recruiting a Star-Quality Team.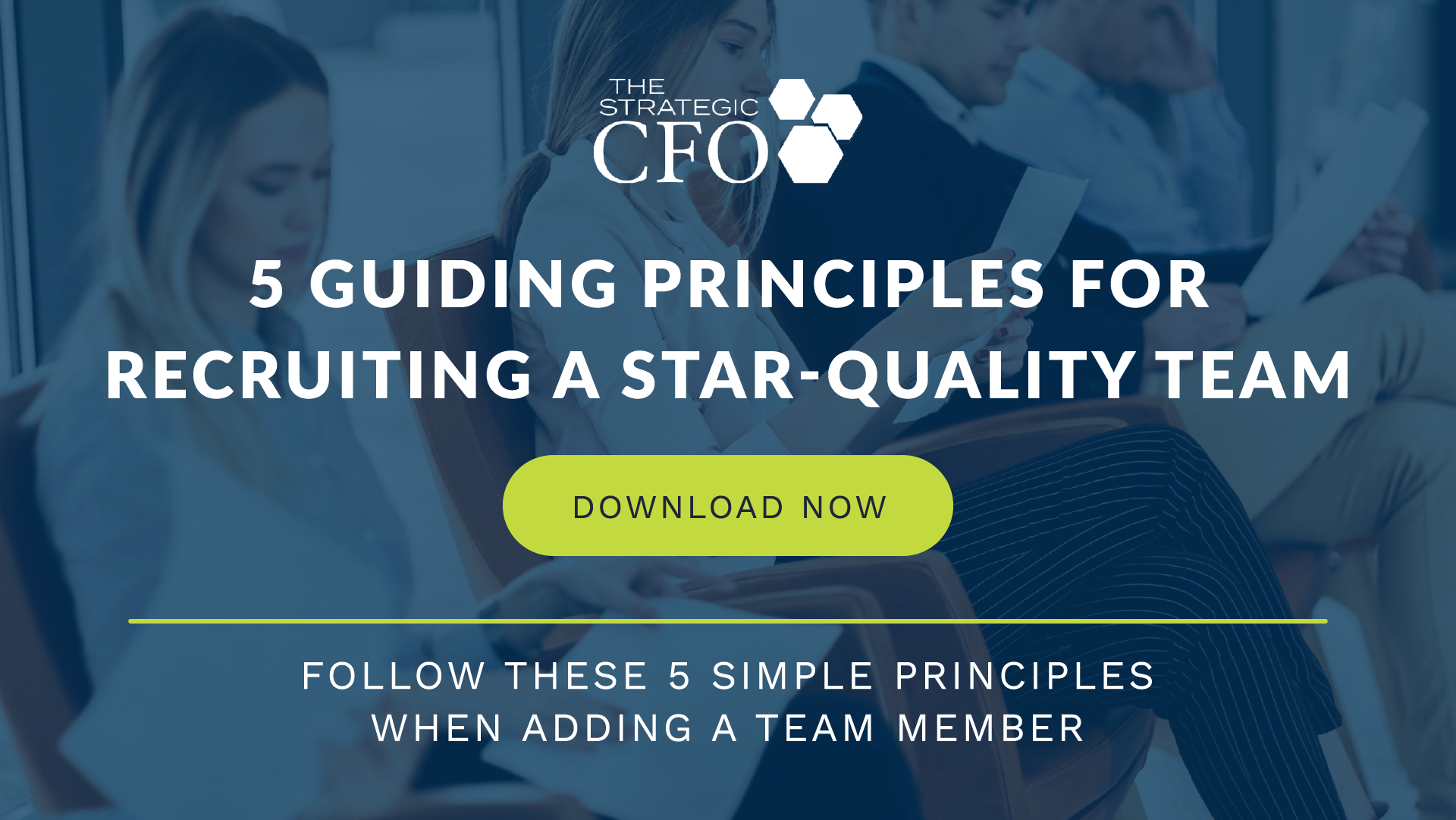 [box]Strategic CFO Lab Member Extra
Access your Recruiting Manual Execution Plan in SCFO Lab. The step-by-step plan recruit the best talent as well as avoid hiring duds.
Click here to access your Execution Plan. Not a Lab Member?
Click here to learn more about SCFO Labs[/box]