Working with clients over the years, it seems as though we've seen every employment trend come then go. Then they come back around again.  When the economy is bad, talented employees will stay in a less-than-desirable situation. Conversely, companies begin to tighten their belts and reduce headcount.  When the economy improves, these folks start looking for greener pastures and the demand for talented people increases. Especially as unemployment levels fall and economic forecasts become more optimistic, many of our clients are finding themselves in this situation.
The Demand for Talented People
A recent Robert Half & Associates report, The Demand for Skilled Talent, discusses what's driving this demand for talented people.  Following are some of the contributing factors highlighted in the report…
Shortage of Candidates
An 18% increase in job openings from April 2013 to April 2014 has given talented people more opportunities to find the right fit.  Even better news for college-educated employees, job growth for degreed positions is projected to be significantly better than for non-degreed positions.  With the growth in positions requiring a college degree, it's likely to become even more difficult for companies to fill highly-skilled positions.
Employee Confidence is Building
Voluntary separations are on the rise, up 19% over the last two years. This underscores the fact that employees are more willing to make a move.  With the increase in the demand for college-educated employees also comes higher salaries.  Average starting salaries for professionals are projected to rise 3.7% in 2014.  The promise of a bigger paycheck is motivating many talented professionals to explore their options.
Workers Are More Willing to Quit Their Jobs
As economic conditions improve, employees are more willing to take a risk on new opportunities.  The following chart from the report illustrates the growing number of workers who willingly left their jobs over the past two years.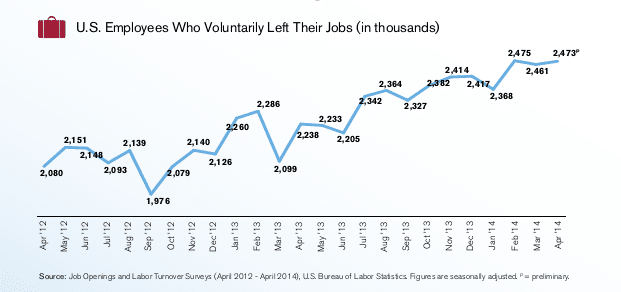 Retaining Talent
Studies show that it can cost anywhere from 1-5 times the departing worker's salary to find, hire and train their replacement.  This isn't even considering the stress on an organization caused by the departure of key employees and the search for and assimilation of their successor. Given the current employment environment and the high cost and stress of replacing departed workers, it's more important than ever to retain talented employees.
The Right Fit
One way to hang on to key people is to make sure they are the right fit when they are hired.  Too often, companies fill a position out of haste and fail to consider what the right person really looks like.  Click here for an article about hiring a star-quality team.
Temporary Employees
A trend that is becoming more prevalent in today's companies is the use of temporary and contract labor.  This option is attractive to both employees and employers because both parties get an opportunity to "try before they buy".  The risk of an employee being out of work when a contract ends is being mitigated. This reason for this is because of increased opportunities for contract assignments available to skilled individuals.
Offer Training or Coaching
Another approach to employee retention is to offer training and coaching for existing employees to help close the skill gap.  Today's organizations are running leaner than in the past. So opportunities for mentorship within the company are often hard to come by.  Many employees possess the raw talent to be great team members. But they simply lack experience or soft skills that can get them to that next level.
Click here for the full text of the Robert Half & Associates report.
Download our free 5 Guiding Principles For Recruiting a Star-Quality Team to acquire the top talent.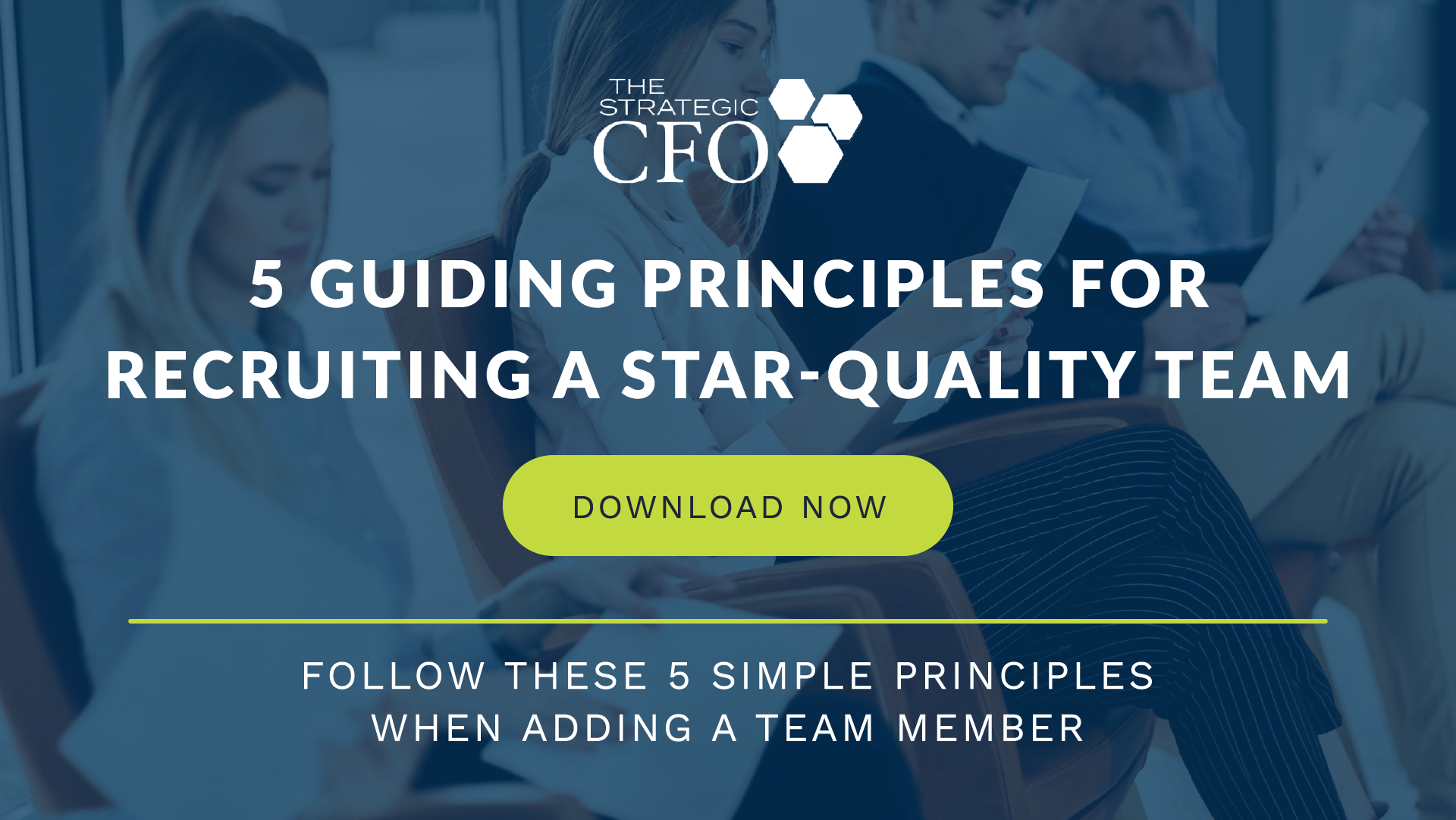 [box]Strategic CFO Lab Member Extra
Access your Recruiting Manual Execution Plan in SCFO Lab. The step-by-step plan recruit the best talent as well as avoid hiring duds.
Click here to access your Execution Plan. Not a Lab Member?
Click here to learn more about SCFO Labs[/box]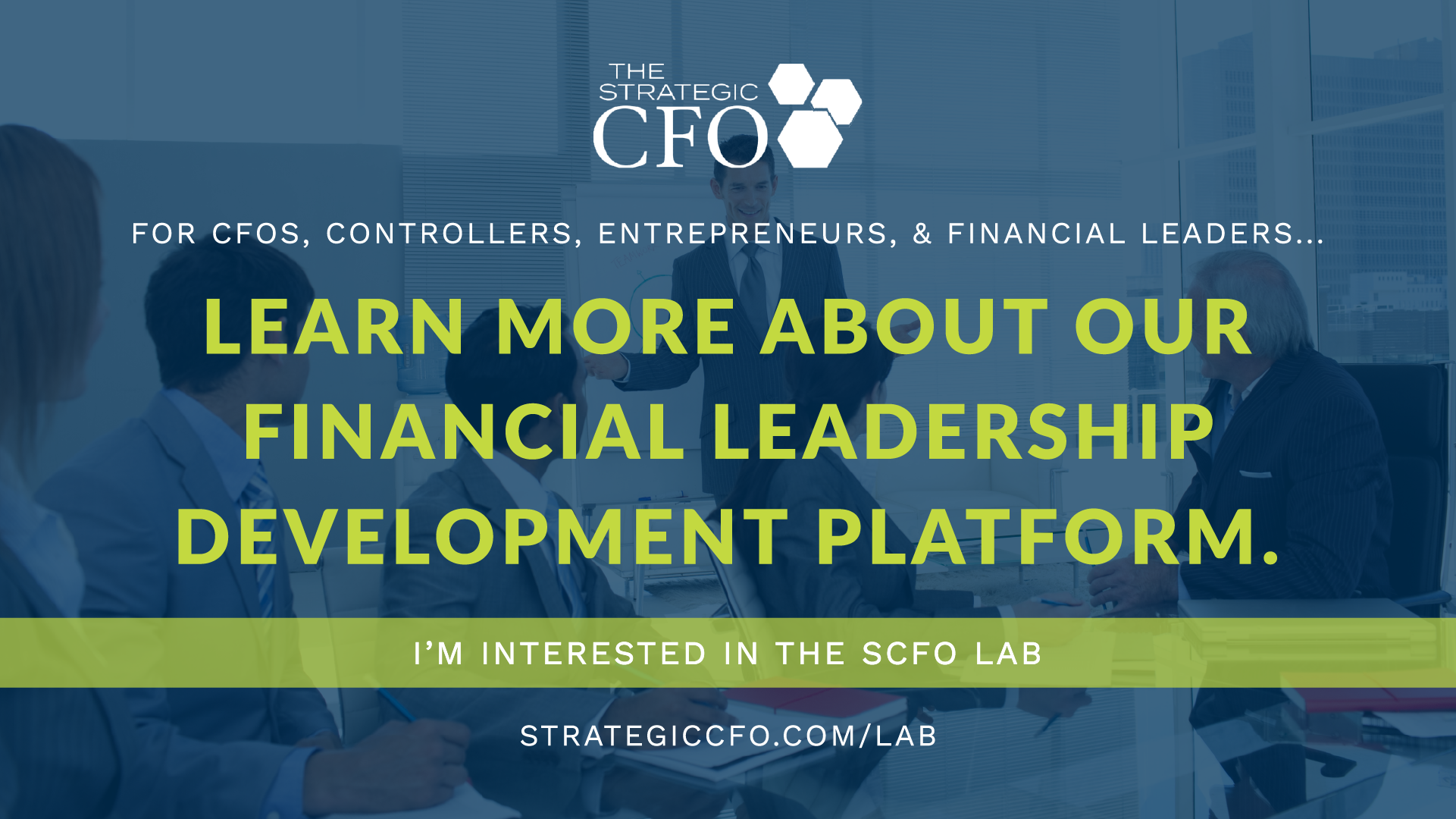 See also:
Is Employee Turnover a Problem
Employee Turnover