See Also:
Terms of Sale
Net 30 Credit Terms
Cost Recovery
2/10 net 30
Down Payment
Define Payment Terms

Define payment terms as the terms required for payment on a product, are a function of the service offering of a vendor. These terms are an extension of how a vendor wants to treat a customer. Common policies are 2/10 net 30, pay in 30 days, payment terms l c (line of credit), cash on delivery, telegraphic transfer, and more. A payment terms discount may even be offered by vendors as a benefit of a purchase.
---
[button link="https://strategiccfo.com/ar-checklist?utm_source=wiki&utm_medium=button%20cta" bg_color="#eb6500″]Download The A/R Checklist[/button]
---
Payment Terms Explanation

Payment terms, explained as the terms which dictate when a vendor must be paid, vary in policy. Some businesses accept no payment terms: they receive cash on delivery (cod) or even before the product is given to the customer. Other businesses offer payment terms as a perk of becoming a client. These terms may be pay in 30 days, a 2% discount for paying within 10 days (2/1 net 30), and other terms which allow the customer to pay later.
Furthermore, vendor financing is another payment term. The occurs when the customer pays interest but is allowed to repay the cost of the product they have received as they see fit. A line of credit is a form of vendor financing when it is received from the provider of goods. Payment terms are often negotiable, so some businesses may have the policy of payment terms dnd. Dnd, here, means do not disclose. This generally means that the vendor will want to talk with the client to allow for assessment and negotiation of individual situations.
Additionally, payment terms and conditions exist. Conditions on payment may be as briefly listed above; cash on delivery (cod), payment is to be received in a foreign currency, and more. In this situation it is up to the vendor to decide the payment terms and conditions which should be offered to the client.
Additionally, certain payment methods may be required. Payment terms t t indicate that telegraphic transfer is required. Other methods differ greatly depending on the situations of both parties.
Payment Terms Example

For example, Joel has a company which provides cleaning of outdoor areas. Their business has many specialties that include pressure washing, chemical cleaning, and even cleaning residential back yards with dogs and other pets. This industry also requires many products and tools for operations.
Joel needs a new pressure washer. To get this item, he will purchase it from one of his favorite vendors. Fortunately, they provide payment terms which Joel appreciates.
This company offers 2/10 net 30 terms. This means that Joel can pay within 30 days of receive a 2% discount by paying in 10 days. Joel likes this because it will allow him flexibility in his decision making.
With these terms Joel decided to pay in 10 days. By receiving the discount, he has more cash to use on his business. With payment terms like this, he will stay with this vendor for a long time. For more ways to add value to your company, download your free A/R Checklist to see how simple changes in your A/R process can free up a significant amount of cash.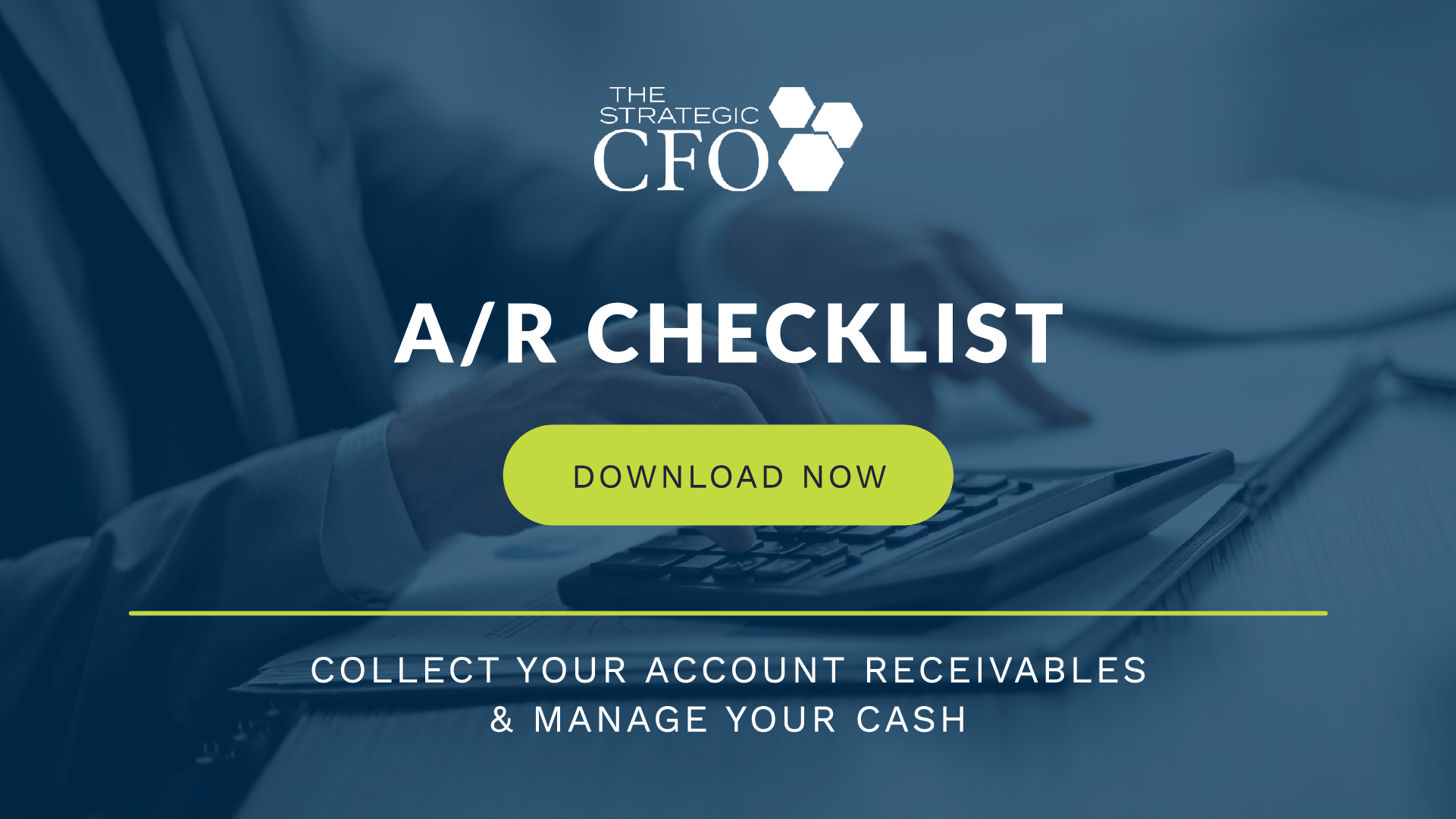 [box]Strategic CFO Lab Member Extra
Access your Cash Flow Tune-Up Tool Execution Plan in SCFO Lab. The step-by-step plan to get ahead of your cash flow.
Click here
 to access your Execution Plan. Not a Lab Member?
Click here
to learn more about SCFO Labs[/box]