See Also:
Technology Assessment Criteria
How to Evaluate IT Systems
Backup and Recovery Solutions
How do You Know When it is Time to Buy New Software
How to Respond to an Imminent Disaster Threat
Technology Strategy for Small to Medium Sized Companies
There are several components to developing a technology strategy for small to medium sized companies. Whether you already own a small business or are looking to start one, you need to have a technology strategy. If you are a service business or like many other small businesses today, then one of the most important tools you will need is a solid technology strategy. IT strategy and planning will be at the core of what you do and will help drive efficiencies in your business. Many questions will start to come to mind, including some of the following:
Do I buy a server?
What about a website?
Do I outsource or insource our technology?
How much is it going to cost?
What about a wireless network?
How do I get email to my phone?
What about backups?
These are all great questions, and there are good answers available to all of these. And like with most questions, the answers depend on your unique situation.
---
The CEO needs a trusted advisor to help them navigate the day-to-day operations as well as the big picture strategy.
[button link="https://strategiccfo.com/how-to-be-a-wingman" bg_color="#eb6500″]Download The How To Be A Wingman Guide[/button]
---
The Basics of Technology Strategy
Let's start with the basics and assume that technology development strategy is something you want to embrace, and you have outgrown the #2 pencil and Big Chief tablet. The answers will vary depending on size and requirements, but let's walk through several different scenarios and recommendations.
Common questions that need to be answered include the following:
How many employees do you have today?
How many do you expect to have three years from now?
Is collaboration important? If so, is it limited to email, calendars and contacts? File sharing?
What about mobility? And most importantly, what about backups?
Technology Strategy Examples
Let's take a look at some example companies as real live examples. The names have been changed, but the examples should help to understand what options are available. It might also help you figure out what might be the best fit for your small business.
[box]Company A – Meridian Energy Services
Company Type – Startup
Number of employees – 3
Expected number of employees at headquarters in 3 years: 20
Employees stationary or mobile: Very mobile / International
Office Type: Executive Suite Today / Office Space in near future
Many visitors to the business? Yes, investment bankers and attorneys
Applications: MS Office, Outlook, QuickBooks[/box]
Meridian Energy Services (MES) is a new startup made up of 3 executives with private funding that are looking at mergers and acquisitions of energy related companies. What types of computing services do we recommend? Let's go through the basic questions a small business owner has one by one and answer the questions.
The Need for a Server
Do I need a server? Possibly, but until you have your own office space and start to have more than 3-5 employees I would say no. We can easily add a server at a later date and build upon the basics that we will outline here. First you should register a domain name. Your company name and domain name will be one of your most important early decisions. Prior to deciding on a company name, make sure you can get a domain name you like and it is easy for your new clients to remember. It also looks a lot better when you have an email address that goes to your domain name versus going to Gmail or AOL, etc. First impressions are important.
The Need for a Website
What about a website? Websites today are both economical and quick to get setup and running. Since you were smart and already have your domain name, quickly have a new website in place. Look for a company that can build you an economical site and has a built in Content Management Solution (CMS). This CMS allows you to easily make updates and changes to your own website without having to be a web guru. If you know Microsoft Word, you will be able to update your own website. Also, make sure your website provider is up to speed on Search Engine Optimization (SEO). This will become important in the future as you grow and want to be easily found on the search engines. Learn more about SEO here. OK, so now you have a good company name, a domain name and have your website underway.
Collaboration
How do I get email to my phone? So you have a few people, you are yet to have an office, but you need to be able to communicate. If you are like most small business, what is next is email and a cell phone. Until you are at a point that you need a server, we recommend that you go to a hosted Exchange solution and a data plan with your cell phone.
So, what's next? Microsoft Exchange will give you the ability to share calendars, contacts, tasks, etc., and will allow you to wirelessly sync up these items with your cell phone and notebook computers. Today, you no longer need to have a server to have the features of MS Exchange. You can easily setup your email through a third party with hosted Exchange with as few as one user. The cost is around $12-25/month depending on whether or not you want to be able to synchronize with a Windows Mobile or Blackberry devise. You will also need a data plan with your wireless carrier for this feature. The wireless providers usually charge from $10-20/month for unlimited data plans in addition to your wireless plan.
Outsource or Insource Technology
Do I outsource or insource our technology? You will find that outsourcing your technology, or at least your IT support will be very beneficial for many reasons. First and foremost, it is extremely economical versus hiring a full time person. A full time hire will cost anywhere from $40-80K annually based on the skill set required. Most small businesses can outsource their support for less that $100/user per month. This is far less than a full time hire.
Also, with outsourcing you only pay for the expertise that you need, when you need it. And it can definitely be challenging to hire and keep good technical talent, especially in a tight economy. Technical people tend to get bored in a small environment and try to get one to spend a lot of money staying on the bleeding edge to keep from being bored. If you are like most business owners, you want peace-of-mind for your business, not bleeding edge technologies.
Cost for Technology Strategy
How much is it going to cost? Well this depends on several factors, but let's try to give you some basic parameters to go by. In the beginning, if you are purely going with a PC/Laptop and a cell phone the cost will end up in the parameters outline below. This is based on 2008 numbers and Microsoft as the standard platform.
Business Class PC/Laptop Computer with MS Office and Vista – $1200-2000 per device.
PDA/Smart phone – $100-200 with a 1-2 year contract. Monthly wireless service will be from $60-120/mn plus $10-20 for data service.
Internet/Phone connectivity via a DSL or Cable connection – $60-120/mn. Higher speed connections are available in bundled packages with phone service for $500-1000 per month.
Business Class Firewall with Content Filtering and Gateway Anti-Virus and Anti-Spyware is about $900-1600 installed.
For a server running Microsoft SBS 2003, you will add about $5-6K for the server, about $1200 for the software license and about $120 per user for user licenses. Altogether, a server will typically add $10,000 to the cost.
If you need to have the office cabled, this will run $75-150 per drop.
Therefore, for a 10 person office, you are looking about $25,000-30,000 for a server and PC/Laptops. Monthly support plans would run approximately $900/mn. Much less than a full time hire.
Wireless Network
What about a wireless network? Typically, with the firewall, one can add wireless capabilities very easily. There is no such thing as a totally secure wireless network, but if configured properly, a wireless network is hard to hack into and with hundreds of unsecured networks, it is highly unlikely one would spend the time and effort to crack into a typical businesses wireless network. The wireless network is also nice to have if you are going to have visitors to your offices. With the proper firewall like a SonicWall TZ-180 with enhanced capabilities, it is easy to segment the wireless network into a DMZ whereby visitors cannot connect to your company network. They have access to the internet, but not your business network.
Backups
What about backups? Backups are the most critical item any business must be concerned about. Lost data is the only thing that one cannot recover from. If you are a small startup, backups can be done online or to an external USB drive. There are many cost effective options, but it is important to perform backups on a regular basis and to make sure you have them in separate locations. A backup is no good if it is at the same site and there is a fire, theft or natural disaster.
Several companies offer some very exciting devices called NAS/BDR appliances that help to insure backups are handled easily and cost effectively in a server environment. NAS/BDR stands for Network Attached Storage / Business Disaster Recovery. These appliances are both cost effective and provide for peace-of-mind and business continuity. They also eliminate the need for tapes. The NAS/BDR appliance takes a full image of each server for which it is backing up and then replicates this data to two different data centers, one on each coast.
The importance here is that in case of a server issue, the server can be restored 'virtually' on the NAS/BDR appliance until such time as the server can be repaired. In the case of a true disaster, a full image of the server can be sent from one of the two data centers and restored virtually on dissimilar hardware, called a bare metal restore, greatly reducing the time and cost of recovery.
Small Business Server
Typical Small Business: Company size of 5 to 75 employees.
For companies with from 5 to 75 employees, they should definitely start to consider an investment in a server. This will allow easy collaboration, centralized storage of files, file backup and ease of maintenance. Many of the basics as discuss for a smaller size company still hold true. Obtain your company name, your domain and develop your website.
Now you want to setup a network and invest in a server. Microsoft's Small Business Server 2003 is a great choice for up to 75 users. It incorporates Microsoft Exchange for email and collaboration, file and print sharing for a single place to store files, SQL Server as a database, Sharepoint Services for portal capabilities, ActiveSync to wirelessly synchronize mobile phones and Remote Web Workplace for remote access to your desktop.
For true remote access, a Terminal Server can be added for mobile workforces. This allows remote users to connect to the server remotely without requiring a workstation to be in place to connect to. IT system management is fairly simple for this environment especially for outsourcing companies. These IT systems can easily be managed through a combination of remote support and onsite IT support. Typically, a company can manage these IT systems for around $50-100 per user per month. This includes pro-active management and will insure all backups are in place and all patches and updates are current on all systems.
Learn how you can be the best wingman with our free How to be a Wingman guide!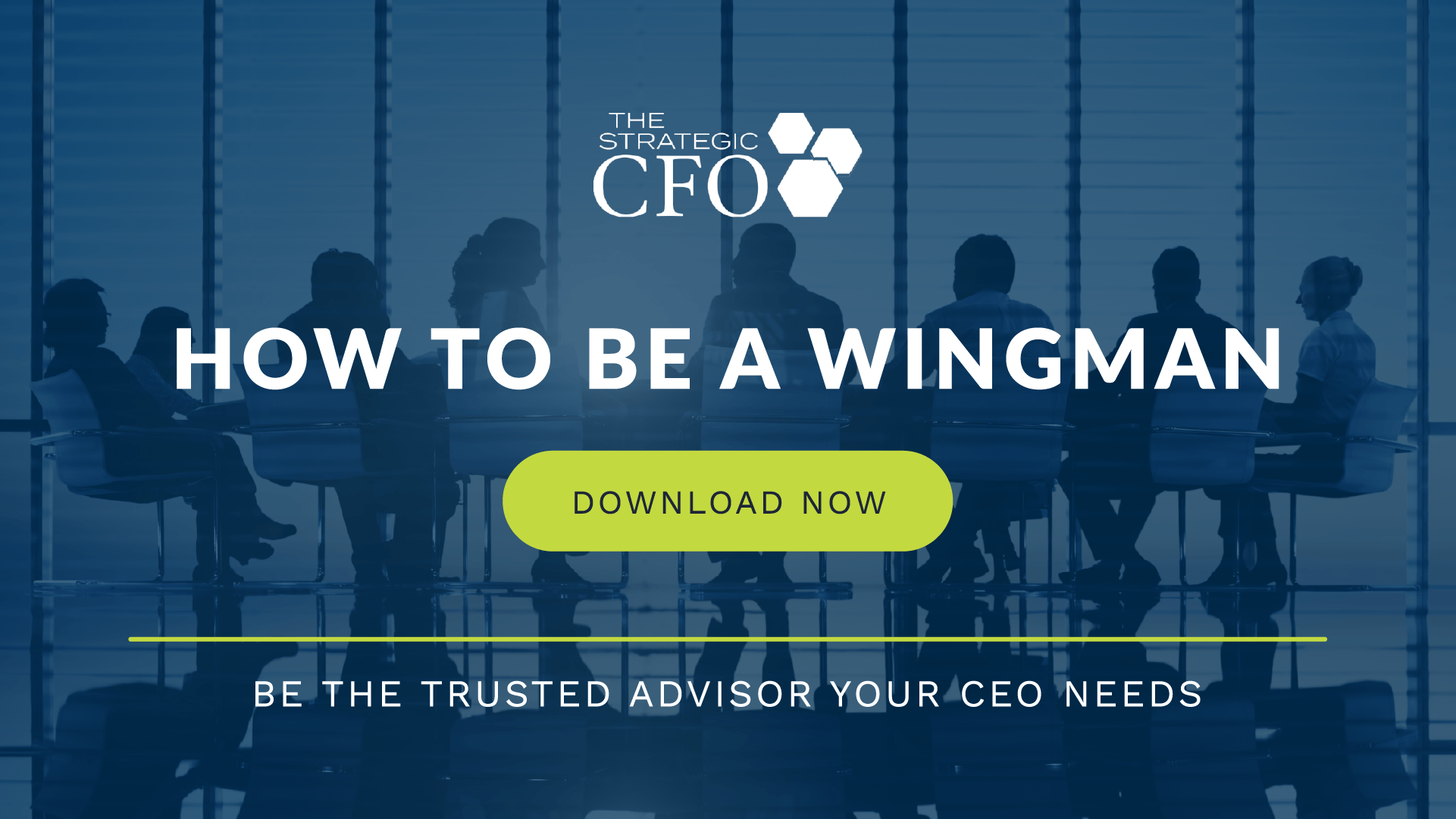 [box]Strategic CFO Lab Member Extra
Access your Projections Execution Plan in SCFO Lab. The step-by-step plan to get ahead of your cash flow.
Click here to access your Execution Plan. Not a Lab Member?
Click here to learn more about SCFO Labs[/box]