See Also:
Technology Assessment Criteria
How to Evaluate IT Systems
Technology Strategy for Small to Medium Sized Companies
How to Ensure Redundant Data Communications Links
How do You Know When it is Time to Buy New Software
Disaster Planning for IT
Recently an office building in Houston caught fire and much was destroyed. What if this had been your building? We don't like to think about things like this, but in light of what just happened recently, it bears consideration. In terms of disaster preparedness, we usually think of hurricanes and flooding, but business interruption can come in many different ways including hardware/software failure, power outages, key personnel changes, fire, arson, sabotage, terrorism, computer viruses, or theft. Are you prepared in case of a disaster?
Here are some key points of a good disaster preparedness and business continuity plan for your business.
Solid Backup System
A solid backup system for your data is a critical component of a solid disaster preparedness plan. The goal is to be able to restore your data and your infrastructure as quickly as possible if disaster strikes. Are you testing your backups regularly? Are they being taken offsite and archived? There are many different backup options available today including online backups, but it is imperative you implement, test and plan for a disaster. Would your backup recovery plan have potentially gone up in smoke had your building or office caught fire?
Accurate and Complete Documentation
Another key is to have accurate and complete documentation of your infrastructure so that your system can be easily recreated. You can purchase new equipment and software; but you need access to its previous design. Documentation saves time and eliminates confusion and heartache.
How Long can the Business Survive
You need to review all of your applications and determine how long your business can survive if an interruption were to occur. Email for example is as critical, and as important, if not more so, than your phone system. Third party services offer a way to collect, filter and access your company email if your mail server is disrupted for any reason. In addition, how long can your company survive without your customer list or your accounting system? What about other business critical systems? Do you have a plan in place and do you know how long would it take you to recover had this been your building?
Security
What about security? Is your data secure from malicious attacks? If your power is disrupted, do you have backup power supplies that will properly protect and shut down your equipment in case of a power outage or protect you from power surges?
Employees
And most importantly, are your employees OK? And is there a plan in place for everyone to communicate in case of a disaster?
Business Disaster Preparedness
In the event that a disaster may potentially create a threat to your business, we have prepared a short list of precautions for you to take. First and foremost, protect yourself, your families and pets. Secondarily, protect your data. Lives and data are irreplaceable; hardware, software and applications just take some time.
Take Precautions
In regards to your technology and data, we recommend taking the following precautions:
Make sure you have a good backup of your data and take it to a safe and secure place. This can be accomplished in one of several ways:
a. If you have a good tape backup solution, take ALL of your tapes off site to a secure, high and dry location.
b. If you do not have a tape backup or you are in a flood prone area, take your server with you.
c. Worst case, clearly mark the hard drives in your equipment, remove them and take them with you if rising or blowing water is a threat.
Equipment
If you do not need 24×7 access to your systems, power them down; do not leave equipment running.
a. Gather all critical equipment and move it away from windows and the threat of rising water.
b. Print off important lists such as employee and customer lists.
c. Print off emergency contact numbers for vendors.
Closing Your Office
If you are closing your offices, perform the following steps:
a. All employees should unplug the power cables to their computer and electronic devices from the wall outlets after they shut down their computers.
b. If there is a modem line attached to the computer, make sure to unplug the phone line from the modem.
c. If a server is being used as a fax server, Make sure that all phone lines are unplugged. (Unless the Surge protector is protecting the phone line)
d. All expensive fax machines should be turned off and phone lines should be unplugged.
e. All copiers should also be unplugged from the wall outlets.
Phones
a. If you were to lose access to your building, can you forward your phones to another number? Do you know how to do this?
b. Do your clients, friends, etc have your cellular number in case of an emergency?
c. Do your employees know where to contact each other?
Home Systems
For your home systems, please make sure you have a good backup or protection of the following:
a. Personal financial information.
b. Personal data.
c. Family pictures, etc.
This is by no means an exhaustive list, but some highlights that you should be aware of. Please be safe if a disaster does, in fact, occur.
The National Institute for Occupational Safety and Health has several links to documents for emergency preparedness for business at this link:
www.cdc.gov/niosh/topics/prepared
Personal Disaster Preparedness
Prepare a personal emergency kit – a small bag or case – that you can take with you if an evacuation is necessary. Your kit should include:
Medicines
Toiletries
Shoes
Clothes
A list of contact names
Phone Numbers
Important Paperwork (wills, insurance policies, home owner title and deed)
Important photographs and jewelry.
Cell phone and car and outlet chargers
Data backup on tape or CD's
Pack enough for an overnight stay.
Designate a contact name and phone number outside the area where you reside. Choose a family member of friend in another state as a contact to relay information in case telephones are out of service.
Checklist
Know what zone you live in, and if you have to evacuate. Find your zone here: http://www.csc.noaa.gov
Test flashlights, other emergency lights and battery operated radio.
Buy extra batteries for flash lights, radio and clocks.
Get cash.
Assemble important papers and secure them in water safe package. Have them where you can grab them and take them with you if you must evacuate.
Designate an emergency contact person outside your area.
Gather/print list of important phone numbers.
Fill your gas tank.
Fill your grill propane tank.
Assemble three day supply of non-perishable food and beverages.
Have a non-electric can opener on hand.
Ensure a two week supply or prescriptions and medicines, including for pets.
Address special dietary needs.
Gather/pack toiletries, glasses, hearing aids.
Gather/pack a change of clothes and shoes.
Gather rope, masking and duct tape, tarp, boards, nails, hammer.
Have on hand heavy duty garbage bags.
Gather matches/lighter.
Have a portable cooler on hand for freezer and refrigerator contents.
Have insect repellent on hand.
Prepare to have five gallons of water per person, two gallons per pet.
If possible, have a gasoline powered generator on hand.
Talk to your neighbors to find out who will be staying. Exchange phone numbers in the event that they work.
Disasters are expected to happen. So, start preparing today and download your free External Analysis whitepaper that guides you through overcoming obstacles and preparing how your company is going to react to external factors.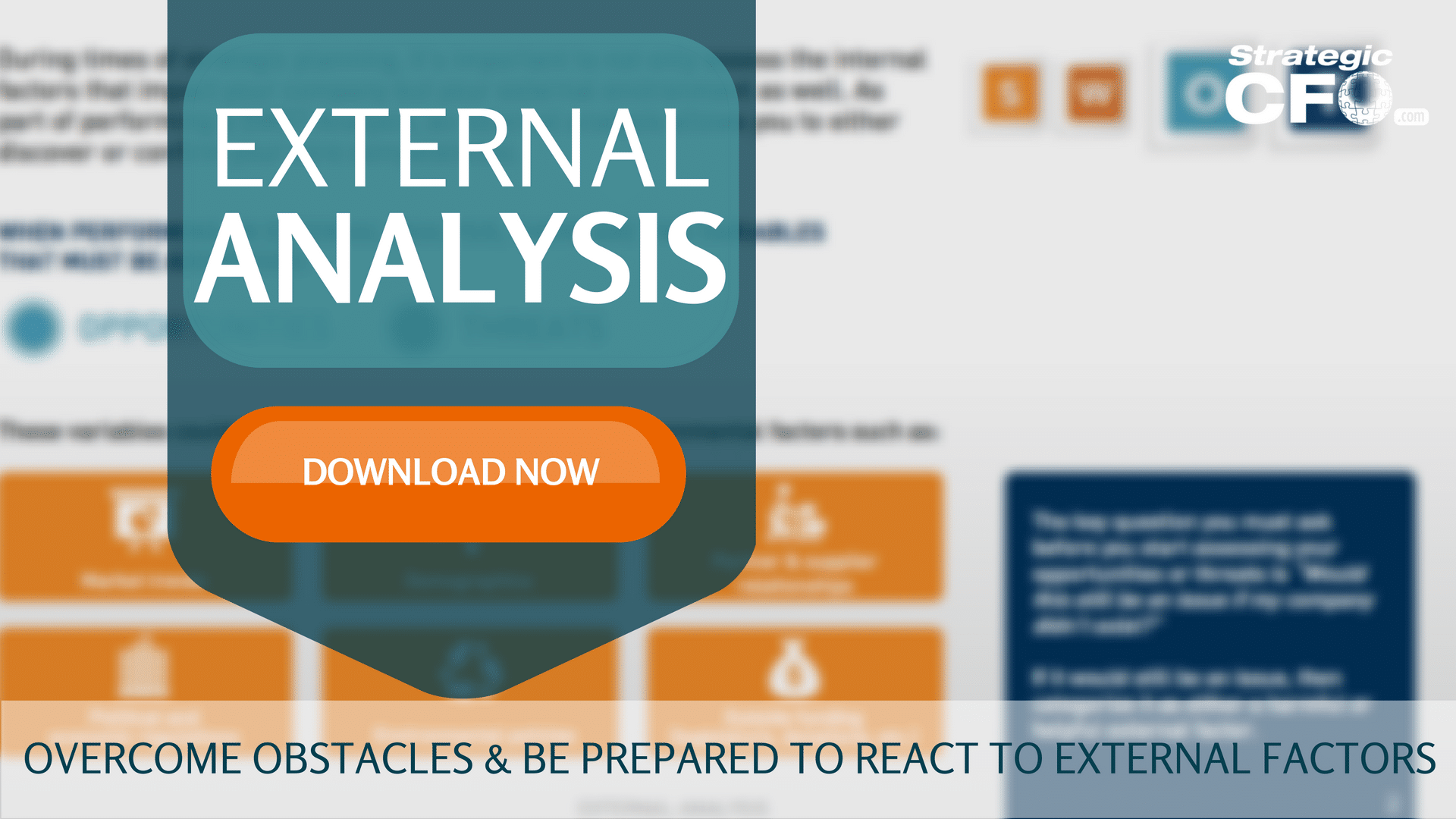 [box]Strategic CFO Lab Member Extra
Access your Projections Execution Plan in SCFO Lab. The step-by-step plan to get ahead of your cash flow.
Click here to access your Execution Plan. Not a Lab Member?
Click here to learn more about SCFO Labs[/box]