See Also:
Cash Cycle
Cash Flow Statement
How to Develop a Daily Cash Report
SWOT Analysis
Turn Idle Cash into a Valuable Resource
In order for a business to run smoothly, all of its financial resources must work together. Whether you're looking for increased efficiency in one area, or complete integration of your receivables, payables and liquidity management a tailored treasury management solution will be important. Let's look at how to turn idle cash into a valuable resource.
Liquidity Management
Making the right financial decision and making it quickly is often the difference between winning and losing in liquidity management. So, do you have the necessary tools to achieve your company's financial goals?
---
[button link="https://strategiccfo.com/25-ways-to-improve-cash-flow?utm_source=wiki&utm_medium=button%20cta" bg_color="#eb6500″]Download The 25 Ways to Improve Cash Flow[/button]
---
Account Reconciliation Services
Account Reconciliation Services will allow you to take control of the entire reconciliation process by offering improved audit controls, reducing administrative expense and clerical workloads through automation, accelerating problem resolution and reducing exceptions from posting errors, reducing losses through earlier detection of fraudulent activity, saving time and expense associated with manually reconciling deposits and payments, streamlining accounting tasks without investing in technology and additional staff.
ACH Authorization Services
ACH Authorization Services allow you to block all ACH transactions from posting to your accounts or allow you to authorize selected originators to post ACH transactions to your accounts.
Information Reporting
Information Reporting via internet access allows you to keep informed of account balances and enables you to execute treasury management transactions quickly and accurately even when you are away from the office. Furthermore, you can access critical balance and transaction information, time-sensitive information such as incoming wire transfers, controlled disbursement presentments, ACH items, lockbox deposits, and positive pay exceptions. You should also be able to originate transactions such as ACH items, wire transfers, book transfers between accounts and initiate stop payment requests.
CD Rom Services
CD Rom Services allow you to eliminate paper check storage and expenses while providing access to the company's paid checks and other transactions using image technology. You typically can also view images of your paper based credit entries such as deposit slips. You can also significantly reduce the time needed to conduct accounts receivable research by having your lockbox checks and related detail imaged on CD Rom as well.
Automatic Investment/Loan Services
Automatic Investment/Loan Services allow your company to minimize interest expense by keeping borrowing to a minimum, and allow you to maximize interest earnings on excess balances. At the same time, this service ensures your accounts have adequate funds to pay any disbursements.
Receivables Solutions
Turning collection challenges into opportunities for enhanced cash flow is made possible by utilizing the appropriate receivables solutions. So, do you have the necessary tools to turn accounts receivable into cash flow more efficiently and predictably?
ACH Cash Concentration
ACH Cash Concentration maintain control of all your company's funds-even if they are with multiple financial institutions by initiating a debit to each of your bank accounts so that you can concentrate all of your funds into one central account. This will allow you to more effectively manage your funds and take better advantage of investment opportunities.
ACH Debit Origination
ACH Debit Origination allow you to quickly and easily automate the collection of company funds. With this type of service you are able to reduce check processing costs by allowing your company to debit customers for their payments-thus reducing or eliminating paper checks and providing your customers with a convenient payment option.
ACH Accounts Receivable (ARC) Entries
ACH Accounts Receivable (ARC) Entries allow you to convert a consumer check received for the payment of goods and services into an ACH debit using information contained in that check. You must provide notice about ARC to your customer prior to the receipt of each check that will be used as a source document to originate an ARC debit entry.
Wholesale Lockbox
Wholesale Lockbox allows your company to process receivables more efficiently and gain more control of your payment processing. Furthermore, wholesale lockbox eliminates mail, receipt and processing of receivables in your office and frees your staff for more productive tasks. Deposits are made promptly and cash flow is accelerated while mail, processing and check float are reduced.
Cash Vault
Cash Vault provides companies receiving significant amounts of cash daily with a convenient and secure option for depositing cash through the use of an armored courier service.
Zero Balance Accounts
Zero Balance Accounts allow independent operating accounts to be funded from, or concentrated to, a single master account. With a ZBA structure, you will have improved control over disbursements, collections, and cash flow.
Payment Solutions
Payment Solutions with the proper working capital management strategies in place, you can even reduce borrowing and increase profitability. In addition, you determine which accounts and transactions your employees can view and initiate for more security.
Credit Origination
ACH Credit Origination allows you to pay your invoices on taxes electronically. As a result, you have control over the timing of your payments.
Direct Deposit of Payroll
ACH Direct Deposit of Payroll allows you to pay your employees by depositing their funds directly into their checking or savings account. This service can also be used for expense reimbursements, pension and interest payments or dividend and royalty distributions.
Payroll Card
Payroll Card helps your business reduce costs and increase employee satisfaction at the same time. You can deliver your employees' pay, bonuses, reimbursements, and other types of compensation easily. Instead of writing checks, you electronically deposit their pay to a Payroll Card. Your employees don't even need a bank account.
Controlled Disbursement Accounts
Controlled Disbursement Accounts help you manage your daily cash position by providing you with early morning notification of check clearings and allowing you to fund your disbursements that same day. This in turn will maximize investment and borrowing opportunities while providing control over outgoing cash flow.
Positive Pay
Positive Pay provides fraud control for your accounts payable function, minimizes exception processing because you transmit the issue file to your bank prior to any checks being released. Account reconcilement becomes easier because unmatched items are examined every day instead of only at the end of the month.
Wire Transfer Services
Wire Transfer Services allow you to transfer large sums of money to pay vendors or meet other obligations. Sometimes, you need to transfer funds between bank accounts at different financial institutions, and require same day availability of funds. Furthermore, you can typically initiate wire transfers via phone, fax or internet connection.
Zero Balance Accounts
Zero Balance Accounts allow independent operating accounts to be funded from, or concentrated to, a single master account. With a ZBA structure, you will have improved control over the following:
Disbursements
Collections
Cash flow
If you want more tips on how to improve cash flow and turn idle cash into a valuable resource, then click here to access our 25 Ways to Improve Cash Flow whitepaper.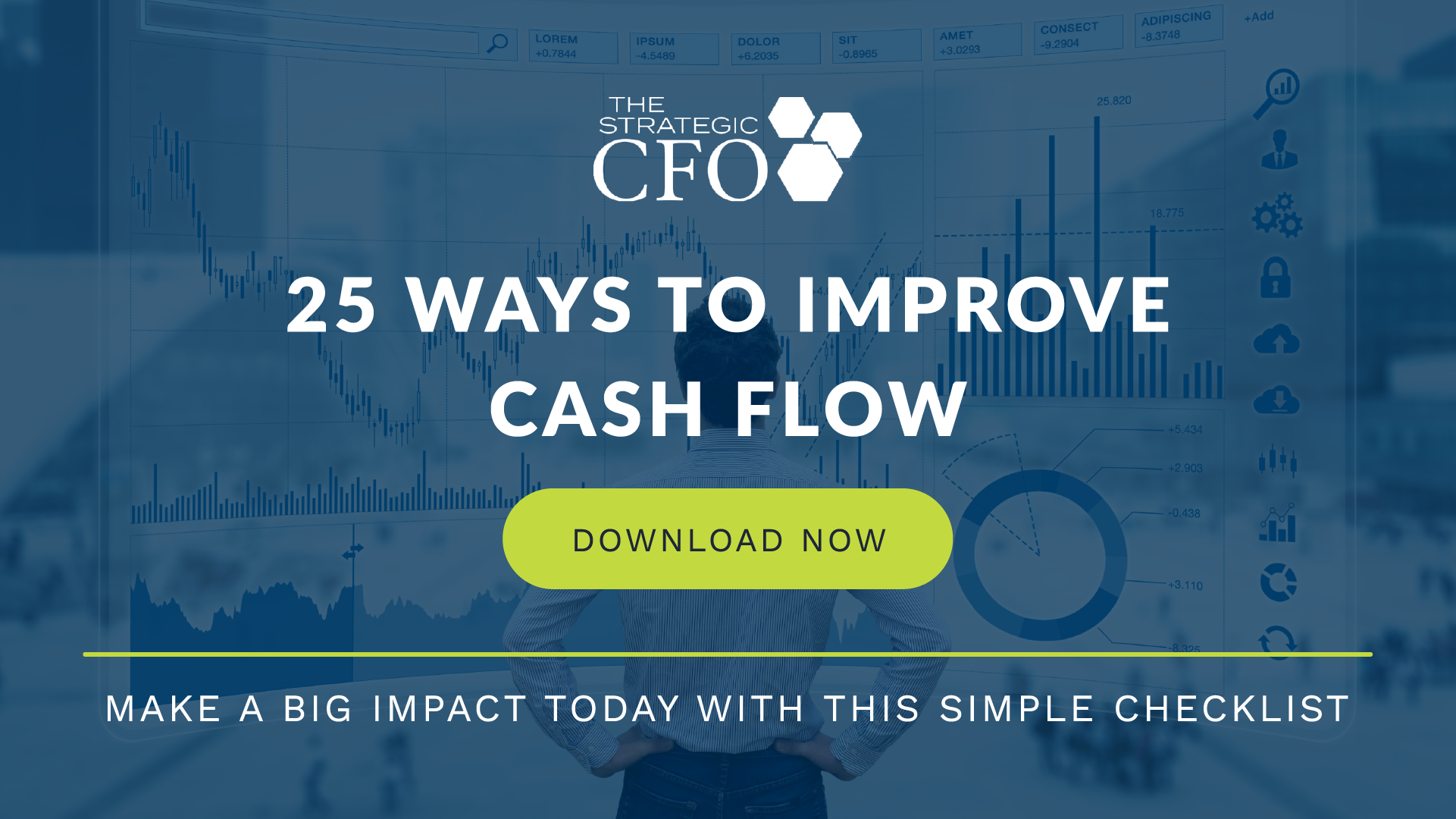 [box]
Strategic CFO Lab Member Extra
Access your Strategic Pricing Model Execution Plan in SCFO Lab. The step-by-step plan to set your prices to maximize profits.
Click here
 to access your Execution Plan. Not a Lab Member?
Click here
to learn more about SCFO Labs[/box]