See Also:
Bankers' Language is Financial Jargon
Finding the Right Lender
Funding Source Versus Lender
How to Manage Your Banking Relationship
Interest Rate
Is it Time to Find a New Bank?
Commercial Bank

Categories of Banks
In another article, I told you the story about Robin's company needing to perform due diligence on her lender. I made a reference to categorizing lenders into four groups, big market, middle market, small market and those in it for the money. I said I would share details of that conversation this week.
Robin asked me to explain which banks are in each category. I started by telling her that what she was about to hear was developed by a banker who has over twenty five years of banking experience.
Big Market Lenders
Big market lenders are the giant banks we all know, such as, JP Morgan Chase, Wells Fargo, Bank of America, etc. They have every banking and personal financial service known to mankind. They are located on almost every street corner in Houston and in most cities in America. Very good at all retail and financial services and loans over 20 million dollars. They will do smaller loans but you must fit precisely into their lending policies. Personal customer service is limited. If you are approved, you will normally deal with the internet or 800 numbers at regional service centers.
Middle Market Lenders
Middle market lenders are the ones most of us have heard of which include Comerica, Wachovia, Compass, etc. These banks follow the bigger lenders in the retail and financial services they offer. They really like loans from 5 million to 20 million dollars, but will do smaller loans. The advantage they have over big banks is their lending policies are a little more flexible, but not very much. If dealing with a human loan officer is important to you, these lenders are more involved than the big market lenders. But again, you will normally deal with a regional service center or the internet.
Small Market Lenders
Small market lenders normally are made up of banks that cover a region or a single state. Lenders you will recognize in this category are Frost, Sterling, Amegy, Regions, etc. These banks will have most of the retail and financial services offered by the bigger banks. They are very good with loans ranging from 2 million to 10 million dollars. The major advantage they have over larger lenders is their lending policies are more flexible and they have a better appreciation of local industries. Another difference is they still maintain and provide personal customer service. However, this customer service may vary between branches because it depends on the people running the branch. They have the capability of internet banking and 800 numbers, but you normally still deal with your local lending officer.
Local Community Banks
The lenders that are in the business for the money are the local community banks. Normally these lenders have five or fewer branches and the bank president is an owner.
They do not have all the retail and financial service capabilities of the larger lenders. These banks are very good at loans between 250 thousand and 3 million dollars. Most have limited internet capabilities, but will normally provide the customers with very good personal service. In this category, if they want your business they will try to make their lending policies fit your needs. A possible disadvantage in this category is the bank president may have a history of starting the bank and building the bank to sell to the larger banks. Many times, the bank president has built and sold several previous banks, so be ready to change banks with the president.
Robin summarized this discussion by saying "So I should evaluate the needs and values I have within my business and deal within the category that fits." I agreed. To learn more financial leadership skills, download the free 7 Habits of Highly Effective CFOs.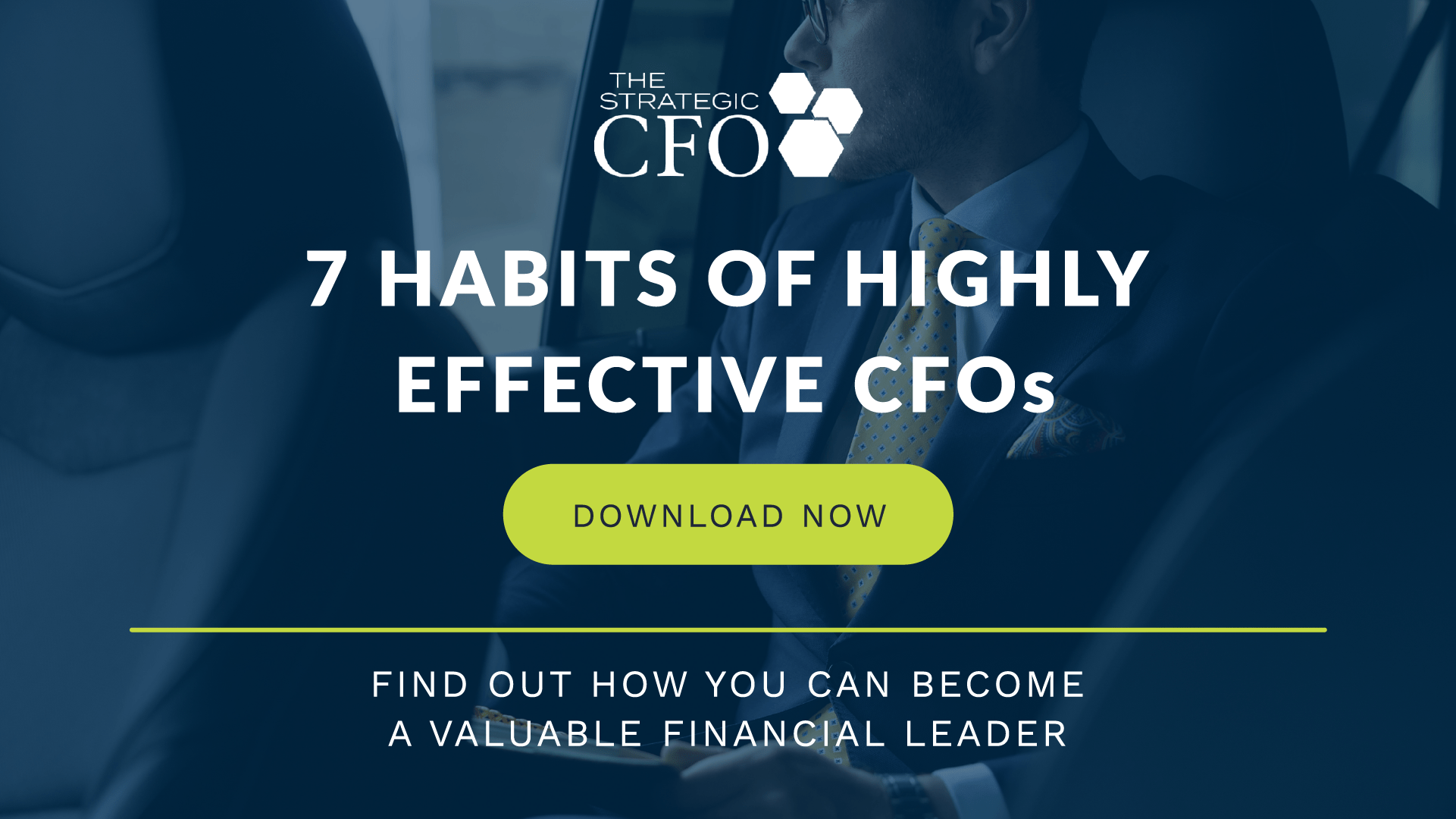 [box]
Strategic CFO Lab Member Extra
Access your Flash Report Execution Plan in SCFO Lab. The step-by-step plan to manage your company before your financial statements are prepared.
Click here
 to access your Execution Plan. Not a Lab Member?
Click here
 to learn more about SCFO Labs[/box]