See also:
Problems in Chart of Account Design
Standard Chart of Accounts
Example Chart of Accounts for Selling, General, and Administrative Expenses
Generally Accepted Accounting Principles
Financial Accounting Standards Board
Complex COA / Chart of Accounts for SG&A Expenses
In lieu of a simple chart of accounts for SG&A expenses (selling general and administration expenses), you can design a numbering system with more information and structure.
Once the major class codes have been assigned (i.e. 6NNNNN..NN = Manufacturing Overhead) the nominal accounts such as labor, fringe benefits, consulting fees, supplies, telephone, etc. that have been identified as required accounts during the NAP, should be grouped into natural groupings (1–9) that can be rolled up to facilitate management planning and decision making.
Example of Chart of Accounts for SG&A Expenses
For example in the retail industry, the relationship of total wages and employee benefits (expenses impacted by adding employees) to sales by retail unit, or region, or total facility costs (rent, utilities, property taxes) to sales, provide management important barometers of store managers' operating efficiencies and expense controls. Grouping the nominal expense accounts (which may total 50 -100 accounts) into the appropriate series, rather than numbering them alphabetically, for example, facilitates the comparison/analysis process.
6NNNNN, 7NNNNN, and 8NNNNN – Operating Overhead, Research, Selling, and General & Administrative Expenses – These divisions facilitate analysis, as in the homebuilding industry, where management may want to compare Construction Overhead and/or Marketing Expenses per unit by subdivision, product line, or geographical area.
9NNNNN..NN – Non-Operating Income and Expenses such as interest income, other miscellaneous income, and interest expense.
---
[button link="https://strategiccfo.com/complete-monthly-close-checklist?utm_source=wiki&utm_medium=button" bg_color="#eb6500″]Download The Complete Monthly Close Checklist[/button]
---
Salary Expense
Therefore, the 100 series may capture salary expense data as follows:
Executive salaries
Exempt Salaries
Non-Exempt Salaries
Overtime Compensation
Incentive Compensation
Vacation & Holiday
Sick Leave
Others appropriate to the company
Fringe Benefits
The 200 series may include fringe benefits data as follows:
FICA
Unemployment taxes – state
Medical Benefits
Educational Support
Employee Awards
Annual Employee Dinners
Others appropriate to company
Thus, the 100s and 200s represent the employee expenses that are directly impacted by changes in headcounts. As a result, they can be rolled up into reports by department, state, division, or other management designated requirement.
The remaining groups may be compiled as follows:
Travel & Entertainment
300s = Travel & Entertainment, such as:
Airfare
Seminar Fees
Meals, excluding entertainment
Entertainment
Auto Rentals
Mileage
Office Expense
400s = Office & Other Miscellaneous Expenses, such as:
Office Supplies
Insurance
Miscellaneous Taxes & Licenses
Donations
Outside Services
500s = Outside Services, such as:
Rentals and Leases
600s = Rentals & Leases, such as:
Office Rent
Equipment Rent
Utilities
700s = Utilities, such as:
Electricity
Natural Gas
Propane
Depreciation and Amortization
800s = Depreciation & Amortization
Non Operating Income and Expense
900s = Non- Operating Income & Expense, such as:
Interest Income
Other Miscellaneous Income
Other Non-Deductible Expenses
So for example, a homebuilder may have the following accounts:
6 120 24 11- Construction Overhead; Non-Exempt Salaries; Subdivision 24; State 11
7 120 24 11- Marketing; Non-Exempt Salaries; Subdivision 24; State 11
---
Is your closing process as efficient as it could be? Access our Complete Monthly Close Checklist to use when closing your company's or your client's monthly books.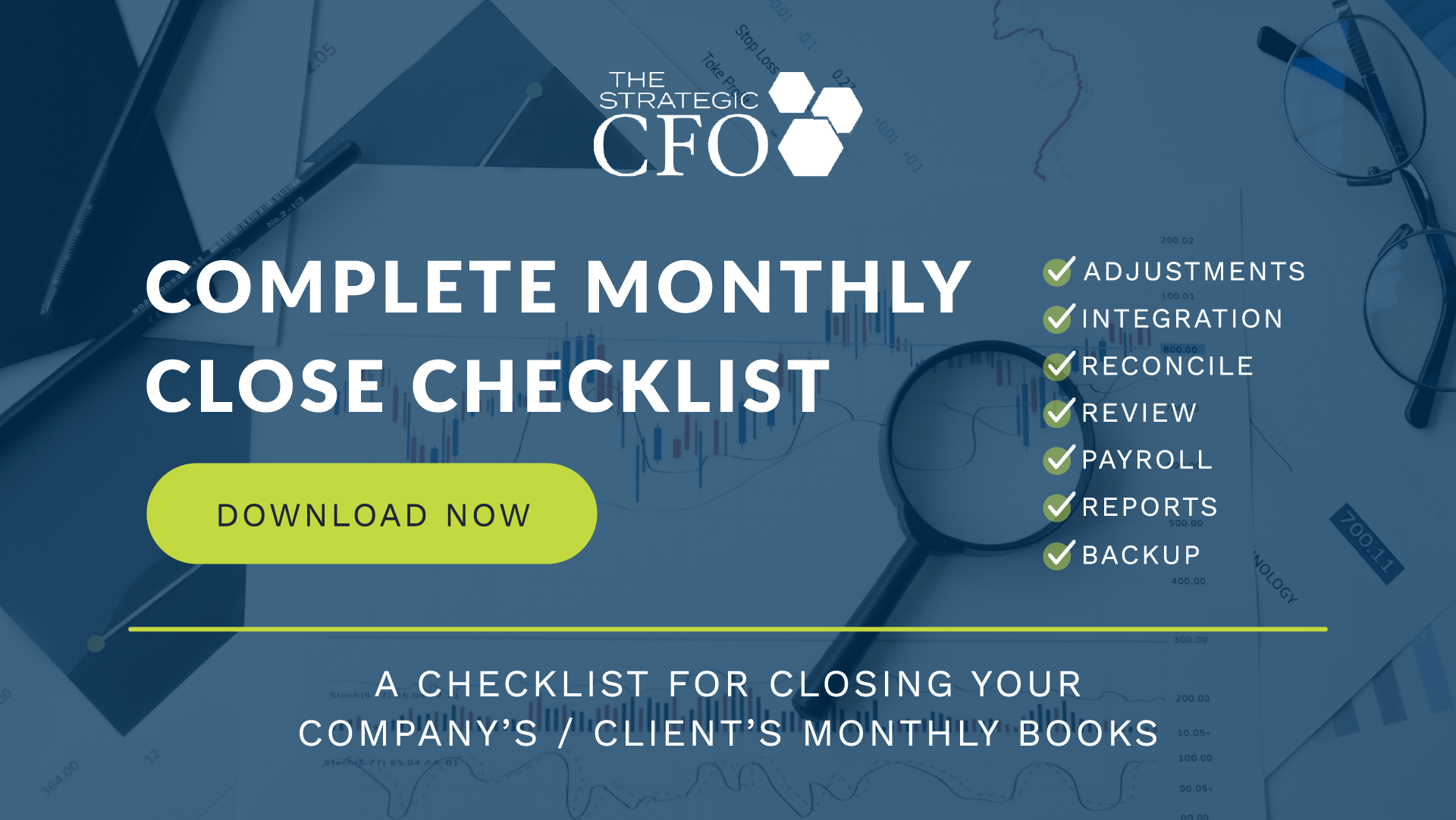 If you want to take your career to the next level, then learn more about how our financial leadership development platform – the SCFO Lab – can help you get there.