See Also:
Retainage Management and Collection
Retainage Management Collection Example
For example, a client may hire a contractor for a $100,000 project. The contract stipulates 10% retainage. Over the course of the project, the client pays the contractor $90,000 for the work. But 10% of the total cost, $10,000, is withheld until the completion of the project. Once the project is completed, all the final details have been wrapped up, and the client is satisfied with the results, the client will pay the contractor the retainage amount. To the contractor, this example is the essence of the retainage receivables definition. To the client this is a real example of the retainage payable definition.
Retainage Collection Solutions
There are ways for a contractor to speed up the collection of retainage. These include staying aware of retainage receivables, focusing particular attention to the area of closing out projects as well as staying in contact with clients regarding retainage receivables.
It is important to remain aware of unbilled retainage and to stay on top of them. It is not uncommon for project managers to overlook retainage invoicing once the bulk of a project has been completed, because the project managers have most likely moved on to the next project by then. Always keeping track of unbilled retainage is the first rule of efficient collection.
One way to expedite retainage collection is to devote personnel to monitor unbilled retainage. Having a close-out department, or a group devoted entirely to wrapping up projects and collecting retainage, ensures that such matters will be handled thoroughly and efficiently.
It is also necessary to stay in touch with the client. Submit the retainage invoice promptly. Gather the necessary signatures expediently. Call the client to remind them about the retainage that is due. Send a demand letter to the client if payment is overdue. But it is important to maintain amicable relations with clients (and subcontractors) even in the face of delayed or overdue payment of retainage.
Accounting Treatment
What is retainage receivable, with respect to accounting practices? Record retainage on the balance sheet. The contractor, to whom the retainage is owed, records retainage as an asset. The client, who owes retainage to the contractor, records retainage as a liability.
For example, if a contractor works on a $100,000 project with a ten percent retainage, then they will record $90,000 as accounts receivable and $10,000 as retainage due. While the client will record $90,000 as accounts payable and $10,000 as retainage payable. Retainage receivable accounts have a normal debit balance; retainage payable accounts have a normal credit balance.
If you want more ways to add value to your company, then download your free A/R Checklist to see how simple changes in your A/R process can free up a significant amount of cash.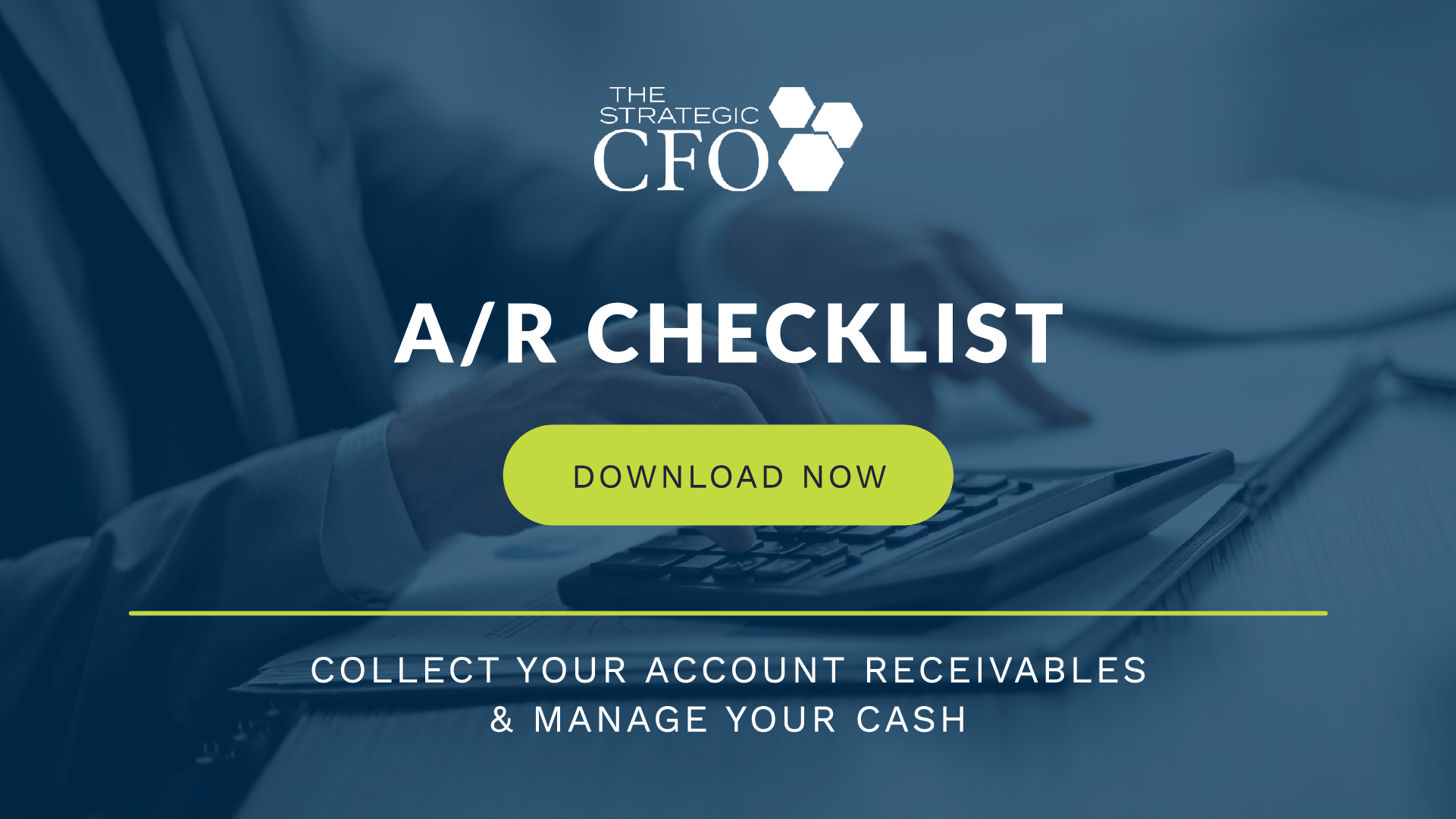 [box]Strategic CFO Lab Member Extra
Access your Projections Execution Plan in SCFO Lab. The step-by-step plan to get ahead of your cash flow.
Click here to access your Execution Plan. Not a Lab Member?
Click here to learn more about SCFO Labs[/box]