In an article based on a survey conducted by KPMG, Michael Cohn reports that most companies are expecting their training budget per person for 2013 to decline or remain flat. This may lead some to question how to categorize employee training. Is training an expense or a smart investment? My view is that employee coaching is important to provide employees with new concepts and ideas. It is also important to give them strategies to become more valuable to their companies.
Is Training an Expense or Smart Investment?
We recently hosted a coaching workshop for CFOs. During the class we asked the participants what they hoped to gain from the course. Some of the comments we received included:
To become a profit driver versus a cost center
More knowledge, skills, and tools to be successful
To be able to get past being a record keeper and contribute more to the operational success of the business
These comments show that employees truly want to play an integral role in improving cash flow and driving profitability for their companies. So why are most decision makers considering employee training budget cuts? Is the employee training budget looked upon as a function of sales or just an administrative expense? If an increase in the training budget per employee leads to increased profits and cash flow, then is it really an overhead expense or a smart investment?
Excerpt
Here is an excerpt from the article:
Only 22 percent of corporate finance and accounting executives are satisfied with the training options available to their employees, according to a new survey by KPMG.
Companies were found to be just trying to meet the immediate needs of their employees," said KPMG Learning executive director Patricia Maslov in a statement. "Companies are facing significant challenges in developing workforce capabilities within their finance and accounting functions to ensure they compete effectively in the years ahead, especially considering when the importance of keeping their staffs current on industry trends and regulatory issues. Budget constraints represent a significant challenge in meeting these objectives.
Read the full article here.
In order to determine which candidates are the right fit for your company, download and access your free white paper, 5 Guiding Principles For Recruiting a Star-Quality Team.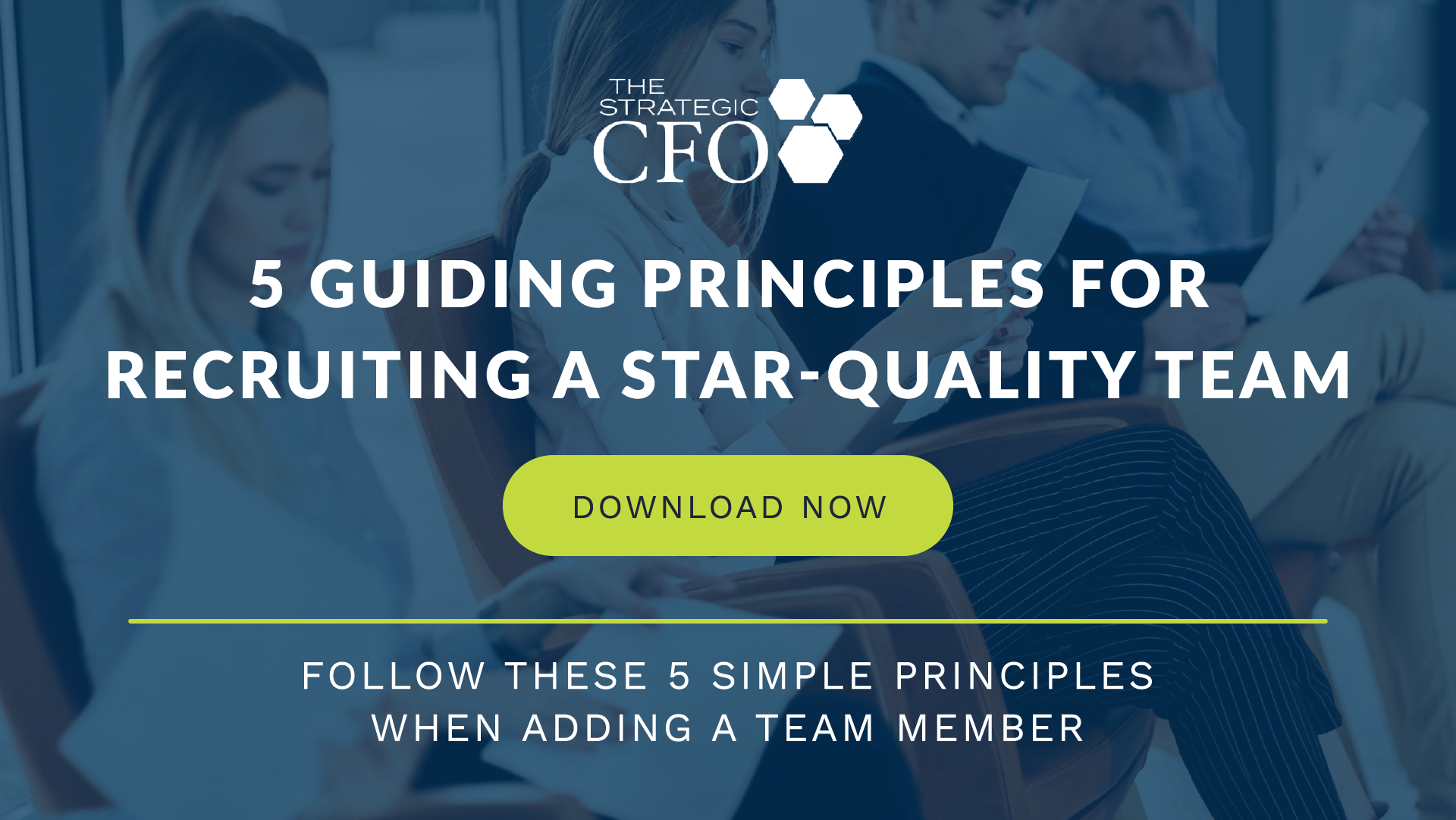 [box]Strategic CFO Lab Member Extra
Access your Recruiting Manual Execution Plan in SCFO Lab. The step-by-step plan recruit the best talent as well as avoid hiring duds.
Click here to access your Execution Plan. Not a Lab Member?
Click here to learn more about SCFO Labs[/box]