5 Steps to Designing an Internship Program
Internship programs are a great way for your organization to bring in new talent and fresh ideas with motivated and knowledgeable interns. Many companies offer internship programs for college students. Both the organization and the interns benefit from the value of an internship experience. Establishing successful intern programs involve several key steps that are simple to implement and maintain. Following are five steps to designing an internship program:
1. Planning your Internship Programs
The first step to designing successful intern programs is to plan ahead. Decide on your company's goals and expectations for your internship programs. Do this by creating an internship job description, establishing intern responsibilities, and planning on internship projects. Setting an internship plan of action will facilitate the accomplishment of both your company's and your intern's goals and expectations. As an employer, you should decide on the conditions of your internship program. Establish clear terms for the intern's work schedule and the internship time frame so that both the organization and the interns are in agreement for how long the internship program will last. In addition, determine whether your internship program will be paid or unpaid. Follow the Fair Labor Standards Act for more information about unpaid internship legal requirements.
2. Internship Program Orientation
Establish internship orientations before your interns start their internship programs. Intern orientations introduce the interns into the company and ease the interns' transition into the workplace. Company cultures vary across organizations. Internship orientations enhance interns' awareness of the company culture, introduce your interns to the company and to other employees, and offer an inside look into the workplace environment. It is important for you to clarify in your orientation the internship program policies and procedures and to address the interns' initial questions or concerns. Interns will work better for you and your company if you offer them insight into decision-making processes and organizational culture. In addition, organizations should develop intern training plans during the intern orientation process to help the interns identify, develop, and learn the skills that will be necessary to excel in the internship program.
3. Intern Supervision and Mentorship
Provide internship program supervision and mentorship throughout the internship experience. Coordinate a designated employee to be the intern programs supervisor. Most interns are new to the workplace environment, so organizations should offer direction and support to maximize interns' productivity. However, it is also important to offer interns autonomy and responsibilities. If the interns don't know how to do something, you should instruct them to go and figure it out. The interns will improve their skills and learn to problem solve on their own. Young interns are high on energy and are excited to learn new things. Give the interns meaningful and internship responsibilities and projects with foreseeable deadlines in order to build a sense of task accomplishment and completion. This will motivate the interns to think outside the box and bring fresh, creative ideas into the organization.
Communicate and meet with the interns regularly to review progress and plan ahead. Communication is the key to building trust between the interns and the employers so that the interns can effectively make progress and accomplish tasks. Interns are eager to receive affirmation that you are pleased with their work. Mentor and support the interns to maximize the interns' potential and to maximize the value of the internship program for both the organization and the intern.
4. Internship Program Problems
Prepare for internship problems or issues ahead of time! Things might go wrong, so it is important for you to create back up plans for urgent issues. Identify problems early and designate someone to get involved to create effective and easy to implement solutions.
For example, if interns are overwhelmed or intimidated by a task or project, offer them the support and guidance to come and talk to you about it. If the interns have any questions or concerns, make it clear that there is always someone in the organization to be their internship supervisor. Internship mistakes are bound to occur during the internship experience. Turn interns' mistakes into constructive feedback and learning. You don't want your interns to lose confidence in their abilities or motivation to do things. Learning from mistakes leads to improvement and lays the foundation for future success.
5. Internship Program Mistakes
Avoid these common intern program mistakes:
– Some employers do not communicate, offer feedback, or provide support for the interns. They seem to throw their interns into the deep end and then expect them to figure out a way to survive on their own. Internship communication and mentorship are vital to instilling interns' dedication to their work. If you do not communicate or offer feedback, how can interns feel confident that they are doing a good job?
– Another intern program mistake is that the organization provides the interns with busy work rather than meaningful internship projects. Do NOT establish internship programs for "cheap labor." Instead, design internships to bring in new perspectives, ideas, and skill sets to enhance your organization. An effective internship program will have value for both the interns and the organization.
– There are some organizations that push the interns into a corner and segregate them from other employees. If full-time employees do not know the first name of the interns, the interns become demoralized and feel like outcast within the organization. Employers should introduce the interns to other employees and invite them into some meetings so that the interns feel like they belong. When you encourage dedicated interns to be involved and active within the organization, it leads to increased intern productivity and creativity.
Determine which candidates are the right fit for your company by downloading our 5 Guiding Principles For Recruiting a Star-Quality Team.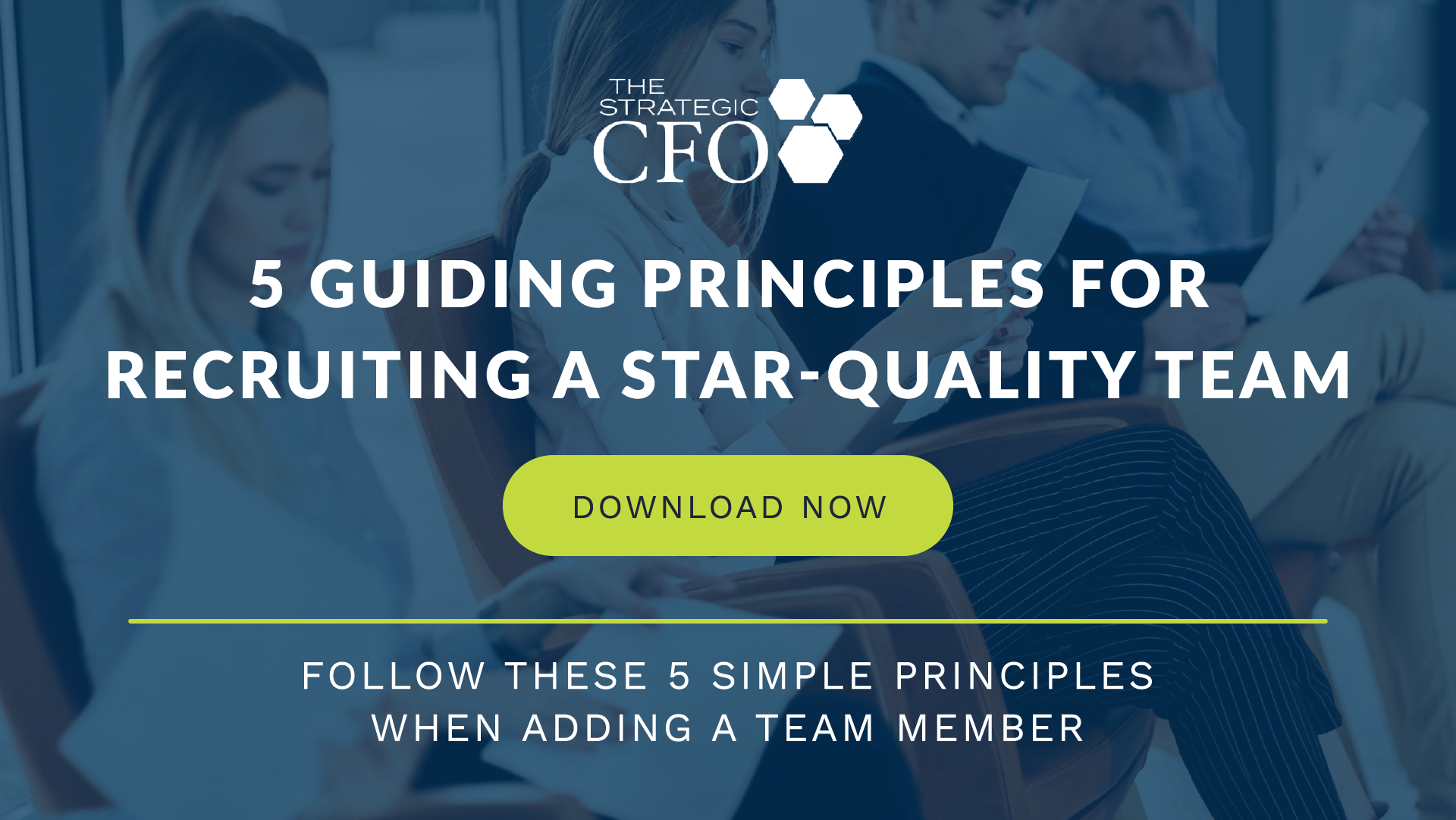 [box]Strategic CFO Lab Member Extra
Access your Recruiting Manual Execution Plan in SCFO Lab. The step-by-step plan recruit the best talent as well as avoid hiring duds.
Click here to access your Execution Plan. Not a Lab Member?
Click here to learn more about SCFO Labs[/box]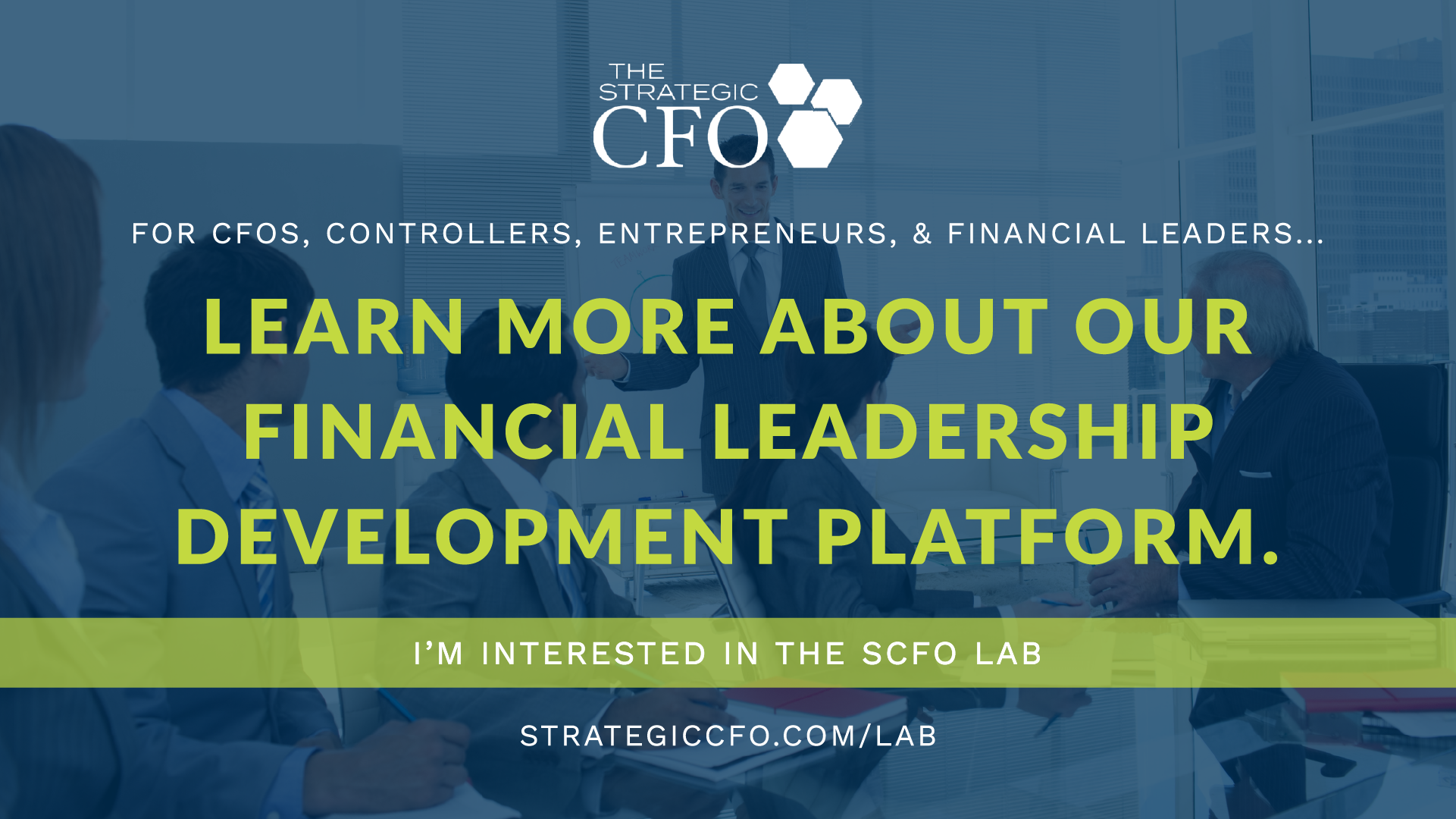 See also:
Recruiting a Winning Team