See Also:
Controller
The Role of the CFO
Duties of a Financial Controller
The duties of a financial controller revolve around ensuring that a business is operating effectively and efficiently. Financial controller duties are to manage accounting and monitor internal controls. Furthermore, the financial controller responsibilities include banking and finance activities, proper reporting and payment to all taxing authorities, insurance recommendations and related purchases and corporate documentation. Furthermore, controllers provide an array of information needed by business executives. A controller will also work directly with the management team to dynamically run the business. A financial controller reports to the executive management team. In conclusion, the ultimate responsibilities of financial controller are to deal with finance, accounting, production, marketing, personnel and operations to ensure that the business is profitable and there are proper internal controls.
In other words, you could say that a controller is a not much more than a financial reporter. While a controller cannot make any drastic decisions as a CFO would probably do, the financial controller is the individual that is providing and interpreting the financial information that the company's output is yielding. A controller's duties are important because the remainder of employees in the company, from workers to executives, rely on his interpretation of figures to make decisions on expenses and sales. It is because of this reason that the financial controller receives a decent salary of, on average, up to $126,373.
Controller Duties
To make the job of a controller more lucid, a list of the financial controller responsibilities includes the following:
Maintain all the necessary reporting to the banks and backup system reports
Maintain the company bank balance and remain cognizant of outstanding checks
Approve invoices that need to be paid
Read and review any documentation attached to checks for approval and accuracy sake
Follow up with customers that are over 45 days old
Make sure all financial statements and tables are correct and precise
Make sure that the owner of the company receives the company bank statement unopened
Reconcile all bank statements and monthly financial reports
Prepare monthly sales and use tax returns
Prepare projections annually and update monthly with actual figures
The controller must coordinate with the auditors and be prepared to surrender documentation if called upon
Maintain the renewals on company insurance
Learn the 7 Habits of Highly Effective CFOs to find out how you can become a more valuable financial leader.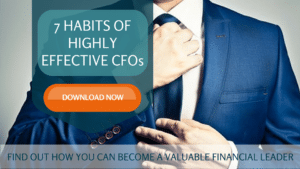 [box]
Strategic CFO Lab Member Extra
Access your Flash Report Execution Plan in SCFO Lab. The step-by-step plan to manage your company before your financial statements are prepared.
Click here
 to access your Execution Plan. Not a Lab Member?
Click here to learn more about SCFO Labs
[/box]