See Also:
Accounting Principles
Probable Losses
Subsequent Events
Business Segments
How to Make Dramatic Changes in Business
Planning Your Exit Strategy
Percentage Completion Method
What Your Banker Wants You To Know
Accounting Changes
Accounting changes and error corrections are the switch from one principle of accounting to another – like with inventory and recognition of revenue. Error corrections come from an accounting change in estimates, such as accounting changes in depreciation method for assets or how it might record the company uncollectible accounts. For example, a company might decide that it needs to switch to straight line depreciation from an accelerated method. This makes it easier and in line for tax purposes. Companies might also decide that a better way of accounting for its inventory is to adopt the Last in First out (LIFO) method; instead of a First in First out (FIFO) method.
Disclosure of Accounting Changes
Regardless of the accounting change, when a company adopts a new method of accounting, GAAP requires companies to disclose these changes in the financial statements. Whenever the company is writing its notes to inform the (potential) investor, it must announce the specific change first. Then it is required to announce the impact that this change will have upon the company's income and the balance sheet.
Accounting Changes Example
Jimbo Slice works for a toy manufacturer by the name of Awesome Toy Co. The economy has recently gone through a downturn and the company expects that it will not receive a larger amount of its accounts receivable because many of its customers are on the verge of declaring bankruptcy. Jimbo has decided that a change in accounting estimate is needed in regards to the estimation of bad debt expense. At the year end, Jimbo must list this change in estimate on the financial statement and its effect on income which is most likely a reduction.
Accounting changes can either be an obstacle or an advantage for your company. Download your free External Analysis whitepaper that guides you through overcoming obstacles and preparing how your company is going to react to external factors.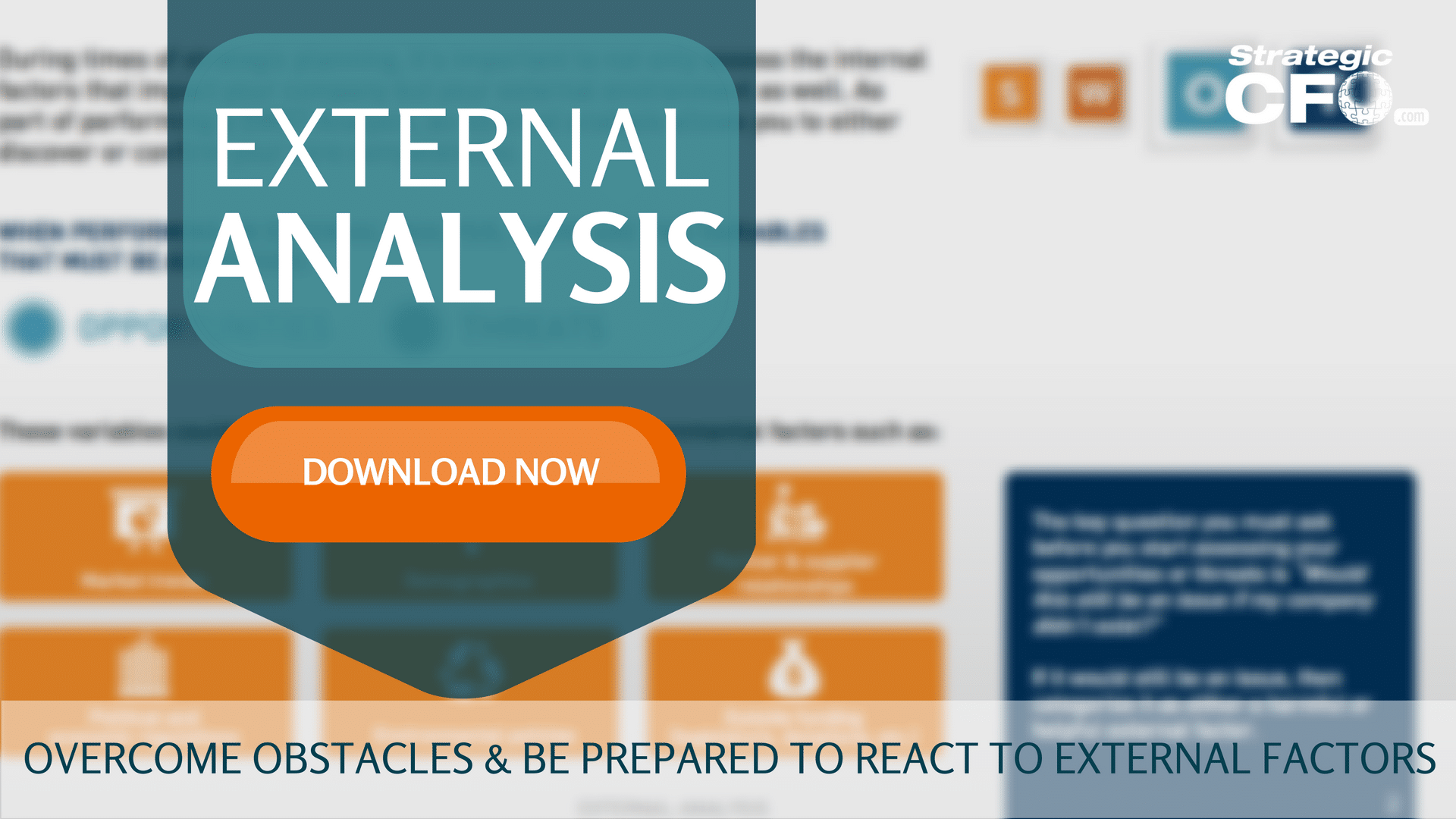 [box]Strategic CFO Lab Member Extra
Access your Projections Execution Plan in SCFO Lab. The step-by-step plan to get ahead of your cash flow.
Click here to access your Execution Plan. Not a Lab Member?
Click here to learn more about SCFO Labs[/box]