See Also:
How to Evaluate IT Systems
Technology Assessment Criteria
Technology Strategy for Small to Medium Sized Companies
Backup and Disaster Recovery Solutions
How to Respond to an Imminent Disaster Threat
Choosing a Software Dealer
Choosing the people to partner with you in software selection and implementation is very similar to getting married – with a few exceptions that you've just thought about.
Criteria for Choosing a Software Dealer
When you are looking for a dealer, we believe the criteria should include the following:
• The dealer should be a true partner, not an adversary, in the software selection and implementation process. The dealer has implemented more systems than you want to face in your whole career. With experience comes wisdom.
• During this process you will be revealing the inner workings of your organization from sales and salaries to balance sheets and inventory. In order to be truly effective in designing a system that is exactly right for your application, the dealer will need to completely understand your business.
• Trust and communication is paramount – for both sides.
• The dealer should fit in with your corporate culture. You certainly don't want a clash of values to taint your installation.
• If you have that strange feeling in the pit of your stomach when you are meeting or talking with a prospective dealer, listen to it. Your intuition is probably correct.
• A dealer that is invested in delivering the absolutely right software for you will not be putting the hard sell on you. In fact, the dealer that truly has your interest at heart will be the first person to say that their software isn't going to meet your needs.
Interview Your Software Dealer
As in all businesses, there are great software dealers and not-so-great ones. During the initial call or interview, here are some ideas for questions to ask:
• How long has your company been in business?
• How many active clients do you have?
• How many installations of this software have you successfully completed?
• What are your points of difference from your competitors? (This is where the smart dealer tells you about the innovative ways they do business. Look for innovation that makes sense for your organization.)
• Tell me about the most challenging installation/application you have completed for a client. (The choice of example will tell you volumes about the company. Be sure to follow up with questions about why this particular job was so challenging.)
• How did you meet those challenges? (What you are looking for in this question is innovation, clear problem solving skills – not finger pointing and shifting blame.)
• The last time your company was not selected for a contract, what do you think was the deciding factor in the prospect's choice? (This is an invitation to whine. If the dealer steps into that space, you know that's only the beginning of the whining. The dealer should talk about shared responsibility here and own their part of it.)
• Will you be able to give us a projected Return on Investment?
Meeting with a Software Dealer
When the dealer makes the cut as a result of the call or first meeting, it's time to have a meeting with your Software Selection/Implementation Team. (For more information on building your team, please see WikiCFO article How to Choose New Software.) The purpose of this meeting is to give the dealer a clear understanding of your reasons for the software search, the challenges that you currently have, and how you plan to proceed with this project. Expect loads of questions from the dealer. In fact, the questions the dealer asks will give you some insight into how he/she will approach your project. We believe that this is the time for us to discover all of the issues the prospect has leading us to ask "What else?" ad nauseam.
Beware of the dealer who whips out the laptop and starts demonstrating software. This first meeting is not the time for a demo, it's a time to listen to the prospect and understand the issues. The time for demonstrating is later, after the dealer knows the solution he/she has is exactly the right solution for you.
Rules of Engagement
While each job is different, we have found that clearly setting expectations makes the whole process move more smoothly. So, let's look at a few Rules of Engagement. These rules apply to both parties.
1. No guessing. It's back to the communications issue again. As partners, the expectation is that both parties will be sharing the vision, answering lots of questions, and keeping our communications clear. In other words, straight talk always. We're all in this together.
2. Respond quickly. It's about respect – for everyone's time and it's simply common courtesy.
3. When we look good, you look good. All of us want this project to be successful. We share the challenges and triumphs.
4. Be responsible. Do what you say you're going to do and deliver on time.
5. Don't take ourselves too seriously. Absolutely this is a serious project. Yet there's always room for laughing at ourselves, relaxing a little, and having some fun – you know about that dull boy Jack.
In our world, we believe that the selection of the dealer is the most important decision a company makes in implementing new software, right after the decision to investigate the ware purchase.
Learn how you can be the best wingman with our free How to be a Wingman guide!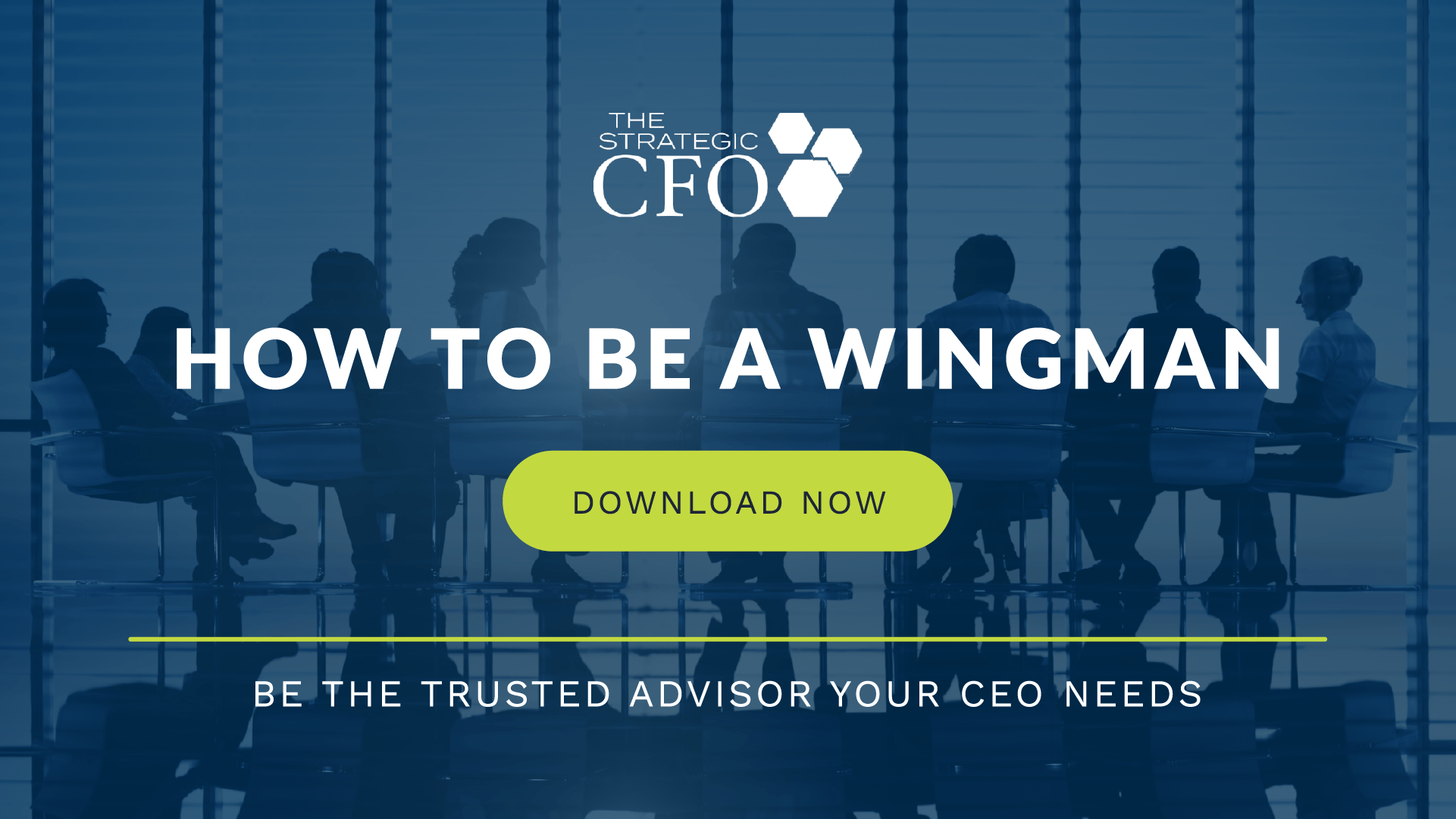 [box]Strategic CFO Lab Member Extra
Access your Projections Execution Plan in SCFO Lab. The step-by-step plan to get ahead of your cash flow.
Click here to access your Execution Plan. Not a Lab Member?
Click here to learn more about SCFO Labs[/box]