See Also:
Technology Assessment Criteria
How to Evaluate IT Systems
How do You Know When it is Time to Buy New Software
Technology Strategy for Small to Medium Sized Companies
Five Reasons To Pay Attention To CRM Software
How to Ensure Redundant Data Communications Links
Choosing New Software
Choosing new software is a big deal for any business – large or small. People agonize over the decision for weeks, months, and even years. As software dealers, we have first hand experience with helping hundreds of organizations make the software decision. Naturally, we have some suggestions that we hope will make this process a little less painful.
First, software isn't the most important selection you're making. It's easy to start with what you think you want the software to do when, in fact, your most important choice is the dealer. For great information about selecting a dealer please take a moment to read WikiCFO article, How to Choose a Software Dealer.
Now let's talk about choosing new software. Essentially you have two basic choices – industry specific or ERP software.
---
[button link="https://strategiccfo.com/internal-analysis?utm_source=wiki&utm_medium=button%20cta" bg_color="#eb6500″]Download The Internal Analysis Whitepaper[/button]
---
Choosing Industry Specific Software
When choosing industry specific software, remember this software is designed to address some of the issues of your business. Usually, this type of software has great strengths in areas that are unique to that industry. The up side is this type of software does an excellent job at the tasks it is designed to handle. The down side is this type of software usually isn't designed to manage the whole business. In other words, industry specific software is generally designed to perform limited tasks. Much of the time industry specific software will not integrate or "talk to" other types of software leading to the need for making double entries of data.
ERP Software
On the other side of the spectrum, Enterprise Resource Planning (ERP) software is focused on running a wide set of tasks that are necessary to manage a business. The up side of this approach is that the software addresses accounting, inventory control, manufacturing, order entry, purchase orders, and host of other modules. ERP software integrates all of the systems producing single entry for data, comprehensive business reports, and is adaptable for multiple industries. The down side is an ERP system tends to be more expensive than choosing industry specific software.
Selecting the Brand of Software
In the today's marketplace, there are several excellent choices in software. We believe that researching the publisher is a great idea before choosing new software. Asking questions like:
How long has the publisher been in business? Longevity is important here. If the software is good, then the company probably has been in business for many years.
How frequently is the software updated? If the publisher is spending money on Research and Development, then that's a clear sign that they will be supporting and upgrading the software for years.
How many installations are there of the software you are considering? With a large number of installations, the publisher is clearly aware of any glitches and has already fixed them or is in the process of fixing them.
Talk, Talk, Talk
The next step in choosing new software is to talk – a lot. Talk to people in your industry. Find out which software they chose and why. Ask how it's working for them. Would they recommend the dealer they used? While you're at it, ask for tips on what they would do differently.
Talk to people who have been through the software purchase and aren't necessarily in your industry. They are going to have a fresh perspective on what may or may not work for you. By the way, ask them the questions above, too.
At this point you may want to start preliminary talks with some dealers. Begin with the recommendations you got from the people you have already talked with. Remember, these talks are preliminary. Tell the dealer you're just beginning your search and ask about the software they recommend and sell. Then check out the software publisher's web site for the nuts and bolts on their programs.
And finally, talk with the people in your organization who are using the current software or will be using the new system. See the WikiCFO article How Do You Know When It Is Time to Buy New Software for ideas on how to move through this process along with a plan for discovering the Cost to Do Nothing.
A Lot Less Talk and More Action
By now you're probably ready for some action. Unfortunately, there's going to be more talk before the action starts. Forming a Software Selection/Implementation Team (SSIT) within your organization to investigate and evaluate your software and dealer options will share the work load, give you a variety of perspectives, and get part of your team invested in changing your software system. We'll talk about getting "buy in" from your employees in another article. While you may not be an active member of this team, your support and involvement is critical to the success of this project.
Creating a work plan is the SSIT team's first task. You have probably organized this type of project and are very familiar with the process. Stating the obvious, some of the items the team could consider are:
The cost to do nothing – discovering within the organization exactly what the cost if to continue doing business in the current manner.
Needs Analysis – here's where you can choose to use the Wiki approach to getting information and have the dealer(s) do the Needs Analysis.
Short list of dealers – compiling a list of the dealers you want talk with in a preliminary fact finding call.
Committee with time allocations – our experience indicates that the chart below is an accurate representation of the time allocation for the team members.
Role – Percentage of time
Steering Committee – 5%
Project Manager – 50%
Leader of the Project Team – 50%
Member of the Project Team – 25%
Project Advisor – 5%
Request for Proposal (RFP)
One item you won't see on the list for consideration is a Request for Proposal (RFP). Creating an RFP is a huge amount of work that we feel doesn't pay real dividends. In an RFP. your team will spend vast amounts of time listing everything they want the software to do. Then that To Do list is placed in the hands of selected dealers for bid. The missing step here is that the dealer is only addressing what's on that list without the benefit on understanding your business, work flow, and the unique challenges you face daily. In understanding why you want to do something rather than what or how you want to do it the dealer can almost certainly save you time and money with informed recommendations. Now take a moment and read that sentence again. Better yet, let's separate it for easier reading.
In understanding why you want to do something rather than what or how you want to do it the dealer can almost certainly save you time and money with informed recommendations.
When you change to a new software, it can uncover weaknesses in your company. Click here to download our free Internal Analysis whitepaper to check each area of your company for weaknesses to resolve (and strengths to enhance).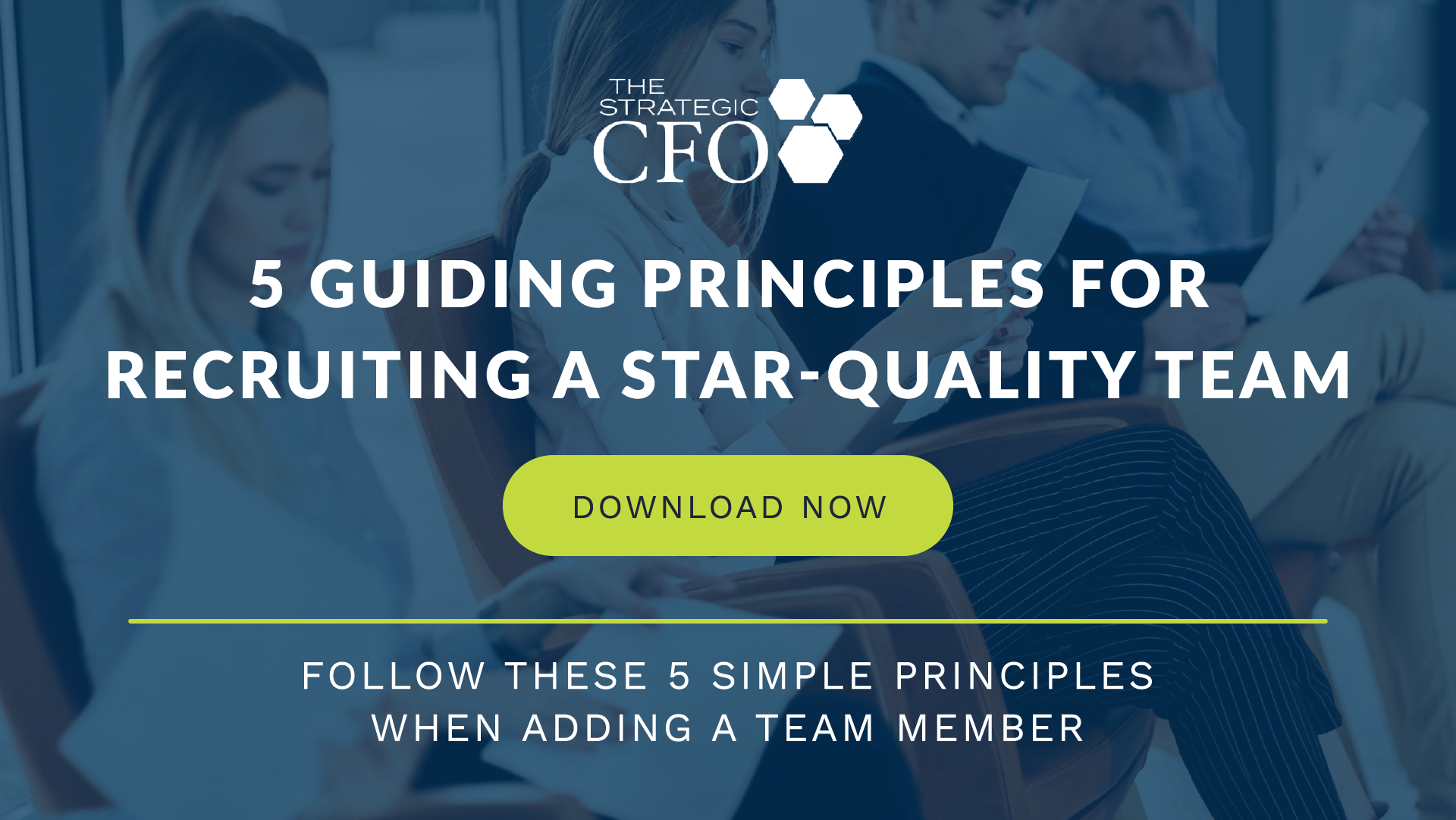 [box]Strategic CFO Lab Member Extra
Access your Exit Strategy Checklist Execution Plan in SCFO Lab. The step-by-step plan to put together your exit strategy and maximize the amount of value you get.
Click here
 to access your Execution Plan. Not a Lab Member?
Click here
 to learn more about SCFO Labs[/box]