As a business owner, I often find myself lying awake at night worrying about issues my company is facing.  Are we making as much money as we should be?  How is my cash flow?  Do I have the right team to grow the business?  These are just a few of the questions that cause me to lose sleep.
What Business Issues Keep You Up?
My guess is that I'm not alone in my insomnia, and I was curious to know what issues are keeping others up at night.  I put together a brief survey of some common business issues and solicited responses from my clients, colleagues, referral partners and members of our LinkedIn group.  I asked them to rate these issues on a scale of 0 (sleeping like a baby) to 5 (Ambien please!).  Here are the results so far: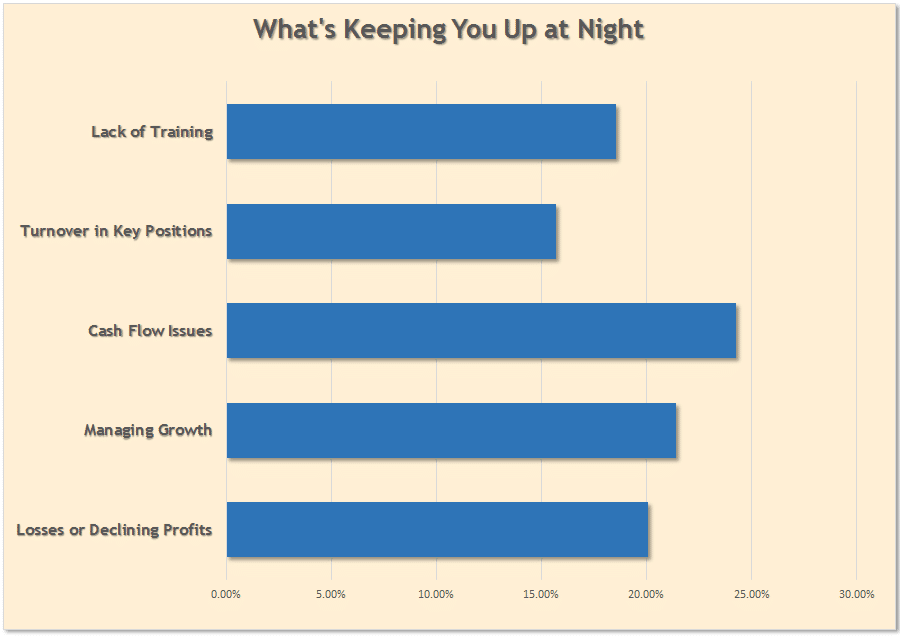 Based upon these results, it appears that cash flow issues are currently demanding most of your attention.  Not surprisingly, managing growth comes in a close second as rapid growth is often the chief cause of cash flow problems.  I'm curious to see if turnover will become more of an issue as the economy continues to stabilize and employees begin to seek new opportunities.
What financial issues do you think are the most pressing for your company?  We'd love to have your input, so click here if you haven't had a chance to submit your answers yet.  Stay tuned for updated results…
To learn more financial leadership skills download the free 7 Habits of Highly Effective CFOs.

[box]
Strategic CFO Lab Member Extra
Access your Flash Report Execution Plan in SCFO Lab. The step-by-step plan to manage your company before your financial statements are prepared.
Click here
 to access your Execution Plan. Not a Lab Member?
Click here
 to learn more about SCFO Labs[/box]