2016 has flown by and we are already in the fourth quarter! As we wrap up the year in just over a month, strategic planning for 2017 is happening in businesses across the world. As the person responsible for the bottom line, your job as a financial leader is quite simply to improve profits and cash flow. While that may sound easy, there are many nuances that are outside of your specific function (CEO, COO, CFO, Controller, VP, etc.) that you need to learn to lead your organization financially.
Working on 2017's sales projections? Are you responsible for the bottom line? Download the free Goldilocks Sales Method whitepaper to learn how to build your sales pipeline and project sales accurately.
While there is still ample time left in the year, it's never too early to start preparing for next year. If you've already started your projections for 2017, pull out your sales projections because there may be things you are missing. However, if you haven't even thought about next year's financial situation, here are some tips on how to produce realistic sales projections.
How to Produce Realistic Sales Projections
Producing realistic sales projections is difficult primarily because there are no guarantees. But you can avoid producing overly optimistic projections.
Why Most Sales Projections Fail
Most sales projections fail because of the financial leader's inability to factor in potential risk and uncertainty. Just like in the children's story Goldilocks, companies can easily miss the mark by producing projections that are either too pessimistic or too optimistic.
Start Doing Projections Now
Like I said, it's never too early to prepare for what's next. Are your sales projections realistic or optimistic? This would be the time to adjust any discrepancies in your financial projections. Don't forget, 2017 is only a month and a half away!
Ask Questions
As you start working on your sales projections, it is imperative that you ask the following questions to your sales team, executive team, and financial team.
Where did the company meet the targets previously set for the company and where did the company fall short?
What did your team learn over the course of 2016?
What unfinished business will the company take into the new year?
What does success in 2017 look like?
What steps does the company need to take to increase the probability of success?
Starting Small: Unit Calculations
You can track future sales by calculating the expenses and comparing the number to unit sales. First, consider the expenses your business usually has: rent, loan payments, vehicle payments, utilities. Also include inventory and the equipment needed to produce the items. Tracking every expense for a future budget is crucial. Second, factor in the income sources. This can mean anything from time to units sold. Finally, compare the expenses to the sales. Do they change during the season? Use the year's patterns to project next year's performance.
Also take a look at your unit economics.  For every widget you sell, what is COGS and margin?  Is your margin sufficient to cover your fixed costs?  If not, then you should determine whether a pricing adjustment is in order, or if you just need to sell more of the item in order to cover fixed costs.
[box][highlight]If you're still not sure how to accurately project your sales, click here to access your free Goldilocks Sales Method tool. This tool allows you to avoid underestimating or over-projecting sales.[/highlight][/box]
Watching Market Trends
You also need to factor in market trends. Preparing an external analysis will help you strategically plan your year and project accurately. Evaluate sales for companies in your industry, in your city, and your customer's industry.
In Houston, the oil & gas industry has impacted the local (and even the national economy) over the past 18 months. Our 12-on-12 analysis has analyzed past 30 years of rig count and oil price data; using a guide like this allows our company to estimate how our and our clients' business is going to fluctuate.
Be a Financial Leader
One of the common misconceptions about being a leader is that it's all about delegating tasks.  While trusting your team and empowering them to make a difference is a crucial part of leadership, some tasks require your experience and expertise.
One of the most important ways you make a difference as a financial leader is by building bridges between departments in your company.  Since everything in a company is tied in some way to finance, it's your responsibility to ensure that operations and sales have the information they need to be their best.
Don't just ask your sales team for their sales forecast and plug it into your projections without another thought.  Instead, work with them to produce a realistic and attainable forecast that will guide the company over the next year.  The tighter your sales projections are, the better your financial projections will be.  As they say, it's all about sales, the rest is just details.
How To Work With Sales
The idea of working with your sales team can sometimes be daunting. Financial people tend to be cautious and are more likely to understate projections. Salespeople can be very optimistic and will tend to overstate projections. If you ask your sales team to provide 2017's sales projections, they may say that the company expects to grow 40% in revenue.
Sounds great, right?
Only if the facts bear it out.  Take a look at year over year sales reports. Over the past ten years, the company has only grown 20% year over year. Unless the company is releasing a new product line, etc., then you can make a calculated assumption that a 20% growth rate is more reasonable.
Educating your sales team on past sales trends and listening to them about what they're hearing in the marketplace will allow you to produce more realistic sales projections than either of you might crank out on your own.
Manage Sales With a CRM
So you've worked with your sales team to come up with some killer sales projections.  You're done, right?
If you've ever worked with salespeople, you know the answer to this question.  Giving a salesperson a goal but not holding them accountable for results is a recipe for failure.
What Gets Measured Gets Managed
In order to help them keep track of their goals and measure progress along the way, it's a very good idea to invest in a Customer Relationship Management system (CRM).
One of the most attractive aspects of using a CRM to track customers and sales is the ability to compile information from many different communication channels (social media, website, telephone, radio, television, direct sales).  Even if your business is currently only communicating with customers in a few ways, it's a good idea to have a centralized database with all your customer data so that your sales team can document customer preferences, communications, and goals.
Most CRMs will also function as a tracking system for progress towards sales goals.  Just the act of entering and tracking sales in a CRM can help keep your sales team focused on all customers and not just the ones that are causing the phone to ring right now.
Conclusion
Producing realistic sales projections should be a priority for your company, particularly at this time of year. If you need help creating an accurate sales pipeline, download the Goldilocks Sales Method. Let us how you think 2017 is going to look by leaving a comment below.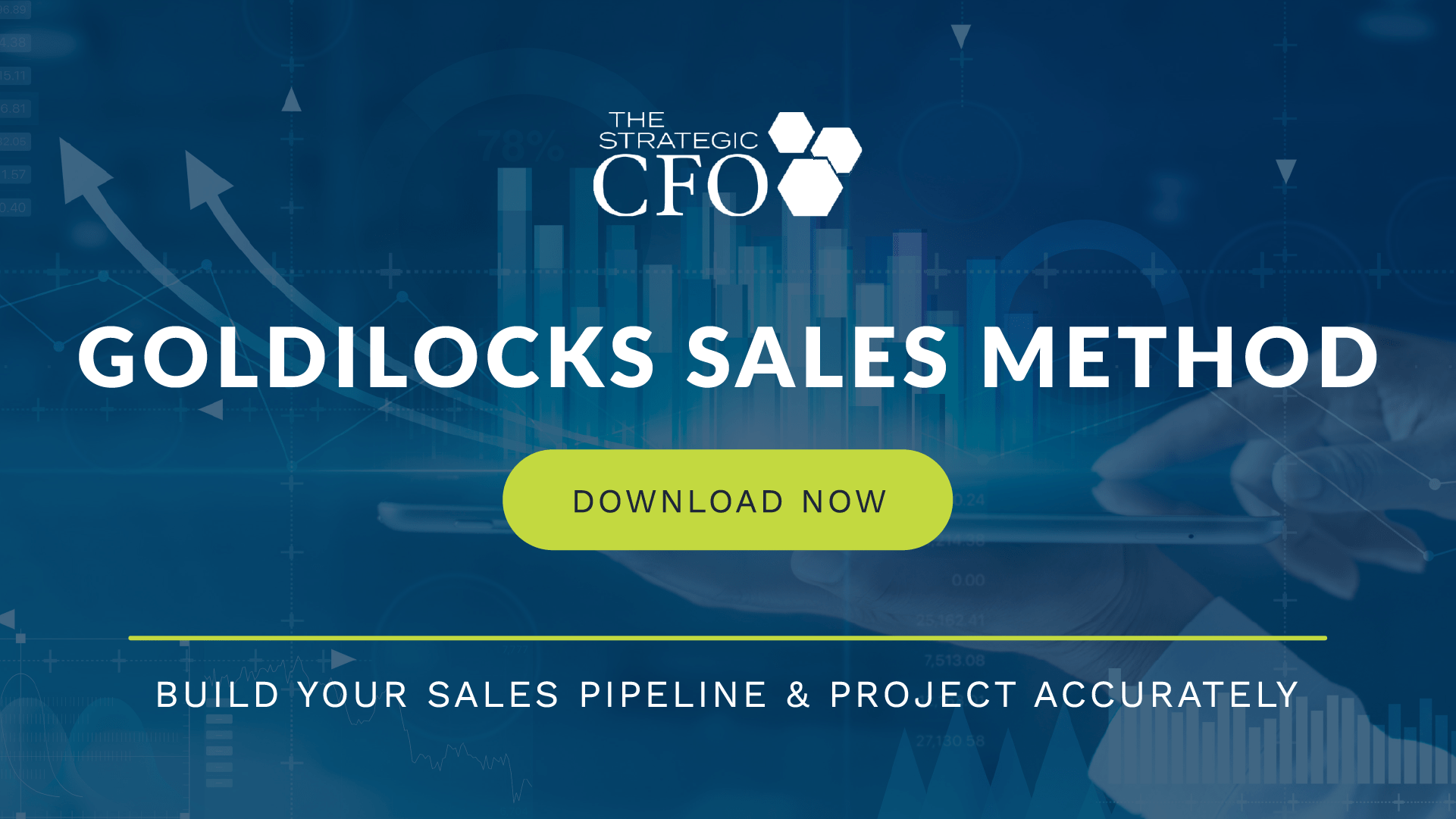 [box]
Strategic CFO Lab Member Extra
Access your Flash Report Execution Plan in SCFO Lab. The step-by-step plan to manage your company before your financial statements are prepared.
Click here
 to access your Execution Plan. Not a Lab Member?
Click here
to learn more about SCFO Labs[/box]