See Also:
Asset Market Value vs Asset Book Value
Efficient Market Theory
Market Positioning
Marking-to-Market
Business Cycle
Market Segmentation
Brand Equity
Market Dynamics Definition
Market dynamics, defined as the factors which effect the supply and demand of products in a market, are as important to economics as they are to practical business application. Many economists established market dynamics. Arguably, they are most developed in Porter's five forces of competition.
Market Dynamics Meaning
Market dynamics means the factors that effect a market. From the theory of economics they would be supply, demand, price, quantity, and other specific terms. From a business standpoint, market dynamics are the factors that effect the business model which involves the applying party. In comparison, the dynamics may be the price of a barrel of crude, total oil production, total national or international stockpiles of oil, the price of other energy commodities, and more for an oil firm. Whereas for a web 2.0 business, a social network for example, market dynamics analytics may be the total amount of free time spent online for both national and international users, amount of money spent online each year, growth of online advertising, and more.
For a prudent business, market dynamics are included in the market analysis of their business plan. Furthermore, these factors affect the business so much that it would be neglectful to exclude them. In conclusion, market dynamics play an important role in the marketing plan of a business. They may also play an important role in other areas such as cost of goods sold, distribution, logistics, and more.
Market Dynamics Example
Charlotte is writing a marketing plan for her new business. Charlotte sees a real need in the fashion industry for high quality accessories like purses and necklaces. Her experience in retail gives her a strong base to refer back to.
To complete the marketing plan she must complete a competitive and industry analysis. Essentially, she needs to assemble a market dynamics analysis for the fashion industry, with respect to accessories. Then she needs to understand them so she can fill a space for customers not being served.
Charlotte starts with the industry analysis. She looks at a number of statistics: consumer spending rate, retail growth, growth of the fashion industry, growth of brick and mortar business sales, and the competencies of wholesalers. Here, she is assembling market dynamics in order to find whether the market can support her business. She knows this an important foundation for her idea.
Next, Charlotte performs a competitive analysis. She finds all competitors and similar businesses. Then, she analyzes their strengths, weaknesses, and the perception of these companies to the average consumer. From this she realizes a matter of key importance: though clothing, cosmetics, and other stores exist there is no provider for the accessories which complete an outfit. She is satisfied and resolves to continue research to keep up to pace with her industry.
Prepare for the best… and the worst. Download the External Analysis to gear up your business for change.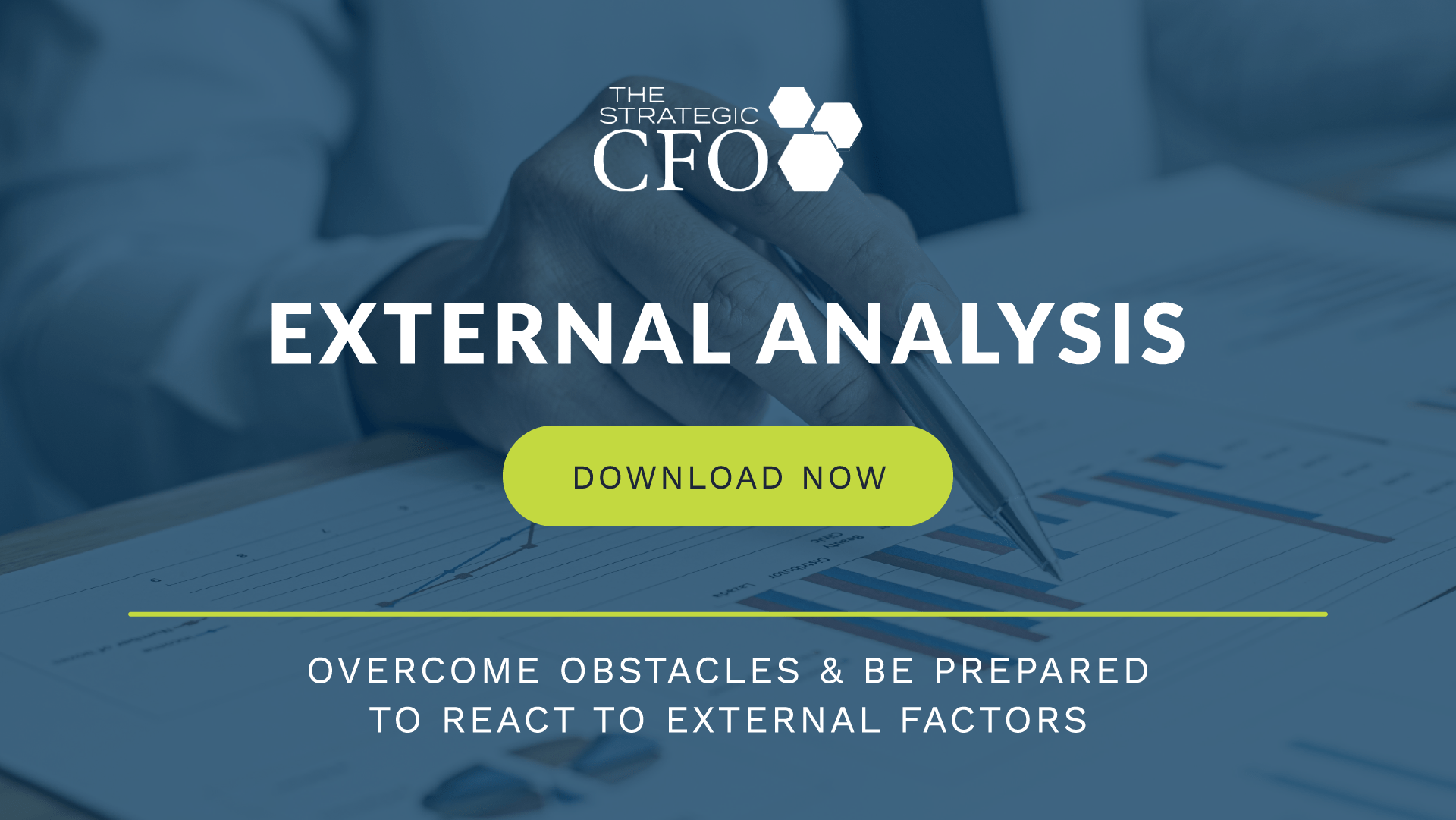 [box]Strategic CFO Lab Member Extra
Access your Strategic Pricing Model Execution Plan in SCFO Lab. The step-by-step plan to set your prices to maximize profits.
Click here to access your Execution Plan. Not a Lab Member?
Click here to learn more about SCFO Labs[/box]