See Also:
Advantages of Professional Employer Organizations
How to Select a PEO
PEO Compared to Outsourcing Payroll
Professional Employer Organization FAQ's
Service Department Costs
Professional Employer Organization | PEO Definition

The Professional Employer Organization or PEO definition is a vendor that assumes, via contract, a significant portion of the employer's responsibilities and associated risk for either all or a portion of the Business Owner's workforce.
Many mistakenly view he PEO Arrangement and Employee Leasing as one in the same. But there is actually quite a difference. The original employee leasing model transferred certain responsibilities from a client company to the employee leasing company. Thus, it created the original concept of "fire, hire, and lease back", which does not occur in the PEO arrangement.
The PEO brings services to the Business Owner, including the management of Payroll and Payroll Taxes, Employee Benefits, Human Resources, and a Safety / Risk Plan. If a PEO relationship is terminated, the "co-employees" will cease to work for the PEO but will continue as employees of the "Work Site Employer". By comparison, a leasing or staffing service supplies new workers on a temporary or project-specific basis. These leased employees return to the staffing service for reassignment after completion of their work with the client company. Define employee leasing as a supplemental, temporary employment arrangement where one or more workers are assigned to a customer for a fixed period of time.
Some state statutes governing PEOs still use the leasing terminology.
Evolution of the PEO Industry

The growth of the PEO industry gained momentum about 25 years ago when provisions in tax and pension laws made employee leasing very attractive to the owners of small and medium sized businesses. Subsequently changes in federal legislation basically eliminated those loophole provisions.
A second growth spurt in the mid-1980s was based on economies of scale in buying workers' compensation and health insurance. They expanded coverage to larger numbers of employees. In addition, lessee companies reduced their costs through the bulk purchasing process. This phase eventually fell prey to imprudent risk management practices on the part of a number of staff leasing companies. It led to the failure of several of the companies and blemished the entire industry.
The current growth surge began in the early 1990s. Characterized by increased professionalism and less risky business practices, the industry has also seen increased regulation by the federal and state governments. PEOs now use the economies of scale in Payroll Processing, Employee Benefits, Human Resources Management, and Safety and Risk Management. An additionally advantage is the assumption by the PEO of administrative functions that have become increasingly complex because of employment regulations. PEOs offer a compelling business option for Business Owners.
Determine which candidates are the right fit for your company using our 5 Guiding Principles For Recruiting a Star-Quality Team.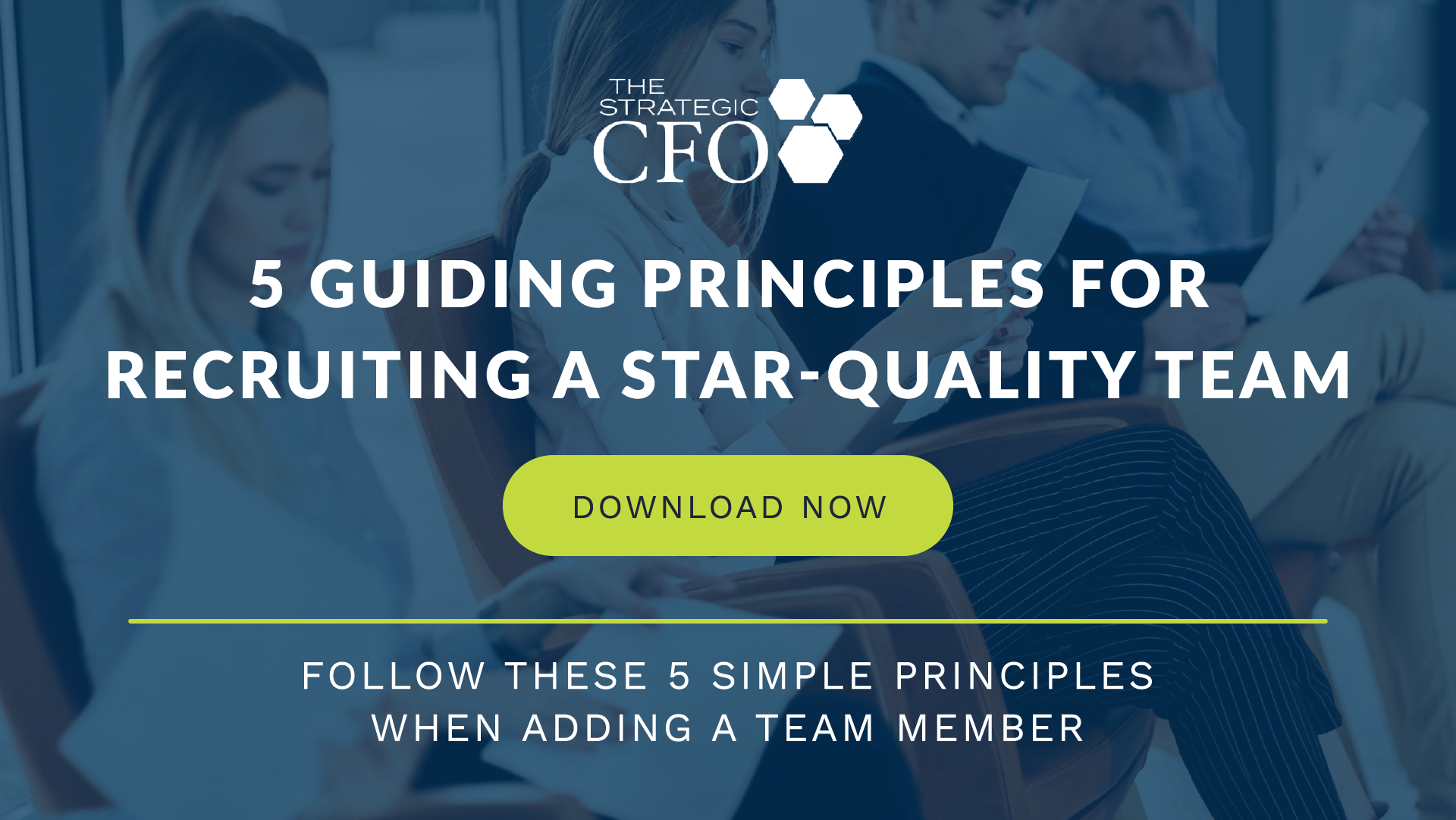 [box]Strategic CFO Lab Member Extra
Access your Recruiting Manual Execution Plan in SCFO Lab. The step-by-step plan recruit the best talent as well as avoid hiring duds.
Click here to access your Execution Plan. Not a Lab Member?
Click here to learn more about SCFO Labs[/box]