Last week Bank of America Merrill Lynch released the full results from its 13th annual CFO Outlook Survey. Below please find highlights regarding the key findings, along with a link to the full report, a press release on the findings and link to a webcast on the survey which includes a roundtable discussion with David Darnell, president of Global Commercial Banking, Bank of America and three CFOs.
Bank of America Merrill Lynch Releases 13th Annual CFO Outlook Survey
Jobs
Almost half of companies (47%) are planning to hire additional employees in 2011, up from 28% last year, according to the CFO Outlook survey by Bank of America Merrill Lynch. Among respondents, 44% have plans to hire permanent employees, while 13% plan to add contract employees. (Some expect to hire both types).
Economic Outlook
CFOs of U.S. companies continue to have a critical view of the U.S. economy, giving the economy an average score of 47 on a scale ranging from 0 (extremely weak) to 100 (extremely strong). This is up slightly from last year's score of 44, which was the lowest in the 13-year history of the CFO Outlook. When asked what will have the biggest impact on the economy in 2011, CFOs ranked the following: Healthcare Reform (54%), Budget Deficit (52%) and the Housing Market (42%).
Amid this cautious view of the current economic climate, 56% of all CFOs are forecasting expansion for the U.S. economy in 2011. That's down from 66% who last year predicted growth in 2010.
Conclusion
The CFO Outlook webcast featuring a review of the surveys key findings with the following:
Laura Whitley, Global Commercial Products executive at Bank of America Merrill Lynch
Joe Quinlin, Chief Market Strategist, U.S. Trust, Bank of America Private Wealth Management
David Darnell and three CFOs (Al Blazek, Dunham's Sports; Rod Goodwill, Hirschfeld Industries; Jerry Schneider, Vistage International)
Download the free External Analysis whitepaper that guides you through overcoming obstacles and preparing how your company is going to react to external factors.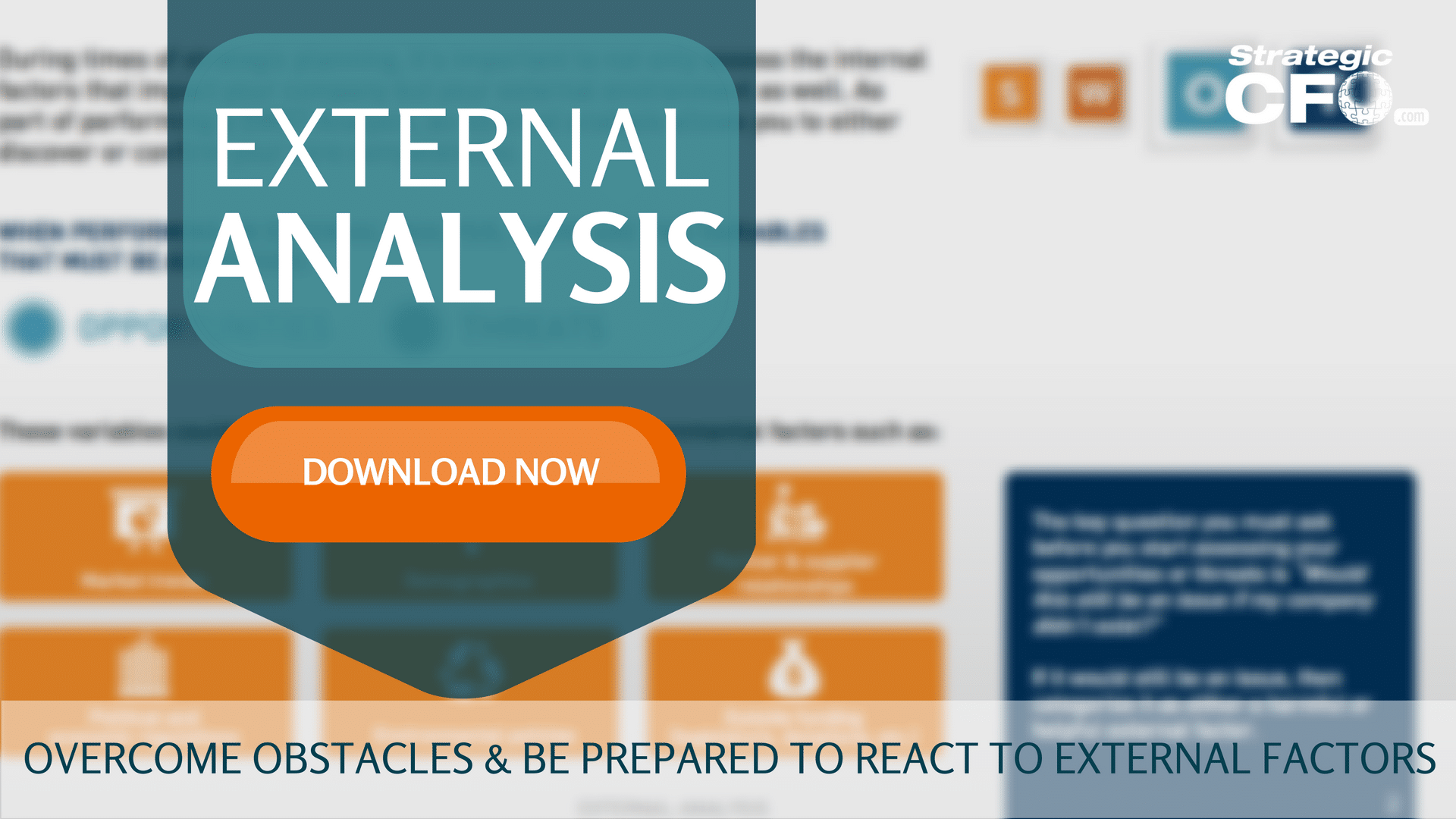 [box]Strategic CFO Lab Member Extra
Access your Projections Execution Plan in SCFO Lab. The step-by-step plan to get ahead of your cash flow.
Click here to access your Execution Plan. Not a Lab Member?
Click here to learn more about SCFO Labs[/box]