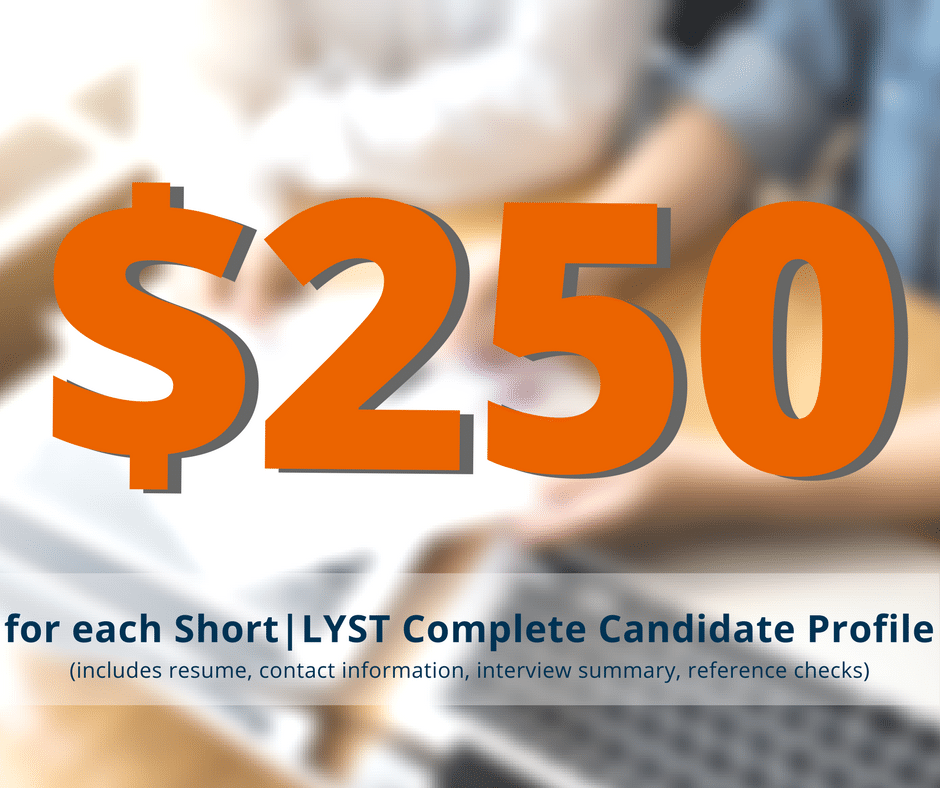 Short|LYST Pricing
The current hiring process makes it so complicated. There are two options. You either do it yourself, spend countless hours screening and interviewing. Then you're not even guaranteed that you will make a good hire. OR you pay a placement firm 35% of the hire's first year salary.
We're introducing another way.
As our promise to revolutionize the hiring process, we are keeping it simple.
It's just $250 for each Short|LYST Complete Prescreened Candidate Profile. It includes the candidate's resume, contact information, interview summary, reference checks, and full candidate profile.
It also includes the entire hiring process – receiving the resumes, screening those resumes, conducting screening calls, sitting down in an interview with them, and conducting reference calls. Not all the candidates that reach the reference calls get selected for Short|LYST. $250 is just a fraction of the cost to hire one candidate. But we believe Short|LYST is so valuable and these candidates are so talented, that we want to put them into your hands as quickly as possible.
Current Hiring Process
The current hiring process is expensive for companies to conduct. It takes hours to screen resume; hours to conduct screening calls; hours to interview face-to-face or via Skype. It takes time, and sometimes, companies never find the right person. That happens because of a couple of reasons: a) they don't have the network, b) they don't know what they are hiring for, or c) they cannot find someone to fit their culture. As a result, they now have to deal with employee turnover. This often happens when you either overwork your employees or add employees that are not a good fit for your company. Either way, the hiring process as it currently stands is expensive and time consuming.
Nobody has the time to add another person (not even the perfect person) to their team anymore. That's why we created Short|LYST.
Hiring Process with Short|LYST
Short|LYST is conducting the entire hiring process for you up until you drafting an offer letter. Every candidate that we put on Short|LYST, we would hire ourselves. These candidates are not only qualified but would excel in any company. We have also selected different candidates that would suit the different needs of employers. For example, while some may not fit in a business casual environment, they might excel in a professional environment.
How to Get Started on Short|LYST
First, are you a candidate or an employer? Then decide what position are you hiring for. If you need to look at sample job descriptions to help narrow your focus, then click here. After you have decided which position you need to hire, then look at candidates for that role.
---
Chief Financial Officer (CFO) | Controller |  Finance Director | Accounting Manager |  Accounts Payable | Accounts Receivable | Treasure |  Bookkeeper