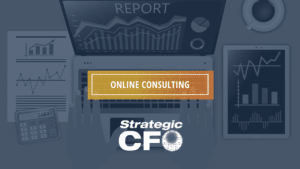 Do what you do best. Let us debit and credit the rest.
You've asked and we have now answered… here is your newest resource to take you to the next level!
The Strategic CFO is now offering one-on-one online consulting. If you are looking for a combination of expertise in financial services, we are here to help!
24/7 access to accounting, finance, & business support
 Quick solutions that are unique and tailored to fit you and your business
 Online consulting available hourly by a CFO or an Accountant
How does Online Consulting work?
Purchase Hours
Schedule Hours
Jump on a call
Get solutions to your questions
---
Here's the first step in making accurate and efficient decisions for your company.
1. Purchase Hours
It's simple. Pick between our Accountant or CFO consultant based on your current needs. Once you purchase your online consulting call, we'll send you an email with a calendar link.
2. Schedule Hours
You'll be able to book your call with our consultants with a time that best fits your schedule.
3. Jump on a Call
Once you pick your ideal time, you will then receive an email invitation for your online consulting meeting. Finally, we'll do a deep dive into your next steps and get you the help you need.
4. Get Solutions
Accounting is the language of the business, therefore, accounting in businesses is essential. You need to make sure all the decisions that are made for your business are the correct ones. You must start to make decisions that accurate and efficient.  Our consultants are here to help.  Choose between a CFO or an Accountant.
---
What

 

are the benefits of Online Consulting?

 
Spend less time explaining what your needs are, and more time accessing the right solutions
Work with your own personal consultant who has at least 20 years experience
 Start using our financial tips and tools immediately after your online consulting call
Are you in need of a quick answer to your financial questions?
We have quick consultants ready to help!
Do you need advice or do you need to bounce ideas off of someone with experience?
We have the solution. We understand the language of business.
Talk to someone who knows the ins and outs of accounting!
Benefits of online consulting are: it is not a full-time consultant, it is a 'when you need it' consultant. You are in charge of how much or how little help you need. You pay by the hour and it's all conveniently online! You will determine if you need a CFO consultant or an Accountant to better fit your exact needs for your business solutions.  
WHO

 

will be doing 

Online Consulting?
Our top consultants that you individually hand picked that is best for your job. 
As consultants, we understand that different businesses have different needs. We'll help you find the best financial action plan fit for your unique business. This will be your personal consultant to assist you, even past your first hour. Finally, select from their calendar a perfect time for your call. Choose from an Accountant or a CFO.
We're here to answer all your business and accounting questions. Your consultant will assist you through Zoom, an online video/audio meeting platform. Whenever you are ready, anywhere in the world.
Where

 

will the 

Online Consulting 

take place?
Wherever you have internet and anywhere in the world. That is the beauty of online consulting. You pick a time that fit your and the consultant's schedule! From your office to your desk, wherever you learn best!
Online consulting is a way to easily bring  profitability to a company. At the end of the day, we want you to save time and save money. We are offering Online Consulting by the hour all hosted by Zoom, video and audio conference calling. 
Hourly Sessions
Online help is sold by the hour
Minimum of 30 minute increment sessions at a time
All unused minutes can be rolled over
Time paid for never expires
Want more hours? Simply come back and buy more hours.
Check out our services offered below:
---
Our Services:
 
Topics Included: 
CFO Topics: 
Strategic Planning
Board Presentations
Banking/Debt Discussions
Business Plan
System Selection
Exit Strategies
Budgeting and Forecasting
Internal Controls and Procedures
Expense Control
Software Implementation
Cash Flow Management
Budget versus Actual Reporting
SOX Compliance
Audit Preparation
Training and Developing Teams
General Accounting
GAAP Standards
Financial Reporting
Financial Statement Preparation
Cash/Accrual Accounting
Month-End Close
Bookkeeping
Accounts Payable/Receivable (AP/AR)

Other Accounting or Operational Help
Accountant Topics:
General Accounting
GAAP Standards
Financial Reporting
Financial Statement Preparation
Cash/Accrual Accounting
Month-End Close
Bookkeeping
Accounts Payable/Receivable (AP/AR)

Other Accounting or Operational Help
---
The Strategic CFO Online Consulting offers a free over the phone consultation. We will then evaluate your needs, and advise you on next steps for making the correct decisions.